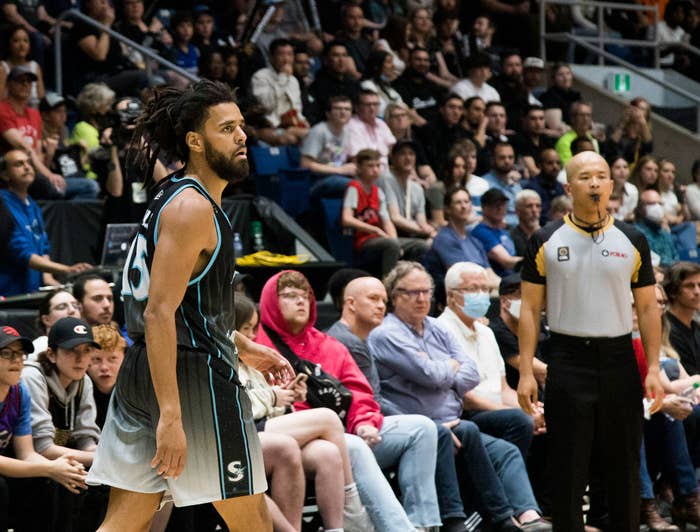 It didn't take J. Cole long to elicit a thunderous applause in his debut game with the Scarborough Shooting Stars on Thursday night.
The Grammy-winning American rapper drew one of the loudest pops of the evening when he checked into the matchup against the Guelph Nighthawks with five minutes left in the first quarter. "Entering the game… number 15, Jermaine Cole," declared the announcer as a swell of cheers rippled through the arena.
In fact, there were roaring ovations for just about everything Cole did, from hitting the court for pre-game warm-ups—phone cameras glued to him as he tried finding his jump shot—to drawing a personal foul late in the third quarter.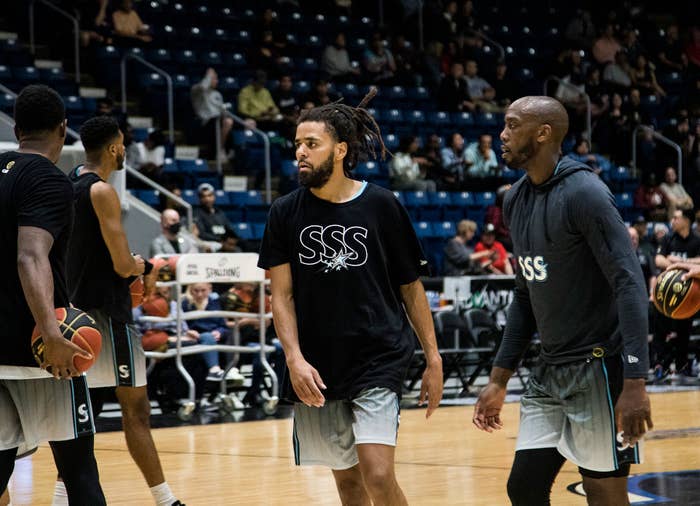 That all checks out. It's not every day that Guelph, Ontario—a small city about an hour and a half outside of Toronto—gets to see one of the greatest rappers in the world compete in a Canadian Elite Basketball League game. Cole, who played basketball in high school and professionally in Africa last year, reportedly decided to join the Shooting Stars, co-owned by OVO founding member Nicholas "Niko" Carino, after chatting with Drake at his birthday party.
And so, the majority of the 3,000 fans packing the Sleeman Centre—a significantly larger turnout than Nighthawks home games usually get—likely came just to see Cole do his thing.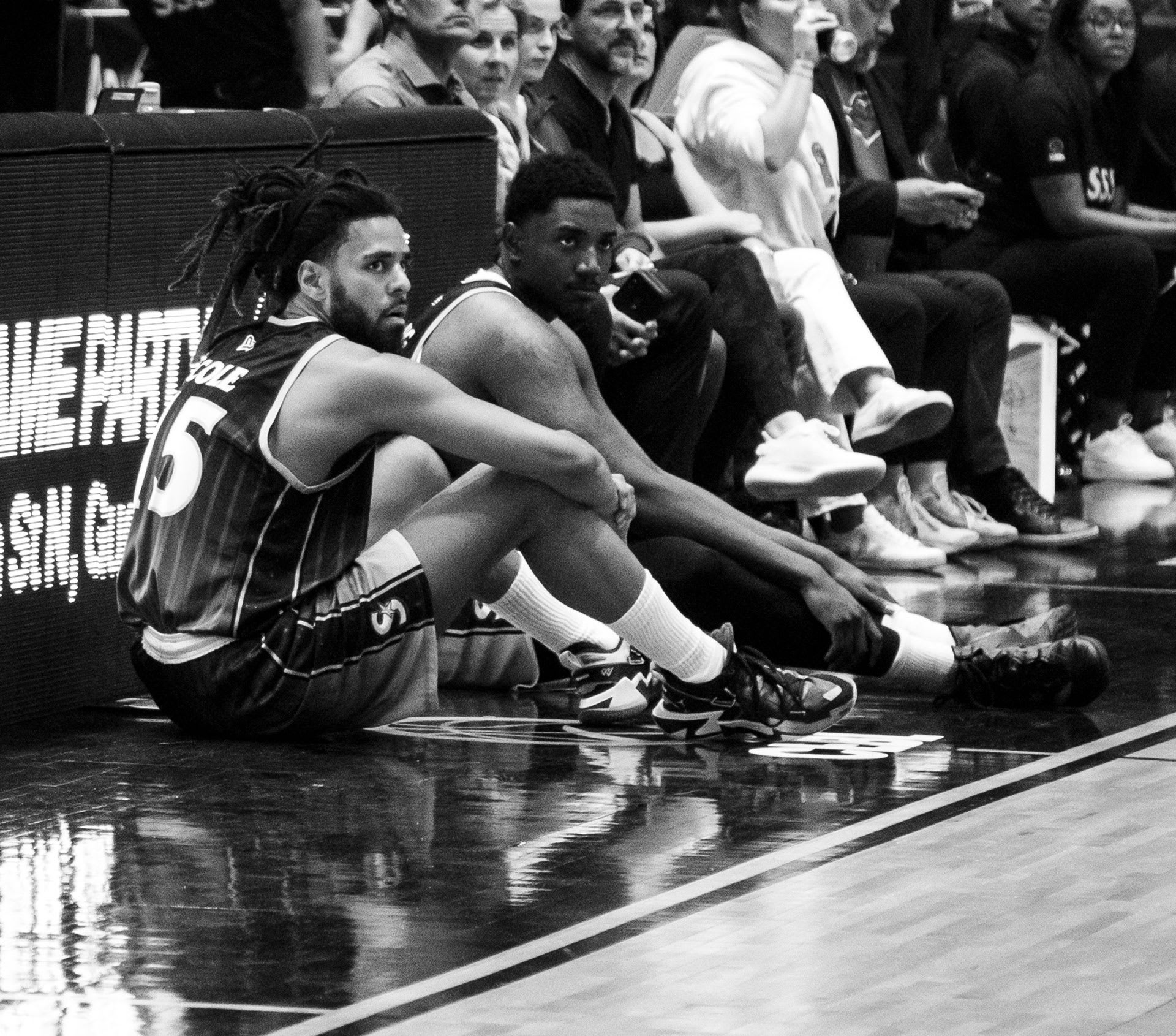 Of course, it took a while for fans to see Cole do anything in his and the Shooting Stars' inaugural game in the CEBL. Coming off the bench, Cole, who's a six-foot-three guard, had a shaky start, missing his first couple shots and allowing Nighthawks players to blow past him on the defensive end on multiple occasions. (To be fair, he was up against some consummate professionals like Cat Barber, a one-time Atlanta Hawk, and Ahmed Hill, who was previously on a two-way contract with the Charlotte Hornets.)
But in the second half, Cole began to find his footing. He got his first point of the game after slipping a dime to former Toronto Raptors guard Jalen Harris, who knocked down a three.
And when Cole finally made a shot of his own—a smooth corner three in the fourth quarter to give the Shooting Stars the lead—the building went apeshit.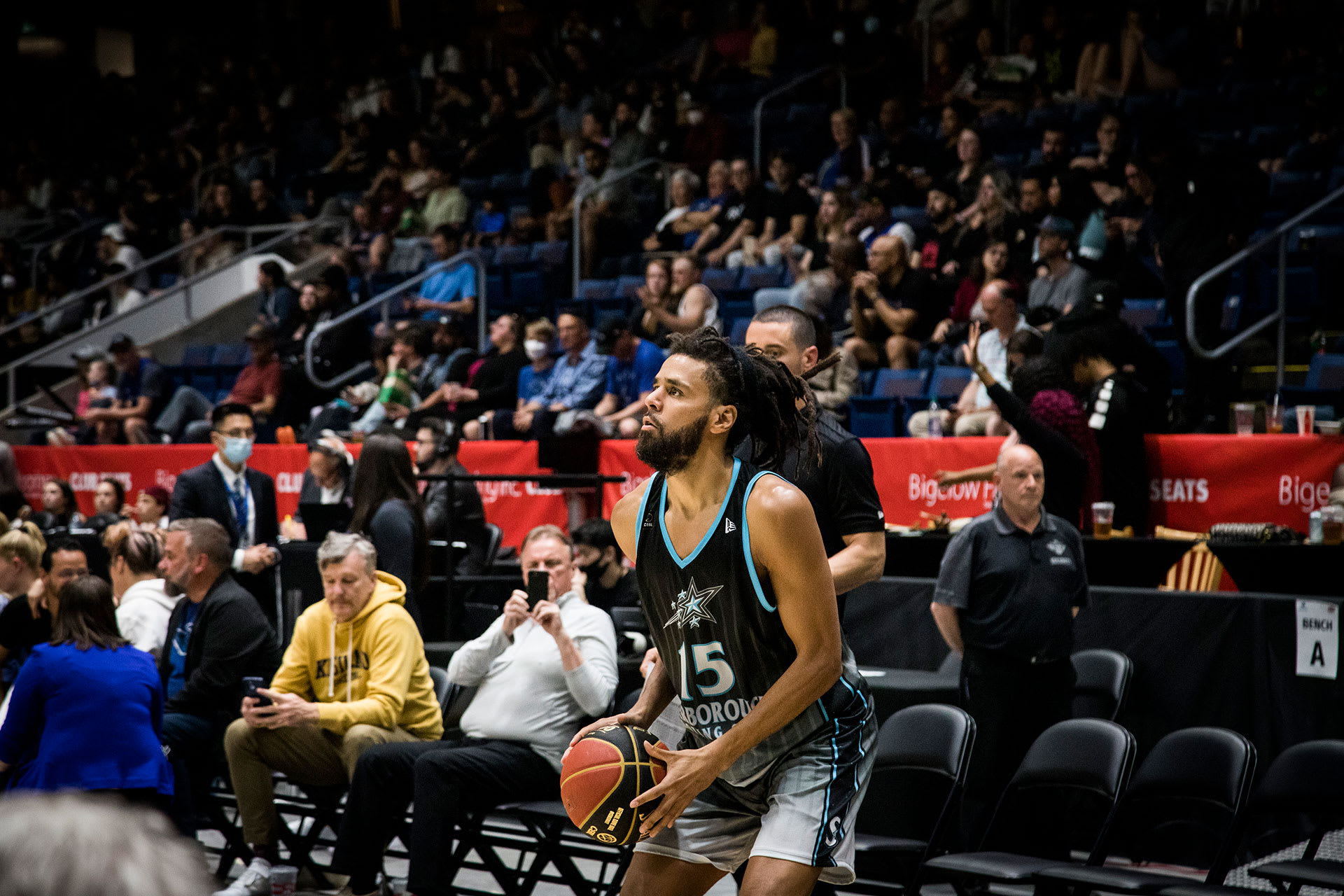 Ultimately, it wasn't enough to give the Shooting Stars the win—they fell 89-80 to the Nighthawks. Yet the evening still felt very much like a victory.
"Today was a great day for both (franchises) and a great day for the league," Shooting Stars coach Chris Exilus said after the game. "Cole did a great job and he played his heart out, and I think what he brings is also excitement, and he brings a certain fan base that we want to continue to see the game. I think all those things are great things for everybody."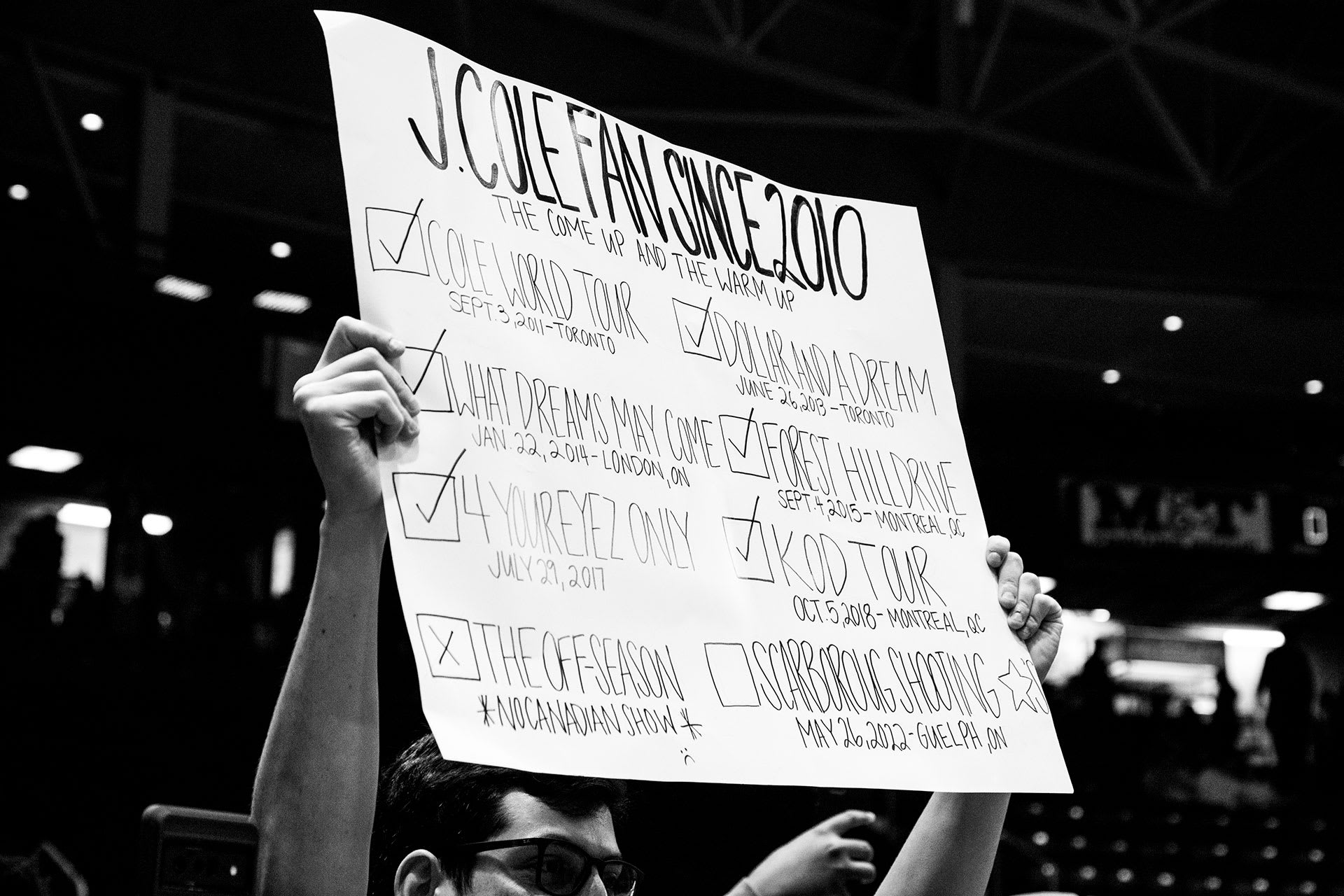 Cole, who is 37 and last suited up professionally for three games in the Basketball Africa League last summer, didn't have a huge impact on Thursday's game, but didn't look out of place either. He did all the right things (or most of them, anyway)—creating separation from opponents before taking shots, hustling back to the defensive end during turnovers, actively communicating with teammates on the court, and cheering on his team from the bench, sometimes appearing so engaged he could barely stay seated. Cole finished with three points on 1-of-4 shooting, with one rebound, one assist, and one foul in 15 minutes of action.
"He's a great dude, great teammate, a humble guy," said Scarborough teammate Kameron Chatman about playing with Cole. "He was acting just like the rest of us. We were just talking to him, giving him confidence, and vice-versa. He missed a couple shots early but we just kept telling him to continue to be confident. And obviously, he knocked his last one down, so he was great to have with us."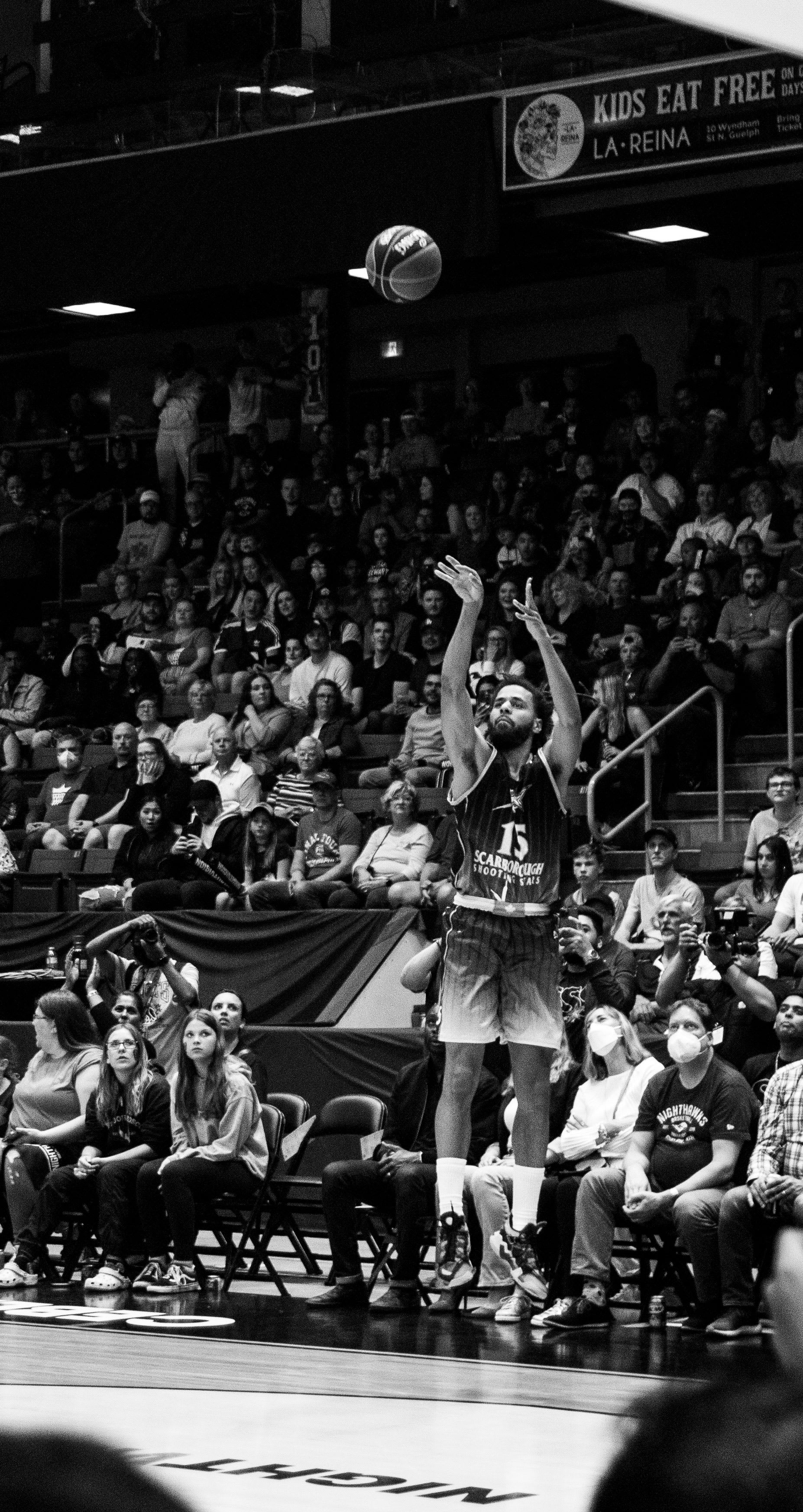 Cole isn't likely to play every game with the Shooting Stars this season—he's got a world tour, for his day job as a rapper, kicking off June 10. But he still has the potential to make a lasting impact on the league. Clearly, his signing with Scarborough has brought an unprecedented level of attention to the four-year-old CEBL. If he can gain the expansion team, and the fairly under-the-radar league, exponentially more fans and exposure, then give the dude a statue.
His appearance certainly garnered more eyeballs than any CEBL opener in recent history, with Drake shouting out Cole's Shooting Stars debut via several Instagram posts. Canadian NBA players Shai-Gilgeous Alexander, Nickeil Alexander-Walker, and Oshae Brissett also made it out to Guelph to show their support courtside.
"If people are in the building to see him and then, 'Oh, my goodness, there's a heck of a basketball game happening,' everybody wins," said Guelph coach Charles Kissi.
And in return, Cole gets to keep honing his skills in the game he loves. He may not be All-Star material, but his dedication to basketball is evident. We all know how cruel the Internet can be, especially to athletes having bad days—let alone ones as high-profile as he is. He wouldn't be here unless he really wanted to.
"From his end, he's taking this serious," said Kissi. "He wants to play and he wants to be a professional basketball player. I know for a fact he's not looking at it as some sideshow. He knows who he is and he knows the attention that brings, but he's also trying to be a professional basketball player."
The Scarborough Shooting Stars play their next game against the Montreal Alliance on May 29, at Montreal's Verdun Auditorium. Their first home game of the season will take place on June 4 at the Toronto Pan Am Sports Centre.