Bronny James Commits to USC, Will Play for Trojans
Lebron James' 18-year-old son Bronny announced on Saturday that he will be attending the University of Southern California and play for the Trojans.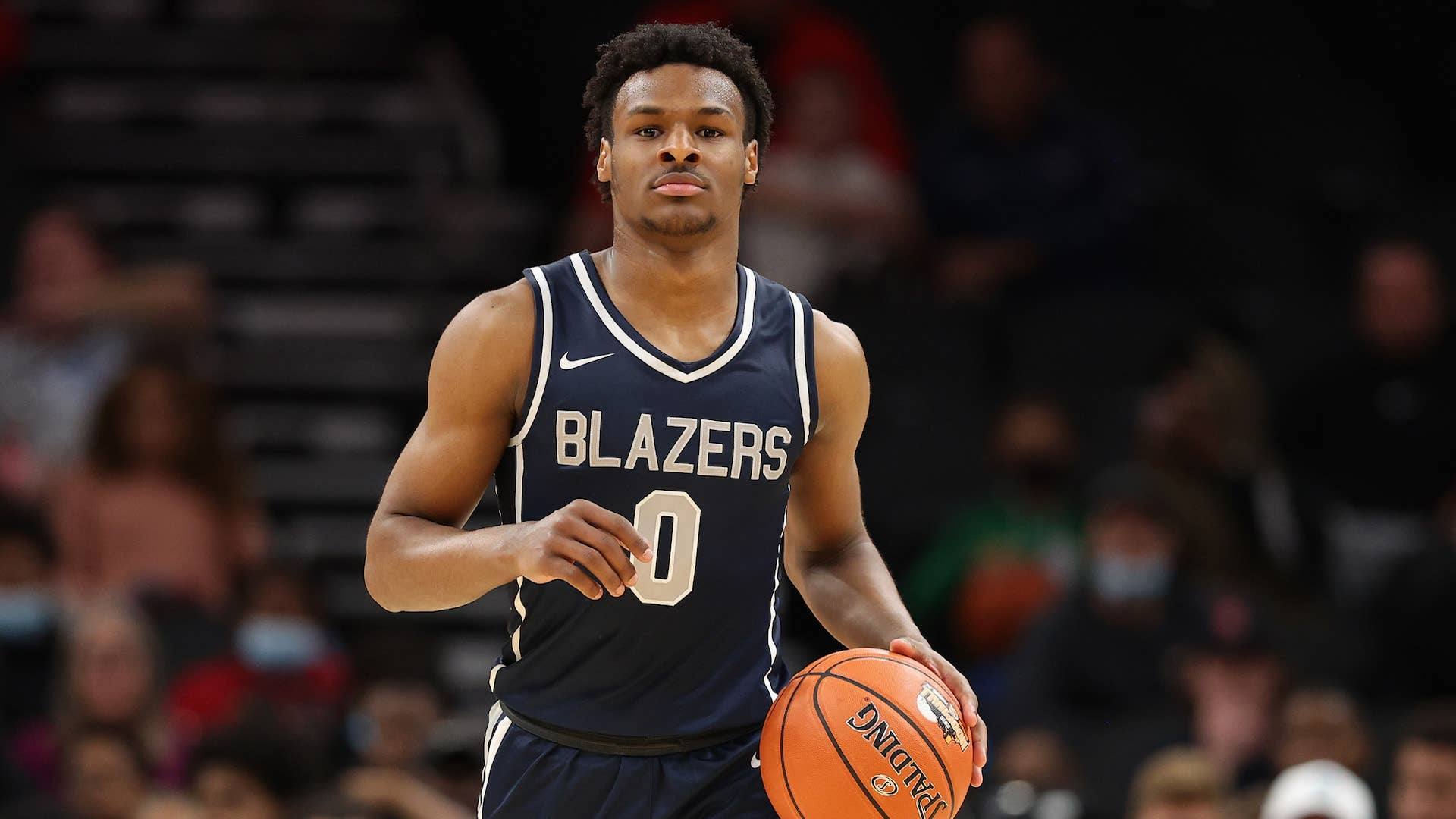 Image via Christian Petersen/Getty
PHOENIX, ARIZONA - DECEMBER 11: Bronny James #0 of the Sierra Canyon Trailblazers handles the ball during the Hoophall West tournament against the Perry Pumas at Footprint Center on December 11, 2021 in Phoenix, Arizona. (Photo by Christian Petersen/Getty Images)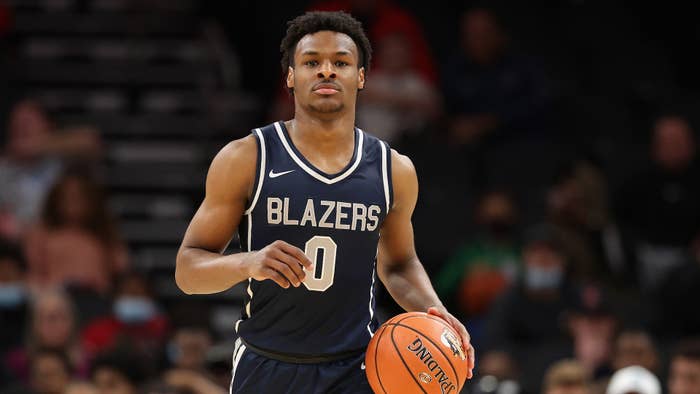 The speculation is over. 
Lebron James' 18-year-old son Bronny announced on Saturday that he's committed to the University of Southern California and will play for the Trojans. Bronny made the announcement on Instagram. "Fight On✌🏾#committed," he wrote in the post. 
Check it out below.
Bronny, who is a shooting guard, went to high school at Sierra Canyon. Outside of USC, he was reportedly considering Ohio State and Oregon, according to Sports Illustrated. By picking USC, Bronny will be able to remain close to home and his dad, who of course plays for the Los Angeles Lakers.
After the Lakers played the Warriors in Game 3 of the Western Conference semifinals, LeBron opened up about how proud he is of his son going off to college.
"One of the best days of my life," James said. "First of all, congratulations to Bronny on his decision he made. I'm super proud of him, our family is proud of him. For me personally, it's even more special to me because it's the first time someone out go my family to go to college. Obviously, I didn't go to college. It's just a proud moment to see my son go to college, and he's the first one to go college in my family. Super duper proud, super emotional, but just super duper excited and happy for his journey. Today was a proud day. I couldn't lose today no matter the outcome of this game."
LeBron has previously expressed excitement at the possibility of being able to play with his son in the NBA. Back in 2022, the Lakers star named Bronny as being "number one on my fucking list" of people he wants to play in the league with. 
"Not too long ago, I asked him, 'What you wanna do with this? You wanna get to the pros? What you wanna do?' He said, 'Yeah.' I said, 'Why?' He said, 'Because I wanna make a name for myself,'" LeBron said during an episode of The Shop. "That's all I needed to hear." 
Also in 2022, Bronny signed a NIL Partnership with Beats By Dre. The announcement was accompanied by an advertisement that featured the young player and his dad. Prior to the Beats news, Brony inked a deal with Nike.