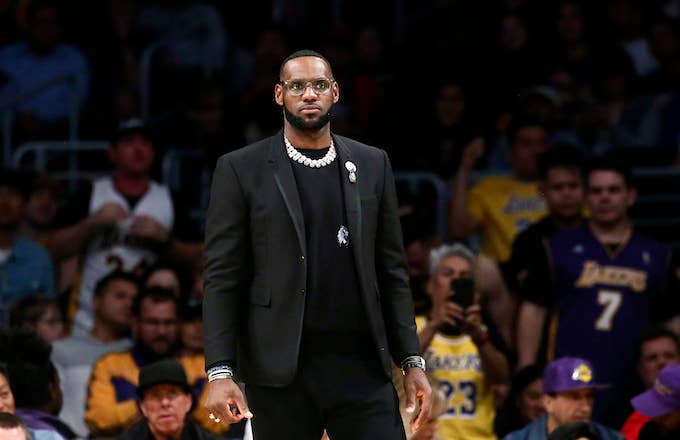 During the episode, LeBron recalled finding out that Magic Johnson had resigned from his position as president of basketball operations for the Los Angeles Lakers and explained how shocking it all was. 
"My right hand comes to me and say, 'Magic just stepped down.' I'm like man, get the fuck out of my face, you bullshitting. I go check my phone, I look at it, the shit happened. Personally for me, I came here to be a part of the Lakers organization, having the conversation with Magic. So, it was just weird for [Magic Johnson] to just be like, 'Nah, I'm out of here,'" LeBron said. "And not even have, like: 'Hey, Bron... kiss my ass. I'm gone.' ... It wasn't even that."
Lonzo, who found out the news that Magic was stepping down from LeBron, also talked about it all. Check out a clip of the interaction below. 
"There is no greater Los Angeles Laker than Earvin Johnson. We are deeply grateful to Magic for all that he has done for our franchise – as a player, an ambassador and an executive," the Lakers wrote in a statement shortly after news of Magic's departure surfaced. "We thank him for his work these past two years as our President of Basketball Operations and wish him, Cookie, Andre, EJ and Elisa all the best with their next steps. He will always be not only a Lakers icon, but our family. As we begin the process of moving forward, we will work in a measured and methodical fashion to make the right moves for the future of our organization."
Elsewhere in the latest The Shop episode, Travis Scott spoke about how important SoundCloud was to the newer generation of artists.
"I was doing this interview, man, for Playboy, right?" Scott said. "And the interview guy was like, he was saying my generation was SoundCloud rappers, and I was like, 'Wait, pause.' I had to tell him, like, you got it twisted. SoundCloud was there for us because SoundCloud understood, like, we wanna drop a song right now. We're not trying to wait for any load-up."