Karl-Anthony Towns Reportedly Won't Sign Extension Until Jimmy Butler Meets With Team
This past spring, the Timberwolves made the playoffs for the first time since Kevin Garnett was still making All- NBA teams. But all is not right between young stars Jimmy Butler and Karl-Anthony Towns, if reports are true.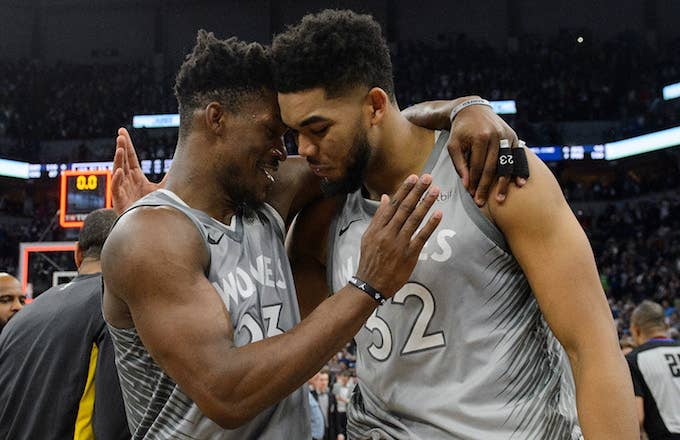 Getty
Image via Getty/Hannah Foslien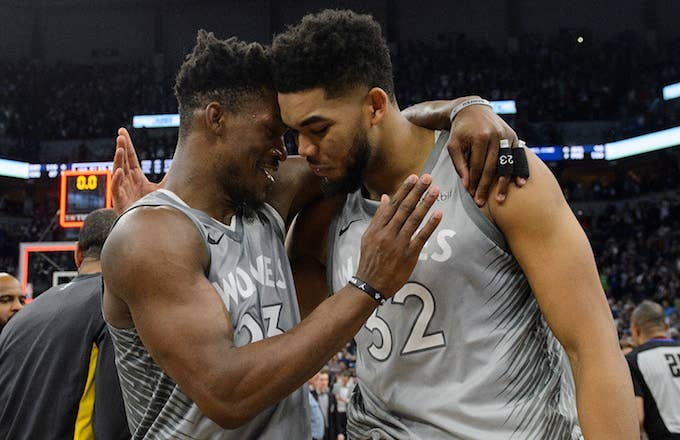 It's hard to look past the roiling tension that's been emanating out of Minnesota this summer, and the fact Karl-Anthony Towns still hasn't signed the max extension he's due before the season starts. The unease was hinted at in a Chicago Sun-Times report earlier in the summer that stated star Jimmy Butler is dissatisfied with the seeming indifference of KAT and Andrew Wiggins. Now, the Athletic's Shams Charania is reporting that Towns won't sign that extension until Butler meets with Timberwolves executives, which he is doing today:
"There's been a lot of uncertainty around Jimmy Butler all summer." says Charania. Today's rendezvous with Butler "is a last-ditch meeting for the Minnesota Timberwolves and Tom Thibodeau, and how they respond and how Jimmy responds to it will be interesting." It's the KAT news that's striking, though:
"Karl-Anthony Towns, who's one of the top talents in the league, has yet to sign to sign his rookie max extension, which should be a no-brainer," Charania says. "And I'm told there won't be any decision on that until this Jimmy Butler situation resolves itself."
So Towns is waiting on Butler, and Butler has been MIA most of the offseason, aside from some IG comments. 
Jimmy—who already declined a four-year, $100 million extension earlier this year—has been linked with Kyrie Irving, who is a free agent like Butler next summer, and the Spurs. However, it's hard to blame his decision to decline the extension as the result of butting heads with KAT. Butler did that because of the numbers: He can sign a super max with the T-Wolves next summer that includes higher raises, a higher percentage of the cap and a fifth year on the deal. All told, it would be a five-year, $188 million contract, which obviously dwarfs the original extension. Butler rolled the dice on himself in Chicago, and it paid off with his first max deal. That's what he's again doing here.
But if Jimmy doesn't think KAT and—a sometimes sour—Andrew Wiggins can coalesce into a contender, he might bounce for a better chance at a chip even if it means his pocketbook is a tad lighter. The chance to team with Kyrie and Kevin Durant in New York might be worth the lost millions. 
Regardless, KAT is over half a decade younger than Butler, and it makes more sense for Minnesota's roster to roll with him than the seemingly disgruntled Butler, even if Butler and coach Tom Thibodeau are close. Plus, super max money is a huge gamble (ask the Kings and DeMarcus Cousins, or the Spurs and Kawhi Leonard), and Butler was banged up again last season.