Shakur Stevenson and Floyd Mayweather's names have been connected on a number of occasions over the course of the last year. Shortly after Mayweather flew to Brazil last August to watch Stevenson participate in the Summer Olympics—where Stevenson earned a silver medal—Mayweather took to Twitter to announce that he was signing Stevenson to The Money Team:
A formal deal between Mayweather and Stevenson never materialized, though—Stevenson referred to Mayweather as "all talk" later and said he never actually offered him a deal—so Mayweather decided to sign with legendary boxing promoter Bob Arum and his company Top Rank instead. Additionally, Stevenson signed a management deal with James Prince and Andre Ward and agreed to work with them moving forward as opposed to Mayweather. He turned professional back in January and won his first two pro fights, beating Edgar Brito in California in late April and Carlos Suarez at Madison Square Garden in New York City in late May.
But despite the early success that he has enjoyed in his pro career, it seems as though there still might be a lingering beef between Stevenson and Mayweather, and unfortunately, it's taken shape in the form of an ugly Twitter beef between Stevenson and Mayweather's 17-year-old daughter Iyanna.
The two engaged in a brief back-and-forth on Saturday night during the light heavyweight match between Ward and Sergey Kovalev in Las Vegas. While the fight was on, Stevenson sent out this tweet:
Iyanna responded to Stevenson's tweet a few minutes later with these tweets:
And Stevenson replied with this tweet that featured him taking a not-so-subtle shot at Iyanna's dad:
Iyanna sidestepped the swipe and kept it moving:
But apparently, enough people asked her about Stevenson on Twitter for her to bring up his name again. She posted this on Monday night:
She also spotted this response to her tweet:
And she wrote this:
And early Tuesday, Stevenson got wind of it and decided to respond back to her. He started with this ugly tweet: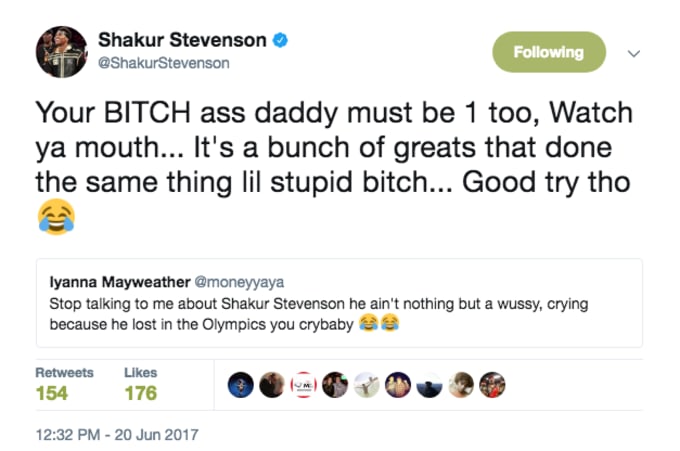 He then added this tweet, which was even uglier than the first one: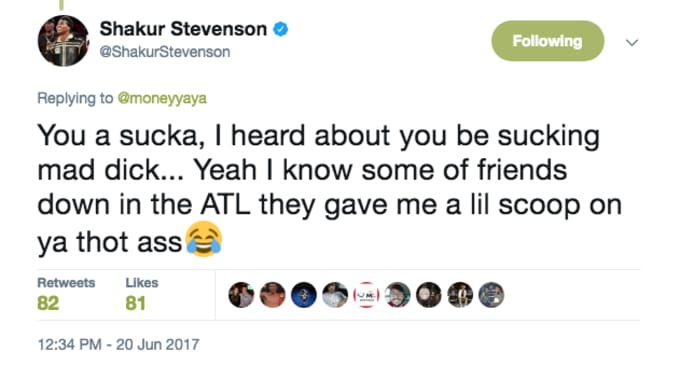 And he pointed out that he was not going to let anyone disrespect him regardless of gender:
He also shared this: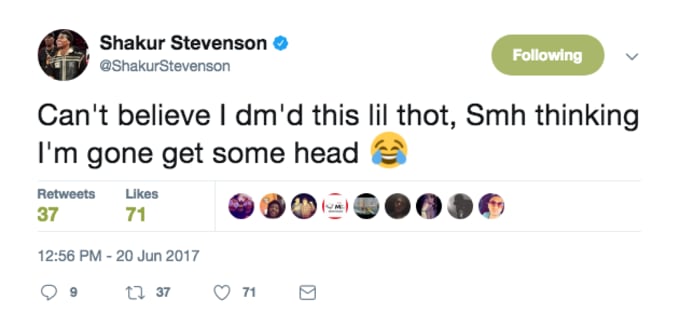 Then, he said he was going to stop there:
But at that point, there were more than a few people calling him out for the comments he made. He obviously crossed the line with the first two tweets he sent out on Tuesday, and people let him know he should have ignored Iyanna's tweet rather than saying what he said:
At the same time, Stevenson exchanged tweets with Moonlight director Barry Jenkins about the situation:
Stevenson's fellow Olympic boxer Claressa Shields jumped into the conversation, too, and suggested that she could understand why Stevenson said what he did:
But obviously, most people didn't see things that way. Radio host Michelle Rosado sent out this tweet about Stevenson's comments:
And Stevenson responded with this: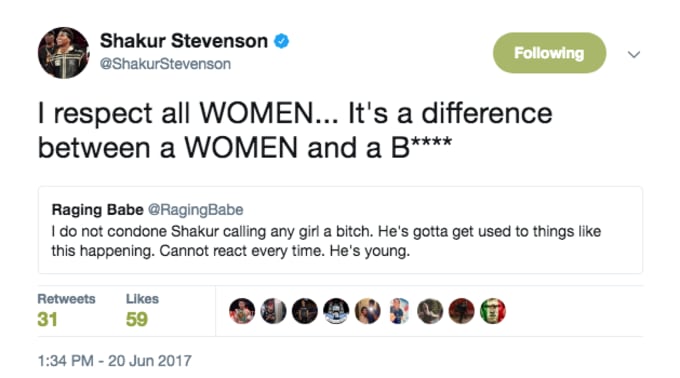 But a short time later, Stevenson jumped back on Twitter and issued an apology for what he said to Iyanna originally. He deleted several of his tweets and also mentioned that he reacted the way he did because of the comment Iyanna made about him not winning a gold medal during the Olympics last year:
Mayweather hasn't responded to the comments Stevenson made yet, and there's a chance he won't respond publicly. He has a bit of a history with Stevenson's manager J. Prince, so we would guess that Mayweather and Stevenson will probably end up handling what happened behind closed doors. But this is obviously not a good look for Stevenson, and the backlash he's receiving for it right now is definitely deserved.