Moonlight is a quietly sublime film that has the special ability to tap into feelings buried deep inside even the steeliest of cores. One of the best movies of the year, the Barry Jenkins-directed movie (adapted from a play by Tarell McCraney) has a lasting, aching effect on the viewer, weaving the universal pang of loneliness into an outsider narrative that's only made more affecting through musical cues and a cast of actors who all share the gift of saying so much without saying very much at all. Moonlight is a movie that can emotionally destroy with merely a glance. And like its title, it's illuminating—dreamlike and lit by the blue neons of its Miami setting.
Separated into three chapters, the film tracks the life of Chiron (from childhood to teenagedom to adulthood), through three different actors (Alex R. Hibbert, Ashton Sanders, and Trevante Rhodes, respectively). It's a queer coming-of-age about a young black man in the projects who lives with his drug addict mother (Naomie Harris) and finds a surrogate parent in her dealer (Mahershala Ali) and his girlfriend (Janelle Monáe, in her first film role). Along the way, he befriends—and has his first homosexual encounter with—a boy named Kevin, but it's followed by denial and overcompensation of masculinity. 
Director Barry Jenkins has been lauded—rightfully so—for his exquisite follow-up to his 2008 feature debut, and his Moonlight arrives in a year that's had a strong showing of diverse indie films, the same year the #OscarsSoWhite controversy broke. But aside from its progressiveness in cinematic diversity, Moonlight is a genuinely beautiful film with a touching, human story—and it deserves to be seen by everyone. Here, the breakout director talks about black cinema and using the perfect musical cues to add rhythm to his film—from Kendrick, to Jidenna, to Barbara Lewis.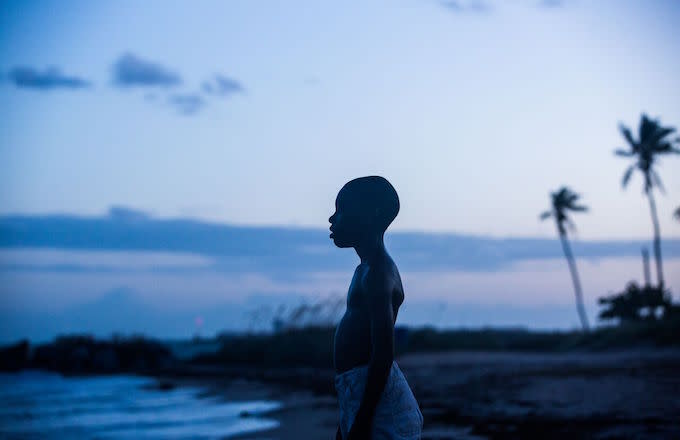 After seeing the film, I came to this realization that all my favorite movies or favorite scenes have a very strong musical tie to them. I had that moment with Barbara Lewis' "Hello Stranger" in the diner scene. Now it's come to a point where I can't listen to that song without being buried in feelings.
[Clapping.] That's good! The reason that song is in the film is because it's written in the script—the lyrics are literally written into the script—and on set when we filmed that scene, we actually played the song out loud during the takes, which you're never supposed to do because you can't guarantee you're gonna clear the rights of the song. But that song is in the film because when I lived in San Francisco, there was this soul night that happens on Tuesdays where they would play only vinyl 45s. It was for grown folks. You're not coming out to get crazy and drunk, you're gonna sit down, sip a little whiskey and listen to this very chill soul. Every time that song came on, I just got this feeling, you know? It was overwhelming. And I wanted to give this feeling to the audience.
There are also some other interesting musical cues. How much involvement did you have?
A ton. That's my thing.
Opening with...
Boris Gardiner's ["Every Nigger Is a Star"]? Yeah.
Which is in the Kendrick album.
I first heard it on Kendrick, for sure. The version that we have in is the original song, not Kendrick, and it's a little bit chopped and screwed. That's not in the script, but as we were in edit, I just decided I wanted to open the movie this way because it planted a flag that this was a very black film from a very black perspective, and I just couldn't think of another song that stated that more clearly than that track.  
The cast is incredible. The three Chirons are so magnificent in their own way. I know they didn't meet before, but did you give them specific directions so that you had a tie?
We shot the movie in sequence, mostly, so I tried to be mindful of it in my head. There were certain things we did—the way we framed them, the script, there are certain actions they repeat. There were certain things we tried to do to help unite them visually, but no, it was all casting. I felt that because the character changes so much from story to story, that it would be okay for him to be played by different actors, so long as they had the same feeling, which I found in their eyes.
You didn't want to go the Boyhood route and follow one guy for 12 years?
You know, I love Richard [Linklater] a lot. It's a weird coincidence because my first film was definitely inspired by Before Sunset. This film had nothing to do with Boyhood, and then Boyhood happened, and I was like, "Oh shit, here we go again." We were just about to go shoot this film, and I remember reading about it, going, "Fucking never..." It's amazing what he did but there's just no way.
Well, there's no point in which I felt like Moonlight was a Boyhood wannabe. 
They're so radically different. I also think the reason that we change actors is because in the world this boy grows up in, the world changes him, radically, dramatically. Whereas in the world the kid in Boyhood grows up in, things pretty much stayed the same.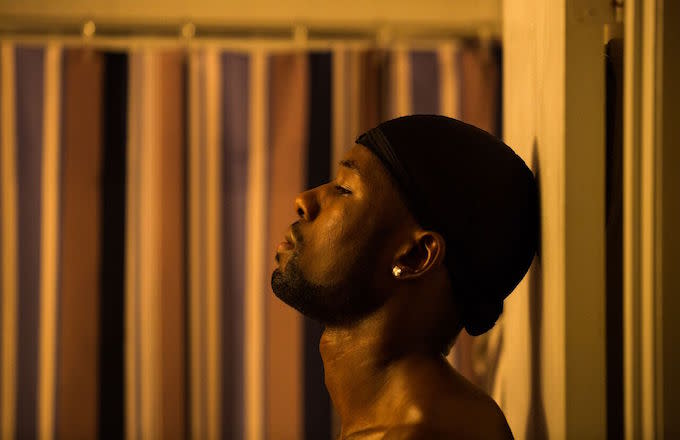 What about the queer narrative interested you?
I wouldn't say the queer narrative interests me—that wasn't the reason I came onto the project. Basically, Tarell [McCraney] and I grew up with such similar lives that I felt like we were the same person with the exception of sexual identity. When I read the piece, I thought, this is a story that needs to be told by a queer filmmaker. I've always considered myself an ally to LGBT causes and it was an opportunity to put that empathy into action. And what I decided was that if I was respectful to Tarell's voice, if I preserved his voice, then this was a way that I, as a straight man, could bring a queer story into the world and do it with the same nuance and subtlety and respect that someone who had the first-person experience would.
Once I got to that point, I took authorship of it. And then it wasn't this thing where I'm a non-queer person telling a queer story. But you know what? The movie's inherently intersectional too. I wasn't precious about any one section of the intersectionality, you know?
Right, not only is it about a gay man growing up, but it's also a black man growing up.
And a poor black man, with a struggling single mom, who's addicted. It's funny, I wouldn't even believe that all that stuff belonged in the story if it didn't actually happen to not only me but also Tarell, and who knows how many other people out there who have this story.
Are you already working on your next movie, about the boxer, Claressa T-Rex Shields?
I'm writing that one right now, but I'm not set to direct that. I'm adapting this book by Colson Whitehead called The Underground Railroad.
Are you wary about doing a slave story?
No. And I will say, because of the way Colson wrote that book, it's not a typical anything. Not a typical slave story, not a typical non-fiction narrative—this thing is just atypical.
How do you feel about the current state of black storytelling in cinema?
Holy shit, it is amazing. It's interesting, I get this question a lot about #OscarsSoWhite and diversity, and it's tricky because people are framing all these films because there is a bounty of these works right now. But they are very diverse even within the diaspora. My film is nothing like Fences, which is nothing like Queen of Katwe, which is nothing like Birth of a Nation or 13th, and people are framing them as a response to what happened nine months ago. I'm like, it took three and a half years to make my movie. Whatever this is a response to, it was something that we felt was present on the ground, and all these filmmakers who felt like their images weren't being served took it upon themselves to fill that void. When we speak of these things only as a reaction to what happened nine months ago, we rob the creators and we rob the funders and the supporters of the actual work all those years ago who decided this shit must stop.
Do you ever feel skeptical of the reception to POC films?
Sometimes! Right now, there are so many options and so many different versions of these films, and so many diverse voices. A film is a film is a film is a film. At the point of making it, I can't be bothered with that, and even at this point I can't really be bothered with it. Before the film premiered I sat down and journaled and had a moment to myself to tell me, Barry Jenkins, what I thought this film was and how I felt about it and at the end of that I felt really proud of the work we had done, and I leave it at that. Everything else is only good in the sense that the more people say flattering things about the film, the more this buzz generates, the more some guy and girl somewhere who wants to see themselves or needs to see themselves represented in arts might be more likely to hear about the film.