"Tupac is one of my favorite poets," Malikah Stevenson says while wrangling one of her nine children. "He's very inspirational and I wanted my son to be the same." Her eldest son, Shakur, is just that. As Malikah spoke about the difficulties of keeping a baseball team-sized group of children out of trouble in a city like Newark, Shakur was in the ring teaching kids boxing fundamentals for Powerade's "Just A Kid" campaign. "Shakur went to the gym a lot with my stepfather, and because of that, he was occupied. And it kind of showed me how to do it for all my kids. I had to keep them active."
With a population hovering around 300,000, Newark is the largest city in New Jersey. Amiri Baraka, Whitney Houston Shaquille O'Neal, Queen Latifah, Redman, Allen Ginsberg, and "Marvelous" Marvin Hagler are just a few of the legendary figures that call Brick City their birthplace. However, Newark is seldom mentioned when talking athletics or the arts; rather, it's more known for car thefts (see: 1995's New Jersey Drive,) gang violence, and illegal drug transactions. Shakur, an 18-year-old boxing phenom, is attempting to change that narrative like those that came before him. Named after polarizing artist Tupac Shakur, he's on his way to Rio de Janeiro for the 2016 Summer Olympics after dominating almost every youth tournament he's entered. His grandfather, Willie Moses, has been his trainer every step of the way.
"I feel like I could win a fight with just the jab."
"Shakur displayed exemplary skills when he was a young child," he says. "I took him to the little league baseball field when he was a kid, and the first time I put a bat in his hand—I think he was about three years old—I threw a ball to him and he hit it the first time."
Hand-eye coordination is the most important talent a boxer can have. Hit and don't get hit is the name of the game. Without a doubt, Floyd Mayweather or a young Muhammad Ali would be able to walk into an 80 mph batting cage and hit a rope. Moses was a ball player growing  up and tried to get Shakur into the sport, but his grandson always took more of a liking to boxing. "How he gravitated towards the television watching boxing when he was around two, I knew that it had made an impression on him," Moses says as we walk through the Boylan Rec Center to meet four of his young fighters ranging from ages 10-14. Shakur would stand in front of a screen and mimic some of the best fighters in the game.
"I love Andre Ward. I also love watching Floyd Mayweather and Pernell Whitaker," says Shakur. Sixteen years later, he still shadowboxes whenever he gets a chance. "I guess it's a habit from when I was a little kid. I go everywhere, shadowbox. I got to the mall, shadowbox. Especially when it's fight time."
At 18, most people aren't nearly as focused on what want to do with their lives as Stevenson is. When you watch videos of him, he gives off this sense of serenity, never flailing, always fixed on the opponent in front of him, jab always working. "I feel like I could win a fight with just the jab," he confidently answers after asked about his strongest punch. His trainer feels the same way about Stevenson's killer jab. "That jab, that jab. Like I said, we talked about those extraordinary reflexes that he has since he was a kid," Moses added.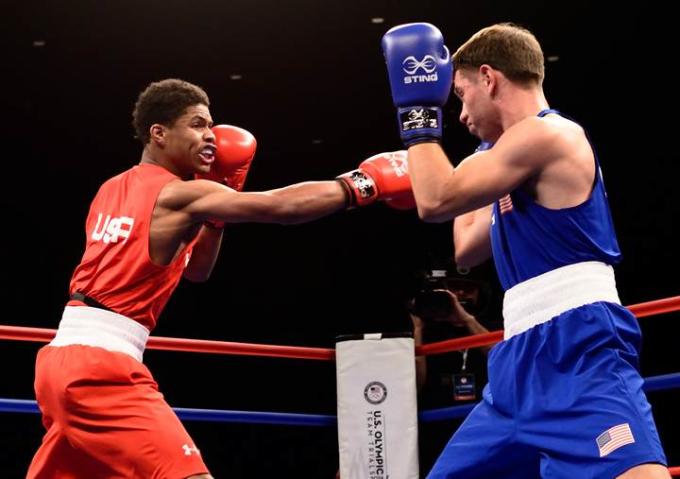 The jab is boxing's most fundamental punch for a reason, especially if you're a boxer with some length like Shakur. Jabbing sets everything up, it's the foundation. The young fighter has won fights with his jab as the center of his offensive arsenal.  "Papa, don't worry about it. Imma kill him with my jab," is something Stevenson told Moses prior to fighting Britain's talented up-and-coming Muhammad Ali during the 2014 AIBA Youth World Championship. Stevenson won that fight three rounds to none.
His fight with Ali and his bouts against Ruben Villa have proven to be his most challenging to date. "The toughest fight I think I ever been in honestly, was the Olympic Trials when I fought Ruben Villa after he beat me twice." Shakur says reflecting on his two losses to the kid from Salinas, Calif. "I felt like I got big-headed. I felt like I done went overseas and I felt like once I came back from winning world championships at the junior level and youth level, I felt like nobody could beat me. He made me fight his fight."
Stevenson won his fight against Villa during last year's Olympic Trials, making him an official member of Team USA.
"Right now, he's accomplishing things that no other fighter has. He doesn't get recognition for that, you know? He's under the radar in terms of people really being behind him," says his grandfather.
The kid from Newark is on his way to becoming a household name in the States and beyond after the Summer Olympics. When asked if he plans on going pro after Rio, win or lose, Shakur gives a confident smile.
"I plan on going pro with a gold medal."
4xdmE3MzE6T6gBL2zwGq4EfSfJdK9JRI