UPDATE (10/19/15):
TMZ Sports has released some new information on this story. According to their latest report, Johnny Manziel's girlfriend Colleen Crowley told police Manziel "hit her a couple times in the car." She also told police that she had three drinks prior to the incident, while Manziel had two. And police took a photo of the "friction burn" that Crowley reportedly suffered after Manziel grabbed her arm in an effort to stop her from getting out of his car during their argument.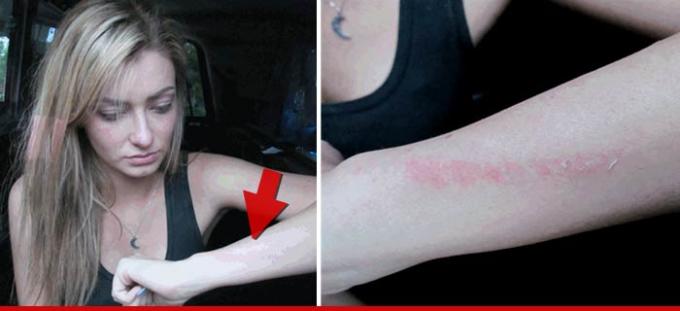 Crowley made it clear to police that she did not want to press charges.
UPDATE (10/16/15):
Manziel took to Twitter to give his side of the story. He says he was sober during the argument.
Colleen and I got into a dumb public argument on the way home Monday afternoon.  It probably looked more interesting than it was and...

— Johnny Manziel (@JManziel2) October 16, 2015
I know I would stop and check if I saw a couple arguing on the side of the road.  It was embarrassing but not serious...

— Johnny Manziel (@JManziel2) October 16, 2015
and when we talked to the police and they realized everything was alright and I was sober, we went home together and everything is fine.

— Johnny Manziel (@JManziel2) October 16, 2015
October 17, 2015
October 17, 2015
See original story below.
Johnny Manziel was reportedly pulled over during an argument with his girlfriend Colleen Crowley in Avon, Ohio on Monday night and, according to police, both Manziel and Crowley admitted to drinking earlier that day.
According to newsnet5.com in Cleveland, Manziel was pulled over in a white Nissan after a driver called police and reported that he had used the shoulder of Interstate 90 to pass her at a high rate of speed. That driver also revealed that a female passenger in the car attempted to get out of it while it was on the road and that the couple inside of the car were arguing. A second driver called police and reported that the driver of the Nissan had pulled over in a neighborhood in Avon and that the occupants of it were arguing.
Police pulled the Nissan over a short time later and discovered that Manziel was the driver. In a police report, the two admitted to arguing, and Crowley told police that Manziel had pushed her head into one of the car's windows during the argument. Crowley also told police that she had thrown a wallet from the vehicle. Police observed a mark on Crowley's arm but determined that it was caused by Manziel attempting to keep her from jumping out of the vehicle while they were driving.
While speaking with police, Manziel and Crowley both revealed that they had been drinking earlier that day in downtown Cleveland. However, the police report said that neither of them were intoxicated. Crowley eventually told police that she did not want to press charges against Manziel, so they were both permitted to leave the scene in Manziel's vehicle.
Manziel spent time in a rehabilitation facility during the offseason. There has been no comment about the alleged incident from the Browns yet. Stay tuned for further details.
Send all complaints, compliments, and tips to sportstips@complex.com.
[via newsnet5.com]