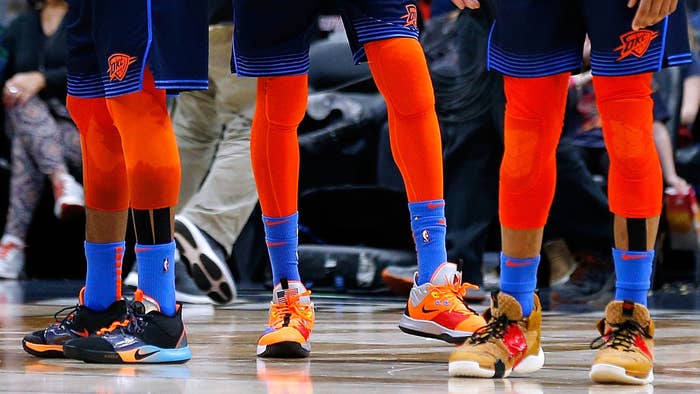 For many sneakerheads, we've been able to watch the entirety of the Oklahoma City Thunder's existence—if Russell Westbrook's rookie season can be remembered, you've seen it all. For some perspective, the Boston Celtics won their 17th NBA Championship with a team featuring Paul Pierce, Kevin Garnett, and Ray Allen, before the Thunder even came to be.
Westbrook was selected by the Seattle Supersonics just six days prior to the team's relocation to OKC, and little did anyone know at the time, but this Great Plains town known for its oil wells and cowboys was about to become one of the epicenters of NBA sneaker culture.
Sensing the opportunity to preserve memories of the franchise from day one, Dan Mahoney, current VP of Broadcasting and Corporate Communications, recalls that "it hit us pretty quickly that we should save everything we could. Any organization, especially in sports, you want to be able to keep parts of your history and tell your story for generations."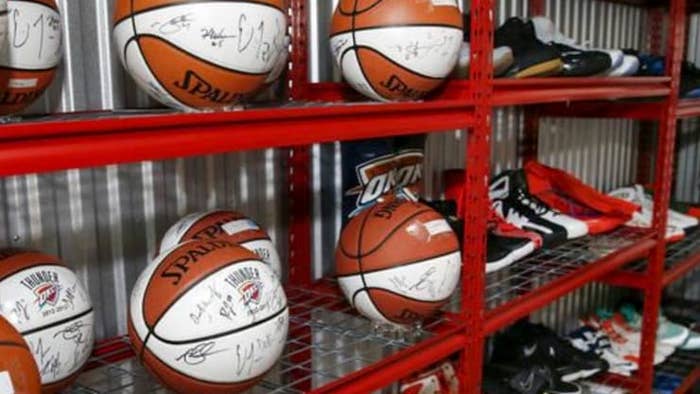 Mahoney explained that because of the quick nature of the team's move, "we probably didn't have enough of a process in place, because we relocated in July and the season started in October. But we pretty quickly caught up and started saving everything we could and just stored it away—not really with a whole lot of organization, just don't throw anything away. And a key part of that is the shoes."
What that storage would eventually become, at least on the footwear front, was an archive that went on display at the Chesapeake Energy Arena for the team's 10th anniversary season. "Every player that's come through our organization has contributed," says Mahoney. "Every person that's come through our organization—player, staff, coach—everybody matters and everybody's played a role. And as we look at the players, one unique way to mark each of them that comes through is to have pieces of what they've contributed, and the shoes are really a vital part of that and a concrete way showing what they were able to express."
The importance of sneakers to the game and culture of basketball has never been bigger than it has for the past decade, not only for the fans, but the players too. "It gives the guys on the court their own sense of style, their own sense of fashion," says Thunder guard Andre Roberson. "That's the only way they can kind of be themselves outside of the name on the back of the jersey."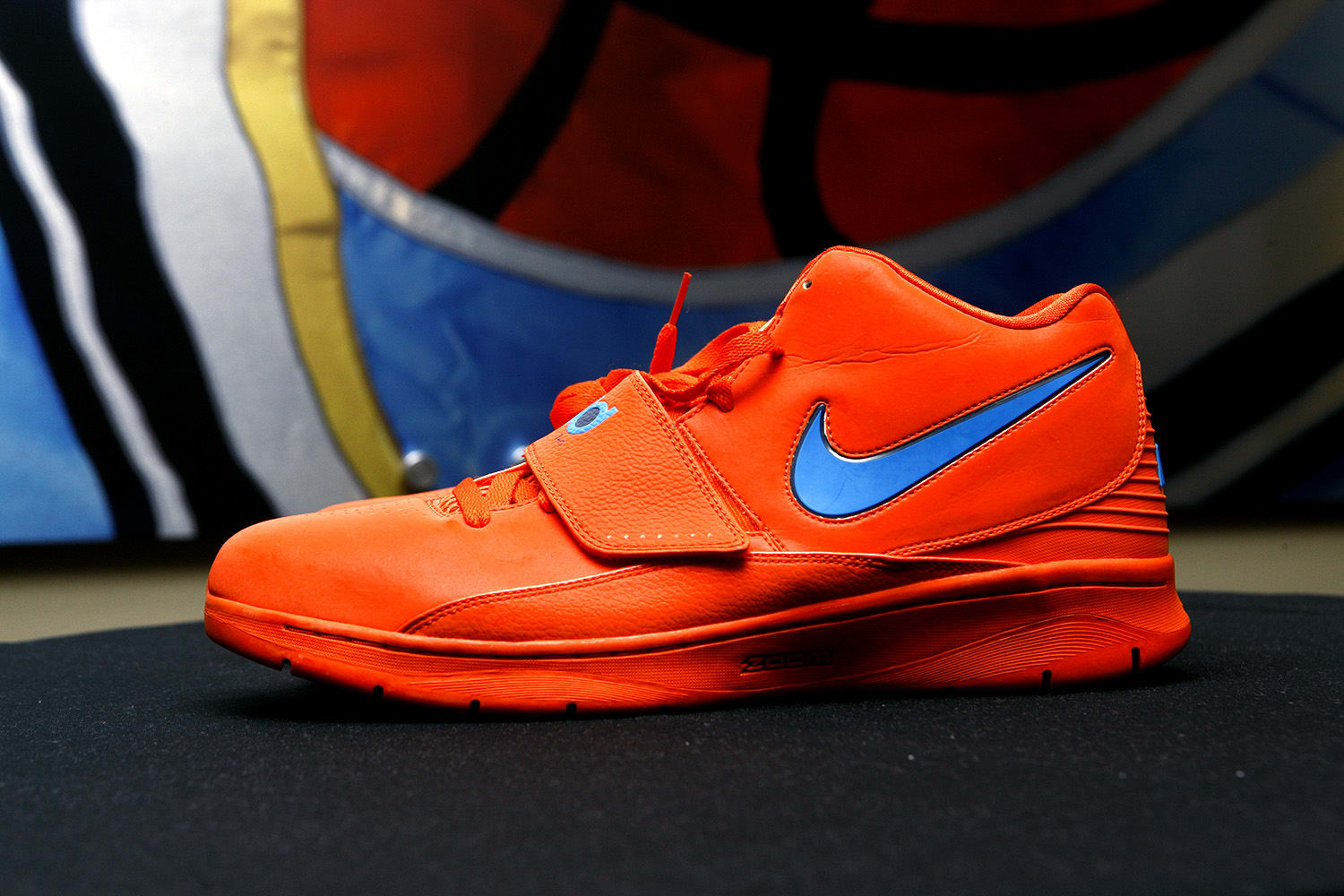 The Thunder have made the most of this past decade when it comes to sneakers. "We've had a lot of sneaker-heavy players with a lot of different shoes in their rotation from early on," explained the Thunder's Senior Logistics Lead, Wilson Taylor, who handles all of the team's equipment needs. "Over the years we've had KD—dealing with all of his signature shoes, now PG's signature line, Carmelo last year, and Russ." That makes four signature athletes already in the team's brief existence, and that doesn't include James Harden who went on to have his own line later.
"Even guys like Caron Butler—he was an SMU guy, so he wore a new pair every game, and James right when he got to be SMU and started getting special make-ups. Dion Waiters was a heavy Nike ID guy, so we were sitting down every few weeks and doing IDs," added Taylor.
George's line has become so popular among his peers that it was reported last year to be the most-worn signature model in the NBA. "I wanted to make a shoe that was great for basketball players and guys wanting to hoop in," George told Complex. "Everything that went into the shoe was based on what I like in sneakers and what I think people around me would like in terms of comfort and performance. So that's really where it came from. I'm happy that the areas what we keyed in on are what's making the shoe so popular."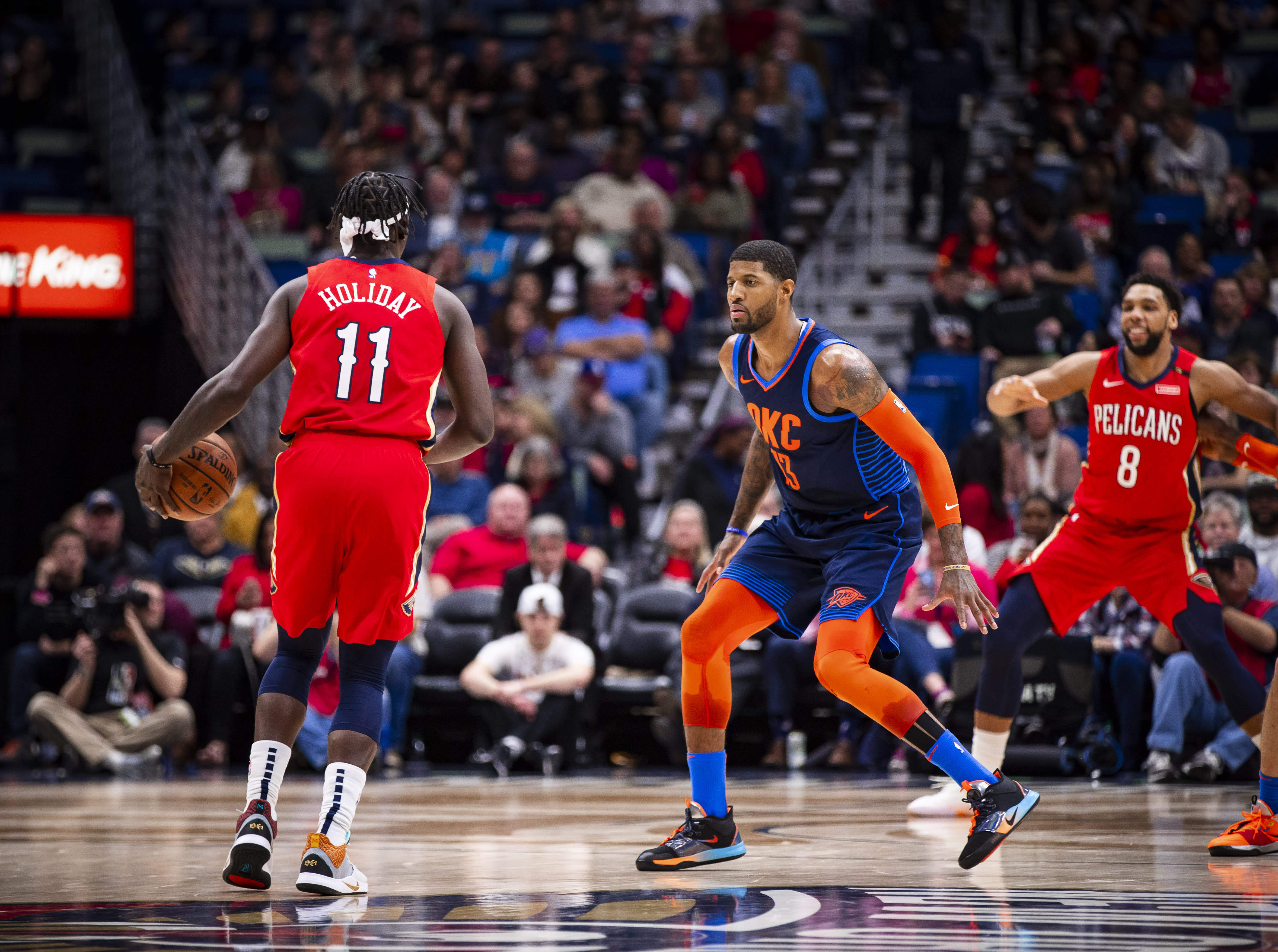 George's teammates not only are fans of the shoes, but appreciate the access they get to both his and Westbrook's sneakers. "We definitely get to see the new flavors before anybody else. I don't think they went wrong with any shoe so far," says Roberson. "They're killing the game right now."
According to Mahoney, OKC "really has developed into a sneaker market, and obviously the Thunder get the credit for that and the players get the credit."
As for the long-term plans of the sneaker archive, Mahoney says it's still a work in progress. "We're gathering, we're archiving, we're protecting these artifacts, and saving them for generations to come." Eventually though, the team plans to have a more robust display.
"Our whole philosophy with the Thunder is we're building this legacy with everything we do every day, and a big part of that—if not the dominant part—is the players and what they stand for in the community, on the floor, within the NBA, and how they represent themselves," says Mahoney. "And one of the ways they represent themselves and express themselves is through their shoes."