New York City's Most Chaotic Sneaker Releases
From the 'Pigeon' Nike SB Dunk to the Supreme x Nike Air Foamposite Ones, here are the most chaotic New York City sneaker releases.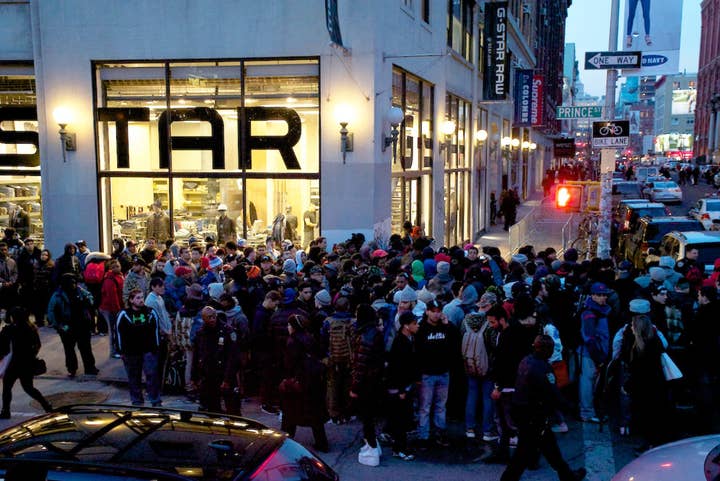 Image via Andrew Dizon and Edward Limpin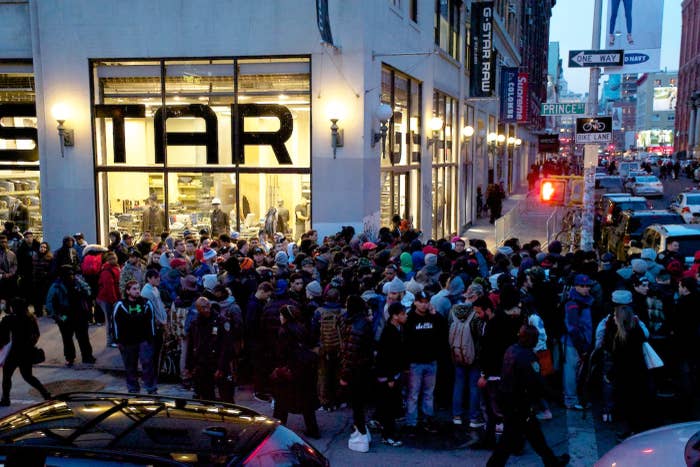 Sneaker releases aren't what they used to be. Even before the pandemic, the "good old days" of first-come, first-served drops were mostly a thing of the past. In their place, various crowd-wrangling tactics have been used, with raffles and online-only drops (and oftentimes, a combination of the two) becoming the most common methods of launching product. Yet every now and then, there's an anomaly, a release that restores the feeling, energy, and pandemonium of yesteryear.
Most recently, it was Corteiz's Air Max 95, a collaboration between Nike and the up-and-coming British streetwear brand helmed by Clint419. After releasing a green colorway online but only offering shipping to Africa, Europe, and the Middle East, Corteiz descended on New York City to drop a "Pink Beam" version. Social media clips of the March 21 event show a large crowd rushing toward coordinates flashed on a billboard, and Complex was on the ground with a firsthand account of how it all went down.
The Corteiz frenzy inspired us to look back on some of NYC's craziest sneaker lineups over the years. Sure, there have been chaotic releases worldwide—"Galaxy" Foamposites had sneakerheads rioting in the US, an Adidas Yeezy release turned violent in China after resellers attempted to hoard pairs, and nearly every holiday Air Jordan 11 drop has had its share of drama, but The Big Apple has a knack for creating memorable moments around hyped footwear.
To be clear, this list isn't intended to glorify violence at all, but is instead a look back at the recipes that created perfect storms for hyped sneaker releases. It also focuses explicitly on marquee releases that really stood out—there are plenty more hectic releases for Air Jordans that have transpired over the years, but those are not captured here. Whether it's the "Pigeon" Staple x Nike SB Dunk that's credited as being the first truly unruly release or the latest offering from Corteiz, these are New York's wildest sneaker releases.
Nike SB Dunk Low 'Pigeon'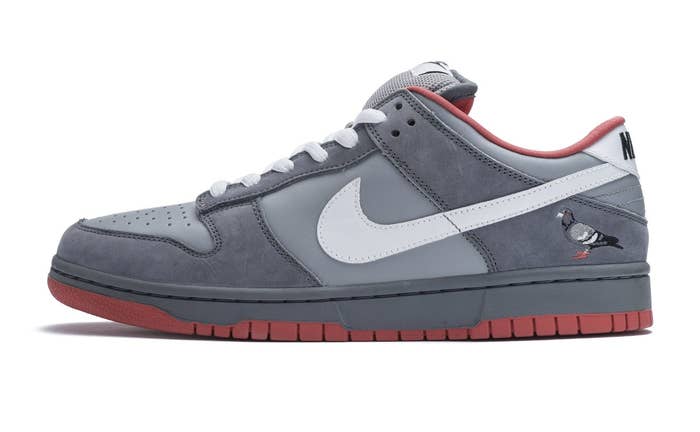 We have to talk about it. You've probably heard about it before—even Jeff Staple has been over the story so many times that he's done reliving it—but it bears repeating. The "Pigeon" SB Dunk Low, designed in collaboration with Staple and released at his Reed Space shop in New York City's Lower East Side on Feb. 22, 2005, set the standard for mayhem and myth at modern sneaker releases.
The shoe was part of a city-themed series of SB Dunks, and New York's entry celebrating the Big Apple's most ubiquitous bird. It came as mania around Nike's most collectible, limited edition sneakers were heating up. People knew that the demand far exceeded the supply and there was money to be made. Some of them started camping out—before they'd even seen images of the shoe—four days ahead of the Pigeon Dunk's release, others brought weaponry in hopes of relieving campers and shoppers of their pairs.
"It was hectic, it was fights every night," recalled Corey Ng, a customer that braved three frigid New York City nights outside of Reed Space back in 2005 in order to buy the Dunks.
By the day of the shoes' release, police showed up to quell the growing, unruly line that was forming outside of Reed Space. The store decided to let customers in the front door to buy the shoes and shuttle them out the back door directly into taxis, ensuring that they could safely leave the scene.
Mainstream media, which was not yet clued into the phenomenon of people lining up for shoes, took note of the "Pigeon" Dunks and took the story to another level. The drop was labeled a sneaker frenzy. The New York Post, never afraid of hyperbole, called the relatively small release a sneaker riot.
Staple's Dunk ended up making a very big mark on sneakers and how they're released. It helped encourage collectors to show up early in order to secure the shoes they wanted. It taught them how much money those shoes could possibly be worth—today, the "Pigeon" SB Dunk can sell for upward of $30,000. And it helped big brands realize the extent to which they could fuel a culture built on obsession with and extreme dedication to footwear. -Brendan Dunne
Supreme x Nike Air Foamposite
Supreme's in-store release for its Nike Air Foamposite One collaboration was called off before it could even happen. On April 2, 2014, people flocked to the shop's storefront (then located at 274 Lafayette Street) for a chance at one of two Air Foamposite One colorways and a matching apparel collection. It was a full day before the official release and the crowd had grown so massive that the NYPD had helicopters patrolling the scene. When we say the street was filled with people, that's not hyperbole: they were literally shoulder-to-shoulder.
The shoes arrived at a pivotal time in the Foamposite's trajectory. The model was two years removed from what remains its most hyped colorway, 2012's "Galaxy" from NBA All-Star Weekend in Orlando, and Nike had been fully cashing in on the sneaker's newfound mainstream appeal. More than a dozen new colorways released between the "Galaxy" and the Supreme collab, many of which featured printed graphic treatments, something that hadn't been used on the shoe prior to the All-Star Weekend pair. The strategy had mixed results: the Foamposite was suddenly everywhere, but it also teetered on the edge of oversaturation. Then, the Supreme collab hit and reignited the hype machine all over again.
Supreme's version of the Air Foamposite One was presented in black and red-based colorways, each of which were draped in a baroque pattern reminiscent of something Versace might use. A matching basketball jersey and basketball shorts accompanied the sneakers, each of which found their way into the hypebeast uniform in the years that followed. Although the buzz has calmed down considerably since then, both Foamposites are still money makers on the resale market with pairs regularly selling for over $1,000.
With the in-store situation already looking sticky the day before the drop, the NYPD decided to shut it down altogether. A sign posted on the store's door said the NYC release had been canceled by the police, while an Instagram post from the brand elaborated.
"Due to concern for public safety, NYPD has forced us not to sell the Supreme/Nike Foamposites and accompanying clothing in our New York store. These items will be available tomorrow on supremenewyork.com at 11am EST," the message read.
The visuals and reports of shoppers swarming the street paint a vivid picture of just how heated things became on Lafayette, but in the end, it thankfully managed to go down without any reported injuries or arrests. -Riley Jones
AriZona x Adidas Collection
People love free stuff. The second best thing to paying nothing is simply spending 99 cents. That's part of the appeal of Arizona's line of tall can drinks: 23 ounces of liquid with corn syrup in a whole host of flavors, who can beat that? (Don't answer.) One of the fan favorites is the Green Tea variety and the color of the cans—green with pink flowers—was transferred over to a collaboration with Adidas in 2019. The collection featured two sneakers, the Continental and Yung-1, and the Adilette slide. Adidas planned to release the collection in New York City—for 99 cents.
Guess what happened? Madness.
A lot of people were excited for these shoes. And I don't really believe them. They were OK. Nothing great. Super OK at best. The slides were cool. But people really just wanted sneakers for $1. It caused hundreds of people to mob in downtown NYC in hopes of scoring a pair. And guess what? No one got them because it was shut down by NYPD.
The product ended up releasing at a later date at Foot Locker for full retail prices and no one was excited. Guess they didn't think it was so awesome after all. -Matt Welty
Corteiz x Nike Air Max 95
For years, in-person first-come, first-serve releases were a staple in the sneaker community. An uptick in online drops, draws, and raffles combined with a global pandemic took the industry away from that for quite a while. But in March earlier this year, London-based streetwear brand, Corteiz, restored the feeling with an in-person New York City release of their second collaborative Air Max 95 colorway.
On March 20, Corteiz tweeted out an address and a time that propelled thousands of NYC sneakerheads to congregate outside of Penn Station. The crowd took over the entire corner of 34th Street and 7th Avenue, encroaching into the street with hundreds of bystanders walking by confused, dozens of people waiting patiently on CitiBikes to gain any advantage possible, and one very overwhelmed crossing guard in far over her head. After about an hour of waiting, the brand dropped a set of coordinates on the virtual billboard, and once the location was determined, it was a mad dash to Alphabet City.
Waiting downtown was a fully integrated bodega with custom Corteiz wrapping including, but not limited to, mock cigarette ads, a custom ATM, and a food menu. This is where the real chaos ensued, as there were far more people in the cut than there were sneakers available. One person Complex interviewed on the scene even claimed that he saw another eager patron pull out a knife in the crowd. With consumers far from situated in an orderly fashion, the police had to show up, threatening to shut the entire release down if order wasn't restored. Corteiz captured a feeling that hadn't been present in New York City for a while, and that speaks to both the popularity of its brand as well as an eagerness shared by the sneaker world for something other than the typical online "L." Ordinary sneaker releases come and go, but in-person "experiences" like this one stand the test of time. -Ben Felderstein
Pharrell x Adidas NMD Hu Trail
It may not seem likely, but there was a time not too long ago when Pharrell Williams' Adidas collaborations had the streets in a (literal and metaphorical) chokehold.
Short-lived as the hype may have been, Pharrell and Adidas' NMD HU models were some of the most coveted pairs on the market at the time. It was a period when Adidas was dominating the resale market, a byproduct of its successful Yeezy collaboration with Kanye West, which had snatched some of the hype away from Jordan Brand and Nike's usual spot at the throne. Don't believe us? Just take a look at this tweet in reaction to a scuffle that occurred during a Pharrell x Adidas Hu NMD TR drop.
"No one cares about Jordans to make money anymore lmao," read a response from the same Twitter user who posted a firsthand video of the brawl.
Adidas ultimately pulled the plug on the NYC release that day, tweeting that local sales had been "suspended."
With a retail price of $240, StockX's price history shows that the sneaker's resale peaked at just over the $500 mark months after its release. Is that a come-up worth getting assaulted and/or catching a charge over? No, but at least it's better than some of the recent sales, which have managed to dip under retail. Times have changed. -Riley Jones