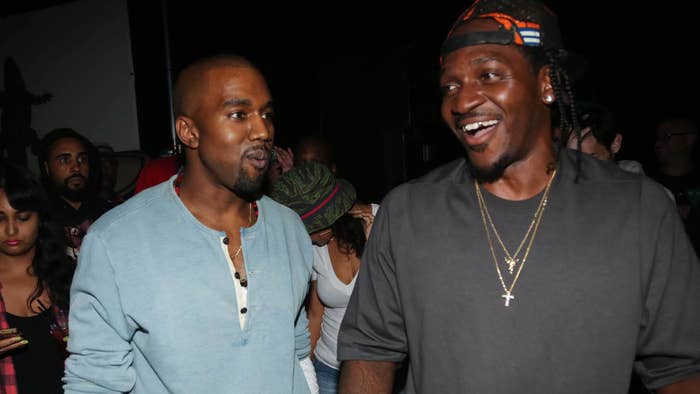 For many hip-hop fans, the Drake vs. Pusha T beef was one of the hottest topics of the year. After fizzling out, the beef was re-energized with Drake appearing on LeBron James' HBO series The Shop to discuss it this past weekend. Today, we get details from the other side as Pusha T appeared Joe Budden's podcast.
While much of the focus is on Pusha saying he found out about Drake's son from his long-time friend and producer Noah "40" Shebib, not Kanye West, the Virgina-born rapper also spoke on Drake's current "beef" with Adidas.
For those unfamiliar, Drake was rumored to have signed a deal with the Three Stripes that would have included his own line of apparel. Before the deal was officially announced, Pusha T made mention of it on his diss track "The Story of Adidon." From that point on, Drake was seen rocking Nikes again. He's been wearing a special version of the Air Max Plus on a nightly basis during his "Aubrey and the Three Migos Tour." The rift between Drake and Adidas also birthed the now-infamous, "Checks over stripes, that's what I like," lyric spit by Drizzy on his guest verse of the summer 2018 anthem "Sicko Mode," by Travis Scott.
When asked by Budden if he ruined the Drake deal, Pusha simply replied with, "Come on bro." He continued by saying, "The thing about Adidas and that bar, the house that we're at Adidas, we've got the creatives, we're the gatekeepers of this shit when it come to this. You say [Kanye], you say [Pharrell], you say myself, and Adidas as a whole, they were first when it came to embracing tastemakers and that whole energy. Adidas, we started that shit."
You can check out the lengthy conversation in its entirety here.