There are few skaters more relevant in the streetwear world right now than Tyshawn Jones and Na-Kel Smith. It's not just because they skate for Supreme and Adidas, but they're really, really good when it comes to their on-board skills and connect with the youth in a way that's authentic. And their latest Adidas collection, a collab with their hardware brand Hardies, proves just that.
The line is centered around a blue-and-yellow Adidas Matchcourt that comes complete with matching gear (track pants, crewneck sweatshirt, and 6-panel hat) and releases on February 3. 
We got the chance to talk to both Jones and Smith about their Hardies collaboration, but also more pressing issues, too: Is skating in Yeezys a yay or nay? Would they ever camp out for Supreme? And have they ever met the elusive Supreme founder, James Jebbia?
Find out below.
What do you think of people skating in Yeezys?
Tyshawn Jones: I think it's hilarious, because people pay big money for those and it's kinda like crushing dreams for all the people who cannot get them, because they're limited or whatever.
Na-Kel Smith: I don't see people skating in Yeezys. If they do, they're just doing it for attention, but I don't really think about it ever.
What do you think of "skate" being the in thing in fashion and Thrasher T-shirts being worn by everyone who doesn't skate?
Jones: I think it's funny, but it is pretty annoying at the same time seeing chicks and rappers wearing it.
Smith: Skateboarding being a huge influence in fashion doesn't really bother me. Everybody wants to be a skateboarder or dress like a skateboarder, but they don't want to deal with what skateboarders really go through: jumping down big set of stairs and rails for hours or getting kicked out of places. The mental battles are the toughest, but people are attracted to it because we have our own culture as skateboarders. It's raw and there are so many different styles within skateboarding.
How involved were you with designing the Hardies collection?
Jones: I was super involved in the process, and I was hands on with everything.
Smith: Tyshawn pretty much had that one covered. We kind of just brainstormed a little in the beginning, and he took it from there.
Na-Kel, your first sneaker sold right out, how surreal was that? Are people still asking you for pairs?
Smith: All I can do is be grateful and appreciative for the people who bought 'em. It's amazing. People still ask me where to get them, too. I just made something that I thought would be cool. and I guess other people thought it would be cool, too.
What was your mom's reaction when you showed her the sneakers you made that were dedicated to her?
Smith: She cried tears of joy. All of this shit is a big deal where I come from.
Na-Kel, what's the craziest story from being on tour with Odd Future? Are you trying to get Earl on Adidas?
Smith: Fuck, there was this trip to New York one year that included Trash Talk, Frank Ocean, and an Odd Future show all in one night and like EVERYBODY was out there. We TURNED SHIT THE FUCK UP. Can't give away too many details, but it gets crazy sometimes. Or this one show in Philly with Earl. We went to Made in America before, chilled then did a show at TLA. We partied hard that night.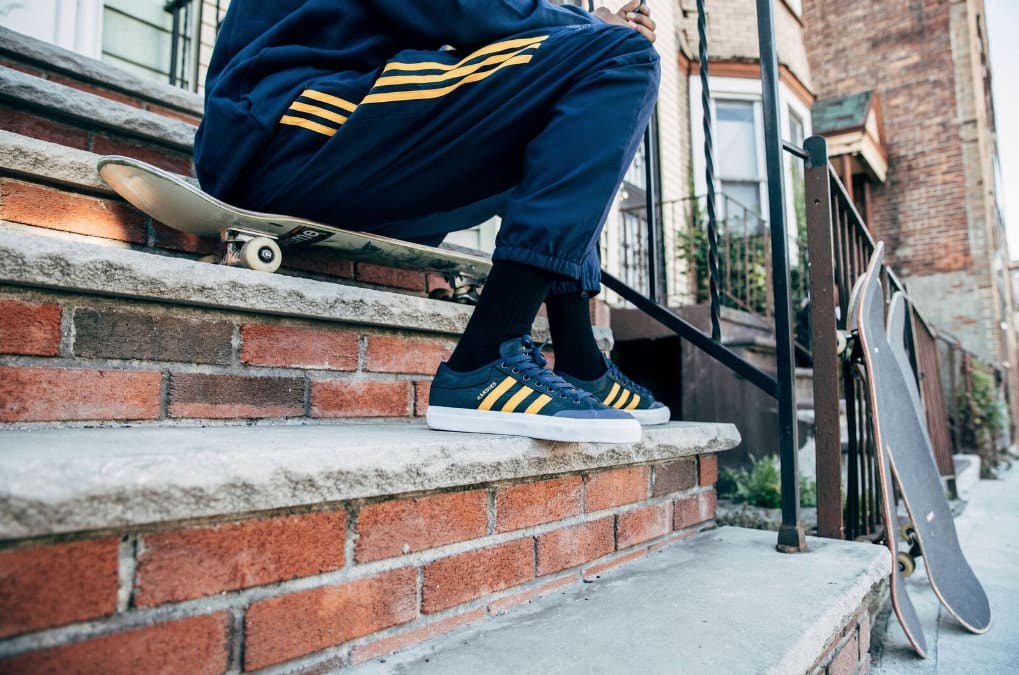 Tyshawn, you posted a picture of an Adidas with your dog on the tongue. Is that your own sneaker? Or has there been any talk of you getting your own signature shoe?
Jones: Yes, the photo with my dog on the sneaker is my signature colorway, which will be dropping real soon. As for the pro model, not sure because I just turned pro, but it's definitely a discussion I want to have.
A lot of people say Adidas is killing it now with Yeezys and NMDs and whatnot, do you think Adidas Skateboarding, and you guys in particular, help play a role in that?
Jones: I don't know. I don't wanna say I play a role in people buying stuff, because that sounds a little cocky to me, personally, but I will say that I have a lot of supporters and they support what I do.
Smith: Yeah, Adidas got it right now. I don't see us hurting the brand. I just think it's a great time to be alive doing what we're doing.
If you guys weren't sponsored by Supreme, would you camp out for it? How do you guys feel about the people who buy the brand just to resell and don't skate?
Jones: Hell no. The hell I look like sleeping outside [laughs]. But people reselling doesn't bother me, because you gotta get it how you live, that's how some people survive, so kudos to them. You'll just never catch me in line for clothes, though.
Smith: I used to camp out to sell my spot in line for money when I was dead broke. People make a living off of reselling clothes. Shit's pretty crazy, but I don't look at Supreme as the skate company you can't wear if you don't skate. I kind of used to a little bit but not anymore.
Have you guys met James Jebbia, if so what was that like?
Jones: Multiple times. It was normal. He's a normal chill dude.
Smith: Yeah, I met him a few times. I don't know if he remembers me, but he is pretty lowkey. He just pops up doesn't say too much, takes his mental notes and goes on about his business.