 Ah, what a wide range of emotions these sneakers have put us all through. It sounds corny, but just look at your Twitter timeline today, or your text messages, your e-mail. It was probably full of people bitching, wishing, and hoping that they locked down the ever-so evasive Nike Air Yeezy "Red Octobers."

To be honest, the way the Red Octobers were rolled out started with sheer fuckery. 'Ye debuted them on the May 18, 2013 episode of SNL. The buzz began immediately. Any hint about the release was treated like the leak of a National secret. When Kim Kardashian is the source for semi-confirmation that a sneaker is happening, it's both crazy and awesome.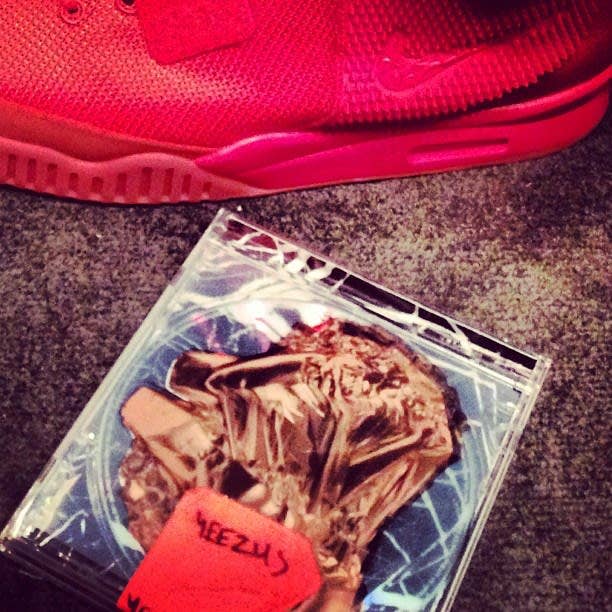 I remember being out at dinner and watching Kim K and the rest of 'Ye's crew teasing the reds on their respective Instagram feeds. Although I wouldn't go as far as saying it disrupted my night, e-mails had to be sent, and I hit up store managers I knew to get some information. Over and over again, I got the same response: "I really have no clue." The first thought was to assume they'd be released in October. Kanye's manager Don C sent out this cryptic Instagram on June 12th, 2013 with the hash-tag "airyeezy2 #redoctobers." Again, rinse and repeat. Text messages are being sent, Twitter is going nuts, and I'm hitting everyone connected for info. Again, no concrete answers.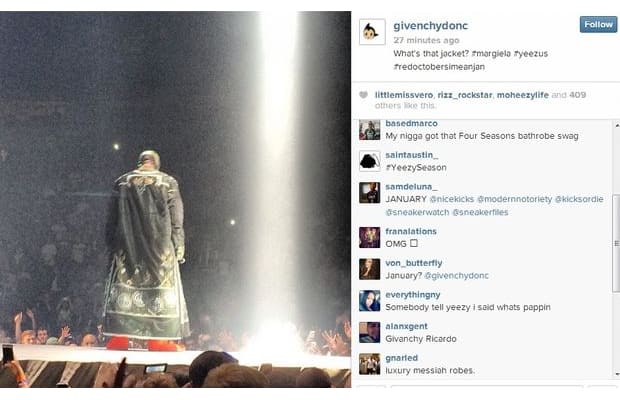 In June, Kanye announced that there would be 50 pairs given away through a raffle on KanyeWest.com. The hype was building and building. On December 20th, things really got nuts when Footlocker announced via Twitter that they were releasing the coveted shoes on the 27th, at 8 a.m. EST.
Then, four days later, Footlocker retracted the date.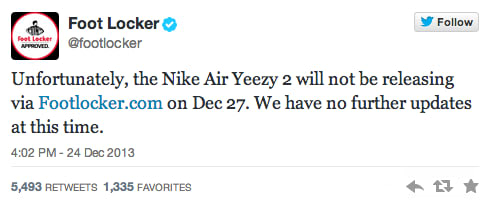 Again, I remember being at lunch at midtown with some Complex heads and having another meal ruined. I'm not being hyperbolic, these are just facts and as much as we don't want to admit it, we've all been consumed with the Red Octobers. We wanted them really badly, we gave up, then we thought ourselves "There is hope! This might happen!" Then, after another round of rumors, we gave up again, and so on and so on. 
It's the type of process people outside of this little weird sneaker world we live in will never understand, but it's a perfect example to remind yourself how much you really care about sneakers. For better or worse. Between Kanye's SNL appearance and now, besides the things mentioned above, Kim K showed off a full pair, Geno Smith wore them court side at a Nets game with #NTDENIM (LOLZ), Kevin Hart may or may not have got a fake pair, and Macklemore threw them into the crowd on New Year's Eve. Oh, and Kanye signed to adidas, which made everyone lose hope, again. There were rumors in the industry that there were 50 pairs in the Roc Nation office (doubtful), and then lately it seemed everyone was at peace with them never releasing again. Admit it, like us, you shrugged it off like "yeah, I'm over those."

Then today, at around 1 p.m. EST, a day before the 10th Anniversary of Kanye's debut album "The College Dropout" released, Nike gave no fucks and dropped them out of nowhere. Naturally, everyone went crazy. Everyone who fronted like they didn't want them bitched in public (Twitter sucks at these times, looking at you grown men) or privately (I may have sent a "yo ask around if anyone got an 11.5." I'm not immune to hype, either). Once again, a pair of sneakers disrupted our lives for a couple hours.

Here are the takeaways from the quickstrike:

1) Nike is very powerful. They can do whatever they want and pretty much own the market at any time. The Tiffany Dunk SBs released 24 hours ago. You can throw out cliche statements like "the fight is fixed," or "our only competition is us," but really, they're pretty unfuckittwable. Maybe Jordan will drop the Black/Cement IIIs tomorrow. That'd be awesome.

2) Kanye's influence isn't slowing down. You hated Yeezus? You don't like some of his public antics? Cool. There are a lot of people who still think 'Ye's the illest in many arenas, and product associated with him creates a stir whenever the powers that be want it to. And for all of you claiming it's all hype, there's no denying West has an eye for good product.

3) For better or worse, this is what the "sneakerheads" love and hate about the culture. People hate it and shrug it off like, "ah look at the hypebeast ruining everything." But then you realize it's pretty crazy that this little underworld, one that not many of the friends you went to college with get, can bring so many people together to talk about the same thing. It validates the how big this little sandbox we play in has become.

4) I'm happy it's over. I own all of the first five pairs of Yeezys and each are awesome. The "Red Octobers" are awesome too, but I'm not getting a pair of those, and you probably aren't either. Nike confirmed to Complex that this online drop was it. Time to move on, everyone.

The next few months are going to be really fun for sneaker culture. It will be interesting to see what Kanye does at adidas, and now that the Red Octobers and the Tiffanys are over, what the next big thing from Nike is going to be. Some people are into cars, some people play golf, and some people like to hunt. We like sneakers. The Red Octobers, and today specifically, is just another event to remind us how major this "thing of ours" has gotten.

Don't ever be ashamed of it.
RELATED: Green Label - Red October Yeezy 2 Drops as a Secret Release