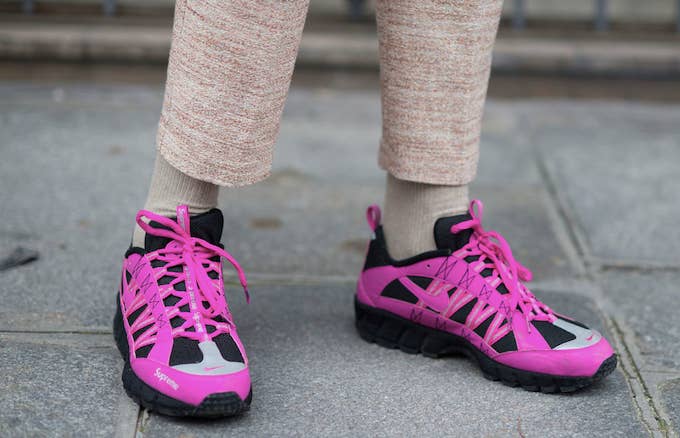 Functional streetwear is far from a new concept, as demonstrated by the countless brands that infuse performance technology into street-ready designs. In fact, pieces that were once strictly reserved for the gym or outdoor sports are now generally considered streetwear staples. Just look at joggers, tracksuits, running shoes—the list goes on and on.
In recent article by Highsnobiety, writer Chris Danforth underscored the appeal of athleisure-wear by examining the growing interest in hiking/climbing footwear—as seen in models like the Adidas Originals' NMD Hu Trail, the Fila Trailblazer, and the ACG Air Revaderchi.
"The popularity of the outdoor aesthetic speaks to being 'real' in an unpredictable world—function over form and, particularly, protection from uncertainty," said Stuart Wells, global brand marketing director for Adidas Outdoor. "We're driven to make sure that our shoes are always delivering uncompromising performance and have a visual attitude."
Wells went on to say that this hiking sub-trend might also reflect the growing interest in fitness and wellness, suggesting sneakerheads are gravitating toward these models not only for the look, but also for the functional benefits.
Livestock Canada's senior buyer John Tuazon echoed a similar sentiment.
"We think that performance has always been at the forefront for sneaker fanatics, whether it's SBs, basketball shoes, runners, or trail shoes, every piece should serve a purpose," he said. "Sneakers aren't meant to sit in a closet forever. They're meant to be worn, so they better be comfortable and have some quality behind them if we're going to spend time and money trying to get them."
You can read the full story at Highsnobiety.