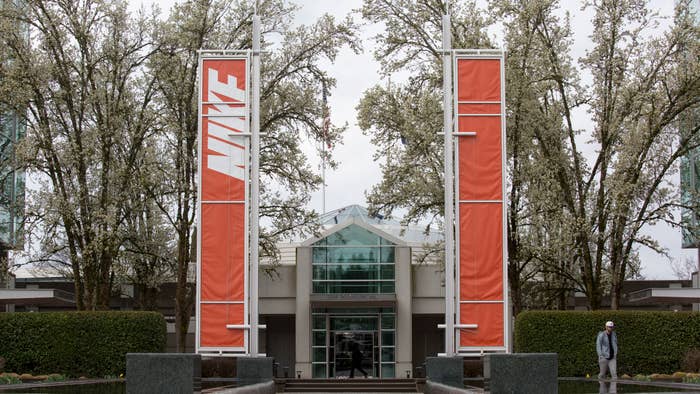 Nike CEO John Donahoe announced in an internal email this week the creation of Nike Virtual Studios, a division focused on establishing the sneaker company in the virtual world. Donahoe named Ron Faris, the VP of SNKRS, the leader of the new division.
"We have created Nike Virtual Studios, a new division that will operate as an independent studio to build our business around virtual products while also partnering with our core business to deliver best-in-class Web3, Metaverse, and blockchain-based experiences," Donahoe wrote in the email. "Nike Virtual Studios will have creative hubs in both Los Angeles and New York to serve and grow the creative community in these key cities."
One of Donahoe's missions in his role at Nike has been to make the company more digitally focused. The formation of a new group focused specifically on virtual experiences is a part of that push.
Nike did not respond to a request for comment.
Most major sneaker brands by now have some form of metaverse offering—Reebok minted an NFT for a limited edition sneaker with ASAP Nast in November and Adidas has a collaboration with Bored Ape Yacht Club.
Nike deepened its investment in the metaverse in 2021, partnering with the children's video game Roblox for an online world called Nikeland and filing trademark applications referencing its intent to use its logos on downloadable virtual goods. The brand's careers website has a handful of listings for open jobs relating to the metaverse, among them one for a senior 3D game designer and another for a director of metaverse engineering. In December, Nike acquired NFT brand RTFTK, which will now operate within Nike Virtual Studios.
Faris will serve as VP/GM of Nike Virtual Studios while continuing to lead the SNKRS team until his old role is filled, per the email announcing his appointment.
"I'm excited about Ron's leadership in this role," Donahoe wrote, "given his proven success innovating and scaling our SNKRS business alongside many cross-functional partners and geographies, and his commitment to our diverse community of Nike athletes."

Faris came to Nike in 2016, when the brand acquired Virgin Mega, the startup he founded at Virgin Group. Since then he's helped steer the Nike SNKRS app, the controversial shopping platform where the brand releases its most sought-after shoes. While the app has been maligned and made the subject of memes by a portion of its user base, it's also been celebrated inside Nike as a key tool for commanding a highly engaged online audience and driving direct-to-consumer revenue.