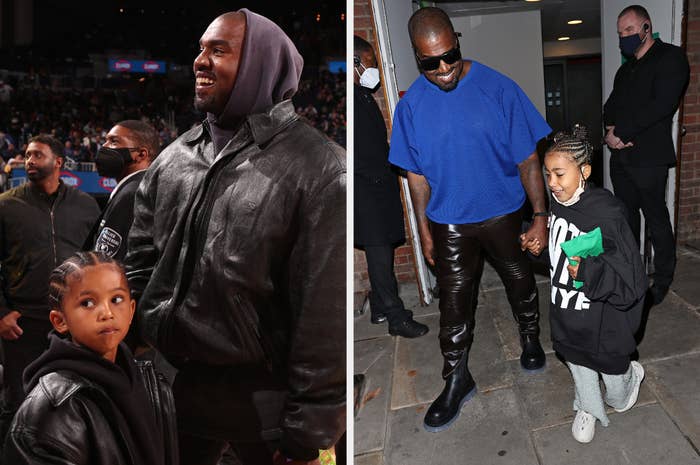 Whether we like it or not, traits from our parents live in all of us. But when you're Kanye West's kids, those traits might look a little different.
The rapper, now known as Ye, has made countless headlines throughout his almost 30-year career for his notorious confidence, daring artistry, and boundless creativity. And as his four children with ex-wife Kim Kardashian grow older and gradually come into the public eye more, the internet's new favorite hobby is catching all the ways West's kids are growing up to be his mini me's.
From their confidence to their disdain toward the paparazzi,10-year-old North and 7-year-old Saint show a side of Kanye. His kids may be young, but they're already internet icons, amassing a slew of viral moments for being just like their dad. Here are all the moments KimYe's kiddos proved they were Kanye's kids forreal.
North's fashion show stunt
Date: July 2022
While sitting front row at the Jean Paul Gaultier show during Paris Haute Couture Fashion Week, North West brilliantly held up a sign for all the photographers there saying "Stop." Her simple yet effective method to keep the paps at bay quickly went viral, with many calling her an icon in the making. North's birthright is worthy of an icon status alone, but this moment was a true testament to her unapologetic personality that we were only just getting acquainted with then.
Kim had a few words to say on Ye's mini me tweeting, "For anyone who knows North knows how funny she finds this video! North I guess had it with the people taking pictures of her so she wrote on her invite STOP and held it up and wanted them to just focus on the show."
When Saint flipped off the paparazzi
Date: September 2023
While on his way to a restaurant in Los Angeles with his mom, Saint West had something to say to the paparazzi crowding the entrance—a very subtle eff you. Kanye's kid flipped off the crowd (rightfully so if we're being honest) and while Kim didn't appreciate the gesture, the internet seemed to adore it, praising Saint for living up to his dad and telling the paparazzi off.
….And when he did it again
Date: October 2023
A little over a month later, Saint flipped off the paparazzi yet again in a similar scene with his mom by his side. And while Kim tried to scold him, his little grin had everyone screaming, "That's Kanye's kid for sure" in the comments.
North making sure we all know who her real style icon is
Date: October 2023
You might wonder who the child of a streetwear mogul appoints as her style icon. Well, the answer is pretty simple—herself. In her first-ever solo magazine cover with i-D, North made sure to let us all know that she's her own style icon. A bout of confidence all young girls should have? Absolutely. An answer that's expected from Ye's kid? You betcha. Anyone in tune with North's style would know that she's absolutely right, but it's still nice to see Kanye's unwavering confidence bleed into his kids.
North West is "the best ever"
Date: October 2023
In that same interview with i-D, North had three succinct words to describe herself: "The Best Ever." The Kanye comparisons seem pretty lucid here, but it's his youngster's aspirations that profoundly speak to his creativity more so than her confidence. When asked what she wanted to do when she was older, North had quite a bit to say: "A basketball player, a rapper, um... Well, when I was 7, I wanted to be a boxer. But now I don't want to be a boxer. I'm going to do art on the side. When I'm, like, 13, I want to walk dogs, to make money to buy art supplies, because everything around here is so expensive. So a rapper, a basketball player, and I'm going to make artwork that I sell. Also, one day I want to own Yeezy and SKIMS, and I want to be a business owner."
A pretty impressive list if you ask us, and an answer only someone who's been blessed with Ye's creative kick would say.
When North dressed up like her dad (several times)
Date: November 2023
In a Season 4 episode of The Kardashians, North had an absolutely brilliant response when asked by producers to share her thoughts on her mom's work—"What does she do?"
Perhaps my favorite addition on this list, the brief scene is by all means a piece of camp. North is eating an onion like an apple. Kim's trying to share her pearls of wisdom on her prison reform work. And North's simply vibing, tactfully aware that many of us still can't answer what Kim Kardashian actually does. She's hilarious. She's an icon in the making. She's Ye's kid through and through.