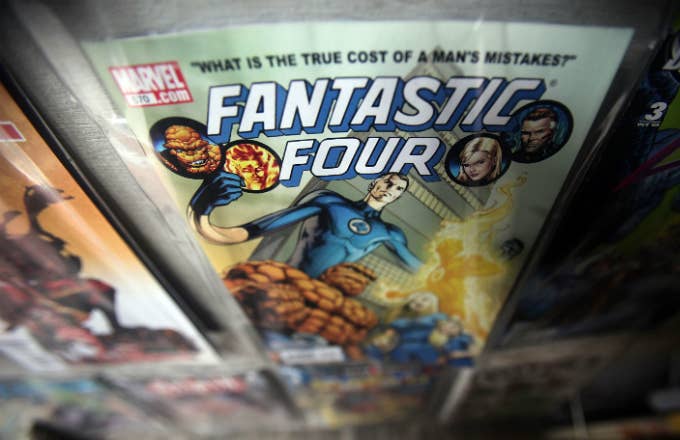 The Fantastic Four will be on Marvel Comics' pages again.
The original four—Reed, Sue, Johnny, and Ben—have been on a hiatus from Marvel Comics since 2015 when the comic book company discontinued their series. Rumor has it that it was due to negative dealings with 20th Century Fox, which owns the movie rights of the Fantastic Four and earned lackluster reviews for their 2015 film reboot despite starring Michael B. "Killmonger in Black Panther" Jordan.
But while Fantastic Four is still owned by Fox, Marvel is reuniting the team for the first time since Secret Wars in a new series. (It probably helps that the Disney/Fox deal might happen.) As for the comic, Dan Slott will pen the series while Sara Pichelli will provide art.
Marvel's editor-in-chief C.B. Cebulski revealed the news on Marvel's YouTube talk show. "The First Family is returning to Marvel on a monthly basis," he said. "We've been waiting for the right creators to come available for this book. It's been in the works a long time."
The Marvel head also had much praise for the new Fantastic Four series' creators. "Dan is the biggest fan of the Fantastic Four but he has that uncanny ability to have this have this almost encyclopedic memory of everything that's happened in Marvel Comics including Fantastic Four," he explained. "From the first issue and respect the past in the stories but also drive the stories forward with new ideas and new ways of thinking and new approaches that we haven't seen before."
As for Pichelli, Cebulski noted her skills are a force to be reckoned with. "Fantastic Four is not an easy team to draw," he said. "The big orange rock guy, Reed can move in all kinds of directions, Johnny is on fire when he flames on, and Sue, when she's invisible or not, you still have to make her presence felt in each panel and Sara can just do that like nobody else."
Fantastic Four #1 is set to be released in August.