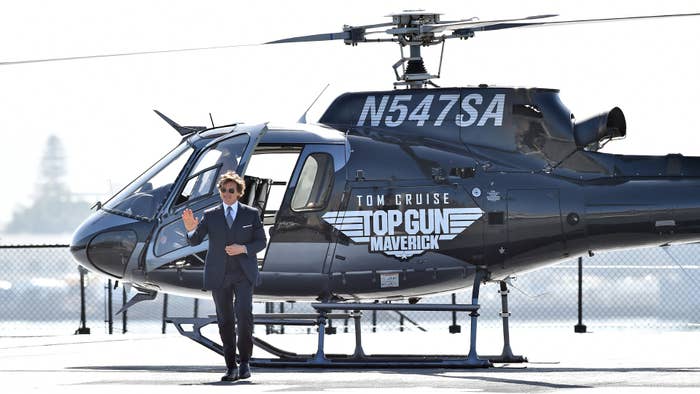 Tom Cruise made perhaps the most Tom Cruisiest entrance imaginable at Wednesday's global premiere event for Top Gun: Maverick.
The Joseph Kosinski-directed sequel to the late Tony Scott's 1986 action classic was launched aboard the U.S.S. Midway in San Diego, California. The expectedly star-stacked experience, notably, saw the film's star and producer arriving on the aircraft carrier in a helicopter he himself piloted. Because, quite simply, why not?
Per the Hollywood Reporter, who was on hand for the four-hour red carpet celebration, attending stars ultimately took the festivities to the city's Civic Center Theater for the inaugural screening of the film. In response to a joke about taking an Uber to the aircraft carrier instead, Cruise noted he's "not that simple."
Top Gun: Maverick hits theaters on May 27 and also sees the inimitable Val Kilmer reprising his role as Tom "Iceman" Kazansky. Fans can also expect to see Miles Teller as the son of the late Nick "Goose" Bradshaw, Jennifer Connelly, Jay Ellis, Jon Hamm, and more.
See more of Wednesday's red-carpet-on-an-aircraft-carrier extravaganza below via Paramount.
This week, Lady Gaga released the film's signature song, "Hold My Hand." Speaking with Extra at Wednesday's premiere about how the song came together and what it means within the larger context of the film, Cruise recalled the moment he first heard what Gaga had put together.
"She sent the song over. There's a moment that I heard it and it was just, here's this artist. We were in England and she was all the way over in America and it was almost as if she was talking to us," he said. "It was perfect. … It became the heartbeat of the score."
Also on the horizon for fellow Cruisiasts are the next chapters in the Mission: Impossible franchise, including—as previously reported by Empire—the actor pulling off what's been described as the "single most dangerous thing" he's ever done.