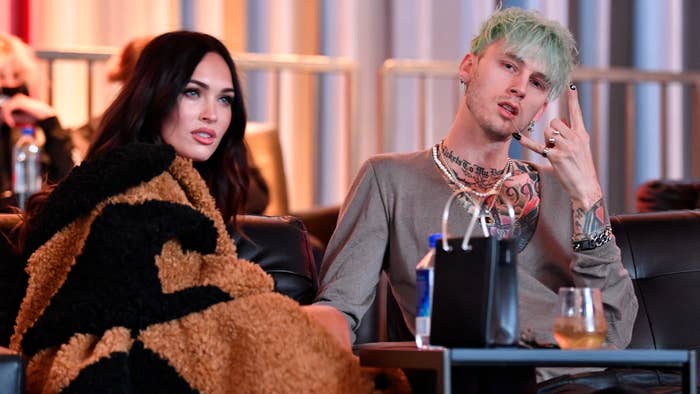 Experts of the vampirical variety have weighed in on recent blood-bearing headlines surrounding Machine Gun Kelly and Megan Fox.
Monday, TMZ revived the fluid-focused talk with a report featuring input from New Orleans Vampire Association (NOVA) co-founder Belfazaar Ashantison and Endless Night Vampire Ball founder Father Sebastiaan. NOVA is a nonprofit organization made up of self-identifying vampires, while the Endless Night Vampire Ball is known for its widely acclaimed New Orleans event.
In short, both experts are urging caution when it comes to mutual blood ingestion. As previously reported, Fox noted in a recent Glamour UKinterview that she and MGK do indeed "consume each other's blood on occasion," albeit "for ritual purposes only."
Other similarly ritualistic acts of love between the couple have also spurred increasingly enjoyable coverage, including word of a necklace containing Fox's blood. MGK, who once accidentally stabbed himself while showing Fox a knife gifted to him by Travis Barker, told Ellen DeGeneres last summer the idea came about when Fox was leaving the country to shoot a movie.
In January of this year, Fox told fans she and the Mainstream Sellout artist "drank each other's blood" after getting engaged.
"And just as in every lifetime before this one, and as in every lifetime that will follow it, I said yes," the Till Death star said at the time.
As for safety concerns, Ashantison told TMZ he would advise the use of testing for diseases and blood-borne illnesses, although the length of the couple's relationship is itself a positive sign. Per the NOVA founding member, it's typical for vampirically minded individuals to go through an extended research process when it comes to potential blood donors. And even when donors get through that stage of the process, testing continues every three months or so.
Father Sebastiaan, meanwhile, kept their advice focused on best practices for blood extraction. While it's been floated that one could simply do this part of the process themselves, Sebastiaan noted the only truly safe way to withdraw blood is by employing the expertise of a medical official.
While matters of safe blood consumption are the current conversation focus, this has indeed been a varied and prolific era for the couple. Later this month, fans can see the two stars together in Good Mourning, a new feature directed by MGK and Mod Sun. Catch the recently released trailer below.