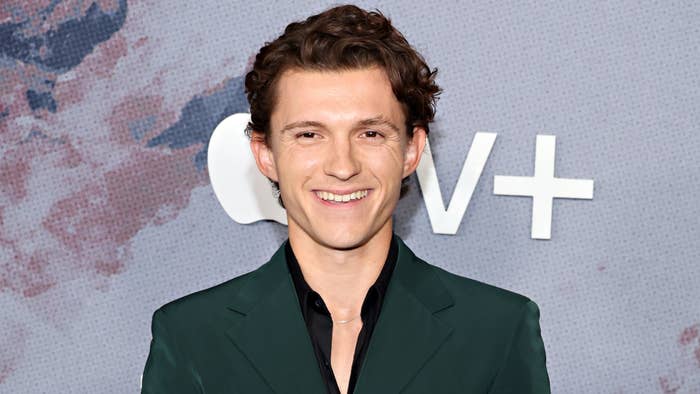 Tom Holland, who's currently in a period of actively taking the time to enjoy "the fruits of my labor," recently opened up about what he sees as the need for a school course on everyday life requirements for which few of us are properly prepared.
Indeed, as seen around 52 minutes into the Jay Shetty interview below, Holland was asked about the recent headlines mania surrounding his comments on taking a break from acting. As Holland explained when given the chance to add some clarity to those remarks following some "misconstrued" reporting, the pause in question had been planned prior to him beginning work on the recently released Apple TV+ miniseries The Crowded Room.
"It's only a break from acting because I'm an actor," Holland explained. "It's not like the acting itself. I just have been so lucky that in my life I've been working so much. I just wanted to take a break. I just wanted to be in one place for a while. I wanted to be with my friends, be with my family, move into my house."
Elaborating further, Holland pointed out how much of his "growing up" has taken place while he was working instead of at home.
"I needed to do a lot of growing up at home—paying my water bill, paying my council tax, and sorting out my bins and all that sort of stuff that they don't teach you at school," he said. "Which, I think there should be a lesson. I think there should be a lesson at school that's called 'Life,' which is like laundry, basic cooking. Like, I didn't realize you have to pay for your water. I just thought that was a luxury of living in London, that the water comes out the sky and then it comes out your tap. I was so behind on my water bill that I didn't realize. I'm up to date now. Don't worry."
Unsurprisingly, some are using this as an opportunity to mock the actor, but he's absolutely right. Looking back, I sure as hell could have used exactly the sort of course Holland is talking about.
In the same interview, Holland spoke openly about his decision to stop drinking. The actor, as previously reported, has also been vocal about this decision in the past.