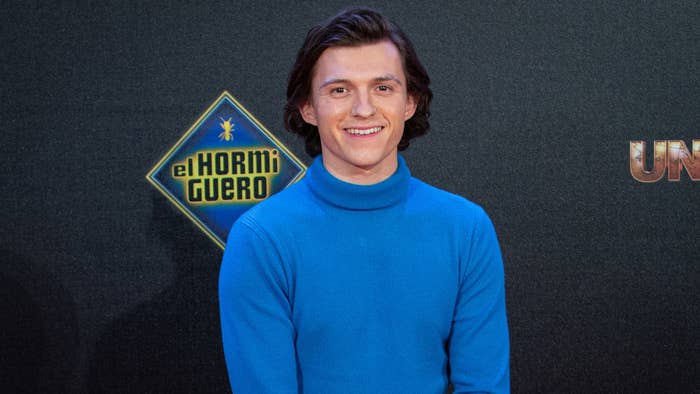 After teaming up with previous live-action Spider-Man actors in No Way Home, Tom Holland said that he formed an "amazing bond" with his co-stars Tobey Maguire and Andrew Garfield.
Holland was cast as the third big-screen, live-action Peter Parker in 2015, and has portrayed the character in the Marvel Cinematic Universe ever since. When working on 2021's No Way Home, he had an opportunity to play the character opposite Maguire and Garfield, who took on the role in 2002's Spider-Man and 2012's The Amazing Spider-Man, respectively. "It was wonderful," Holland said of connecting with the two actors in an interview with The Hollywood Reporter. "Myself, Andrew, Tobey—we have this amazing bond as three people who have been through something that is so unique that we really are like brothers. We have a great group chat and we catch up every now and then. It's called the Spider-Boys."
Pressed for more on the hilariously named "Spider-Boys" group chat, he shared the last thing they spoke about. "I was doing a charity event in London for the Brothers Trust and I was asking if they would be so kind as to sign a poster to auction off. They were obviously happy to oblige," he shared. "Spider-Man Stuff."
Earlier this year, Kevin Feige shared an update on the fourth Tom Holland-led Spider-Man movie. "All I will say is that we have the story," Feige said. "We have big ideas for that, and our writers are just putting pen to paper now." With the ongoing Writers Guild of America strike, however, plans for the film could be somewhat delayed. In fact, it currently doesn't have a release window.
Holland recently shared that he's taking a year off from acting following his role on Apple TV+'s The Crowded Room. "The show did break me," he revealed. "There did come a time where I sort of was like, I need to have a break. I disappeared. I went to Mexico for a week and had some time on a beach and laid low. And I'm now taking a year off and that is a result of how difficult this show was." He has since clarified that he's already eight months into his year off, so he plans to start acting again before the end of the year.