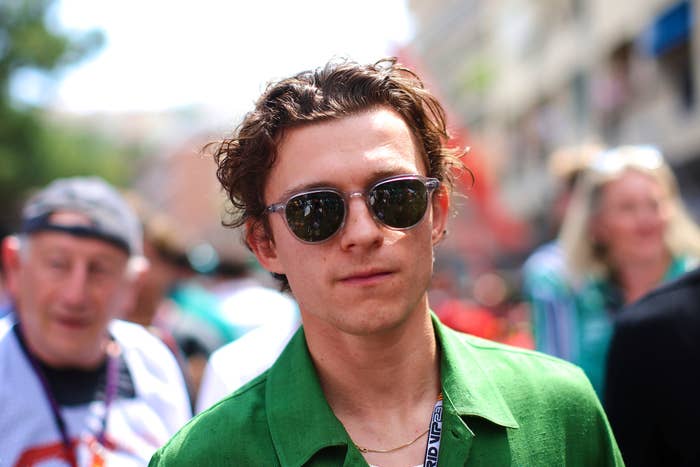 Tom Holland has been opening up about his battle against alcohol and the strong grip drinking had on him.
Most recently, the Spider-Man actor got extraordinarily candid about his experience while guesting on Jay Shetty's podcast On Purpose. The 27-year-old realized he had a drinking problem after Christmas 2021, when he embarked on the dry January challenge. He admitted all he could think about was drinking during that time.
"I was waking up thinking about it, I was checking the clock, 'When's it 12?' And it just really scared me," Holland said near the 31:00 mark below. "I just was like, 'Wow, maybe I have a little bit of an alcohol thing.'"
Tom continued, "I felt like I couldn't be social. I felt like I couldn't go to the pub and have a lime soda. I couldn't go out for dinner. I was really, really struggling. I started to really worry that maybe I had an alcohol problem."
One month turned to six, allowing him to celebrate his birthday sober. The Crowded Room star recalled, "By the time I had got to June 1st, I was the happiest I've ever been in my life. I could sleep better, I could handle problems better. Things that would go wrong on set, that would normally set me off, I could take in my stride. I had such better mental clarity. I felt healthier, I felt fitter. And I just sort of said to myself, like, 'Why? Why am I enslaved to this drink? Why am I so obsessed by the idea of having this drink?'"
He proudly confessed his struggles and named the issue. "I'm happy to say it, like, I was definitely addicted to alcohol, not shying away from that at all."
In the interview, Holland also acknowledged his mother Nikki for following his actions, as she also stopped drinking.
"It's honestly been the best thing I've ever done," he said.