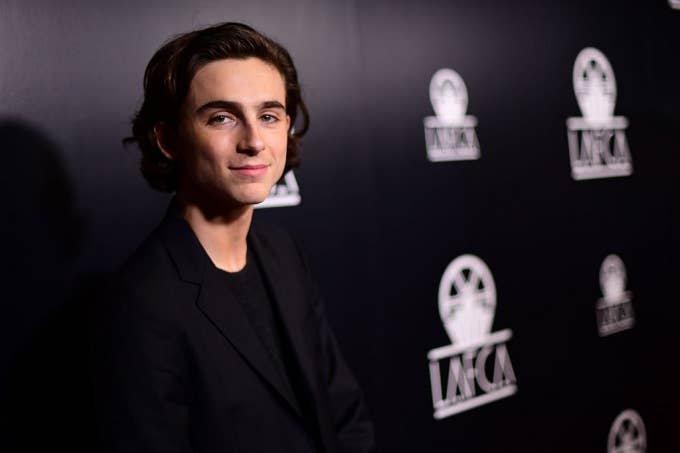 By any reasonable person's account, Timothée Chalamet had one hell of a 2017. If a certain audition had gone differently, however, the Marvel life could have consumed Chalamet so much that he never would've ended up in two of the finest films in recent memory.
The Call Me by Your Name and Lady Bird star briefly looked back on his Spider-Man: Homecoming audition while accepting the Best Actor award at this weekend's Los Angeles Film Critics Association Awards, revealing what his breakout year has taught him. "I read twice and I left sweating in a total panic," he said Saturday night, according to the Hollywood Reporter. "I called my agent, Brian Swardstrom, and I said, 'Brian, I thought about this a lot and I have to go back and knock on that door and read again,' and he told me the story of Sean Young and how, in an attempt to become Catwoman [in Tim Burton's Batman Returns], had scared everyone away when she showed up at the studio gates in costume."
Starring in two of the most critically acclaimed films of 2017, Chalamet added, has given him a new sense of freedom. "I try to learn with the folks that I work with and I did a reading with William H. Macy once, who said to me that the best thing that happened in his life besides having a wife and kids is not having to constantly audition," he said. Other winners at the Los Angeles Film Critics Association Awards included Jordan Peele, Sally Hawkins, and Chalamet's Lady Bird collaborators Laurie Metcalf and Greta Gerwig. Call Me by Your Name, which also stars Armie Hammer, took home the Best Picture distinction. Chalamet's work in both Lady Bird and Call Me by Your Name is career-definingly brilliant. Don't play yourself by missing either surefire Oscar-nominated film in theaters.