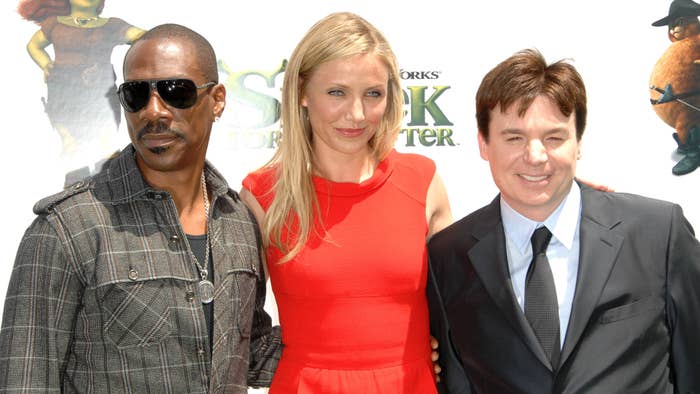 In the wake of the undeniable success of Puss in Boots: The Last Wish, it should come as no surprise to anyone reading this that plans are very much in motion to give Shrek fans further expansion of the revered franchise.
That's the excitedly delivered word straight from Illumination CEO Chris Meledandri, who's currently on the eve of the release of The Super Mario Bros. Movie. Speaking with Variety for an interview published Tuesday, Meledandri—a partner and consultant for Dreamworks Animation—said the original cast of the main Shrek franchise is expected to return for a long-awaited fifth entry. However, final deals for the stars—i.e. Mike Myers, Eddie Murphy, and Cameron Diaz—have not been set.
"It's not that dissimilar to the process that we went through with Mario, where you look at what the core elements are that audiences have loved, and you do your very best to honor those core elements," Meledandri told the publication.
In January, Murphy made headlines after he publicly floated the idea of a Donkey-centered spinoff.
"I love Donkey," Murphy told Etalk at the time when asked about the possibility of revisiting the character. "They did the Puss in Boots movies. I was like, they should have done a Donkey movie. Donkey is funnier than Puss in Boots. I mean, I love Puss in Boots but he ain't as funny as the Donkey. … I would do a Donkey movie, I would do another Shrek, in two seconds."
Meledandri told Variety he was excited by Murphy's idea. Not only that, but he also told the publication Murphy's character from the franchise could "without question" hold its own film along the same lines as Puss in Boots.
Shrek Forever After, the fourth and most recent main franchise entry, arrived back in 2010. In the decade-plus since, talk has persisted about a fifth entry, though these latest remarks arguably mark the most promising sign yet that forward motion on such plans is actually taking place.