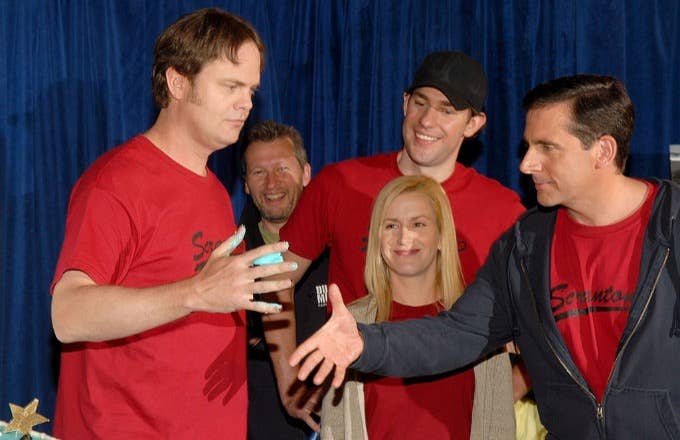 The Office not only quite literally saves lives, it has also continually entertained those living them for something like 18 years now.
In fact, the American adaptation of the office-set mockumentary series is routinely discussed as being arguably the most popular title on major streaming providers like Netflix. While no official stats have been disclosed by Netflix, NBCUniversal took things a bit further by outright calling the series "the No. 1 show on Netflix" at their upfront presentation in New York Monday.
Per a rundown from Variety, it wasn't immediately clear whether the network was simply citing this by way of assumption or through hard stats. The topic is of great interest at the moment, however, as the series is among those discussed as possibly being affected by some serious reshuffling following the launch of NBCUniversal's upcoming streaming service.
A previous report claimed that Netflix's current deal regarding the U.S. Office, which comes to an end in 2021, had spurred behind-the-scenes discussions on moving the series. While NBCUniversal has not said outright that The Office, or any specific show, would eventually be exclusive to their new streaming service, execs have hinted strongly that a number of network hits could be going exactly that route.
At one point Monday, NBCUniversal's advertising head Linda Yaccarino told those gathered at Radio City Music Hall that "the shows that viewers stream the most are coming home."
The ad-supported service, which doesn't yet have a name, will be free.