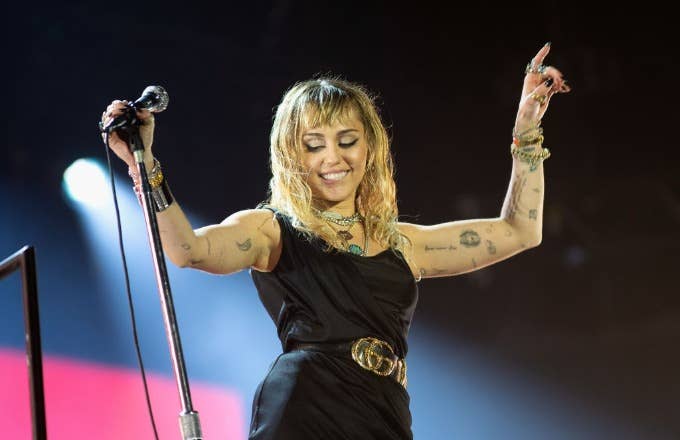 With next month's Black Mirrorreturn, we'll be getting a Miley Cyrus-starring episode focused on the struggles of pop singer Ashley O. While the character does share a number of notable similarities with the real-life Cyrus, the story itself—as Cyrus explained in a new interview—is indeed focused on a much broader concept.
"This is the story of females in the music industry," she told BBC Radio 1 Newsbeat over the weekend. "I understand everyone's gone through this but I do think for females in the industry… it's hard to be taken seriously. People assume that if you're not wearing a body suit and singing pop music, why would anyone want to see you."
Cyrus, a fan of the show prior to being cast in the role, added that the series' creative team made an effort to go "really deep" into the erstwhile Hannah Montana's personal experiences in the industry. As for the "Rachel, Jack, and Ashley Too" episode's android infusion, Cyrus—like all of us—confirmed that she's a big fan of the show's signature vantage point of cynicism with regard to tech. 
"We love anything about the darkness of technology," she said of the "outrageously out there and dark" episode. "I love that." Same.
Cyrus gave this assessment while doing promo surrounding her Charli XCX-assisted performance at this weekend's Radio 1 Big Weekend throwdown. The pop futurist joined Cyrus for a revised take on her 2013 Bangerz cut "We Can't Stop," again backed by Stacy Jones and company.
A new Cyrus project is expected very soon.