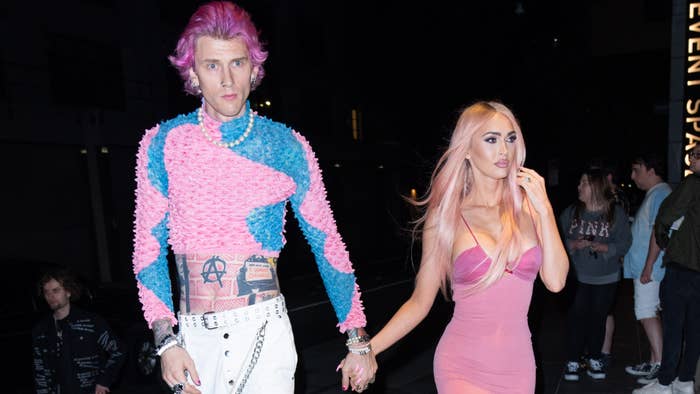 Rest easy, weary world. Megan Fox and Machine Gun Kelly are reportedly "doing just fine."
In recent days, you may or may not have been made privy to rumors of the social media variety positing that one of pop culture's most undeniably headlineable couples had entered Splitsville. But that's not true, at least according to sources cited in an early Wednesday report from TMZ.
The report in question says sources have informed the publication that the couple is indeed "doing just fine" and has "no big issues." As for the focus on the two having not been seen in social-shared photos together in a few weeks, as well as claims that Fox wasn't in attendance at MGK's hometown stadium show this month, sources note that neither of these details are indicative of anything other than the expectedly demanding schedules of the two stars.
Also pointed out here is that MGK himself shouted out Fox during that aforementioned Cleveland show, telling the crowd he had just talked to his "wife" before hitting the stage that night.
"She said, 'When you're on stage, you're where you love to be. Don't think about anything. You don't have to prove anything to anybody. They all came to see you. So just give them the best fucking performance they've ever seen in your life, and their life,'" MGK said at the time.
While MGK's most recent IG shares have focused largely on his tour in support of his latest album Mainstream Sellout, Fox last utilized the platform to share some behind-the-scenes shots from her and Kourtney Kardashian's SKIMS campaign. The latter, of course, is married to MGK's frequent collaborator (and Mainstream Sellout producer) Travis Barker.
Barker joined MGK on several dates of the Mainstream Sellout-promoting tour, notably, according to MGK, "against his doctor's orders."
Following a number of projects in early 2022, including Good Mourning and Taurus, Fox is next set to be seen in The Expendables 4 and Johnny & Clyde, both of which were previously reported to be arriving at some point this year.