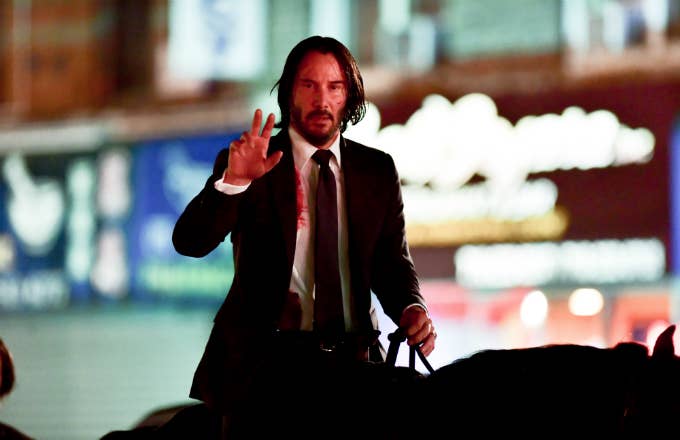 Keanu Reeves, a low-key master of understated fashion, has returned to another inadvertently skilled pastime of his: memes.
Last month, some horse-filled video and photos emerged from the set of the upcoming John Wick 3: Parabellum showing Reeves in an action-stained suit doing action stuff for action obsessives. One image in particular, shot in New York City, shows Reeves brandishing a prop weapon at a helmet-clad biker while his horse looks onward with intense serenity.
Reeves will be joined in the latest John Wick installment by Halle Berry, Common, Ruby Rose, Ian McShane, Laurence Fishburne, Anjelica Huston, and more. Chad Stahelski, who directed John Wick 2 and co-directed the 2014 original, is helming from a script by franchise creator Derek Kolstad. The surefire hit opens May 17. Next year will also bring a TV extension of the franchise, as Starz's previously announced John Wick-related series is currently predicted to land a 2019 debut.
In an interview with Coming Soon last month, Reeves teased a possible return to the higher emotional stakes of the inaugural Wick entry in next year's Parabellum. "Each film is very different but in the same kind of world and take," he explained. "I can't speak to your subjective experience, but there's definitely emotion in this piece." As for Berry's character, Reeves said only that she "has some information" for Wick, with whom she has a High Table connection of some sort.
In the meantime, let's imagine what memes the new Bill & Ted will bring while perusing some Keanu-on-a-horse ones.