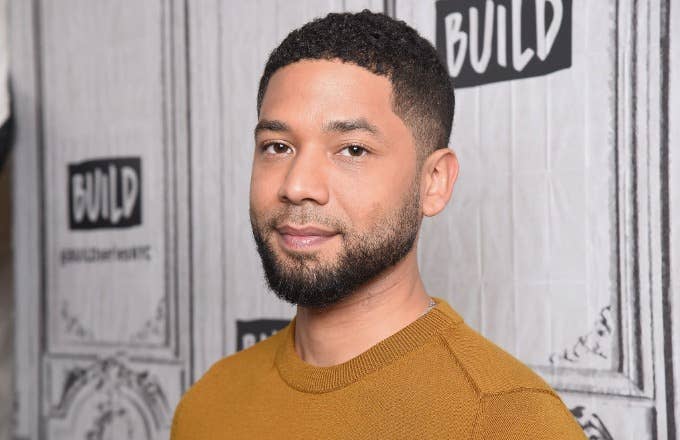 Empire star Jussie Smollett is in the custody of Chicago police.
Smollett turned himself in early Thursday and is now under arrest on a Class 4 felony charge for falsifying a police report, according to the Hollywood Reporter. 
"Jussie [Smollett] is under arrest and in custody of detectives," CPD spokesperson Anthony Guglielmi announced Thursday morning, adding that a press briefing is expected shortly ahead of Smollett's court appearance. In a separate statement, CPD deputy director of news affairs Tom Ahern further specified that Smollett was in the custody of detectives.
Wednesday, Smollett was formally classified as a suspect by police and subsequently charged. That development came in the wake of two brothers who were previously arrested and released in connection with the purported attack. According to their legal reps, Ola and Abel Osundairo testified before a grand jury for more than two hours. CBS Chicago has also published surveillance footage showing the men purchasing ski masks and a red hat.
In their most recent statement, Smollett's attorneys promised an "aggressive defense" in response to the latest developments. "Like any other citizen, Mr. Smollett enjoys the presumption of innocence, particularly when there has been an investigation like this one where information, both true and false, has been repeatedly leaked," the team said Wednesday. "Given these circumstances, we intend to conduct a thorough investigation and to mount an aggressive defense."
Initially, Chicago police were pursuing the investigation into what Smollett said happened as a "possible hate crime." The resulting class 4 felony charges could potentially result in up to three years in prison and an estimated $25,000 in additional fines.
Police later shared Smollett's mugshot, along with a statement on the charge.
An archive of a livestream of Chicago police giving an update on the case can be viewed below.
"This publicity stunt was a scar Chicago didn't earn and certainly didn't deserve," CPD superintendent Eddie Johnson told reporters Thursday. Police also reporters gave a rundown of how the entire case developed, starting with their initial interview with Smollett on the initial night in question.
By Feb. 13, police said Thursday, they had executed "50 search warrants and subpoenas [including] phone records and social media records" in an effort to "illuminate the likely facts of the event." Shortly after this, the investigation changed directions and ultimately resulted in the discovery of an alleged check from Smollett to Ola and Abel Osundairo.
Later, when asked about the previous handling of the investigation as a possible hate crime, police pointed to their policy on suspected hate crime investigations as being uniform. Smollett's case seemingly received more attention due to its prevalence in mainstream news circles, police said. "You all gave this more attention, specifically, than we do," Johnson said.
Smollett's widely shared Good Morning America interview, police added, was "shameful" and "despicable." They have also called for Smollett to apologize to Chicago for "smearing" the city.
"We understand the seriousness of this matter and we respect the legal process," 20th Century Fox TV and Fox Entertainment said following Smollet's arrest. "We are evaluating the situation and we are considering our options."
News of Smollett's arrest prompted a response from President Donald Trump. "What about MAGA and the tens of millions of people you insulted with your racist and dangerous comments!?" he tweeted.
Fallout over the arrested continued Thursday afternoon, with Drop the Mic executive producer Jensen Karp tweeting an upcoming episode featuring Smollett has been shelved.
A TNT spokesperson said: "We are pulling the episode in the interest of not being exploitative of an incredibly sensitive situation. We are holding on airing his episode for now and we are replacing it with the Raven Simon vs Ron Funches and Joey McIntyre vs Joey Fatone episode."
Smollett's bond was set at $100,000, which TMZ reported he needed to post 10 percent of, along with surrendering his passport. Smollett has since been released, per Deadline.