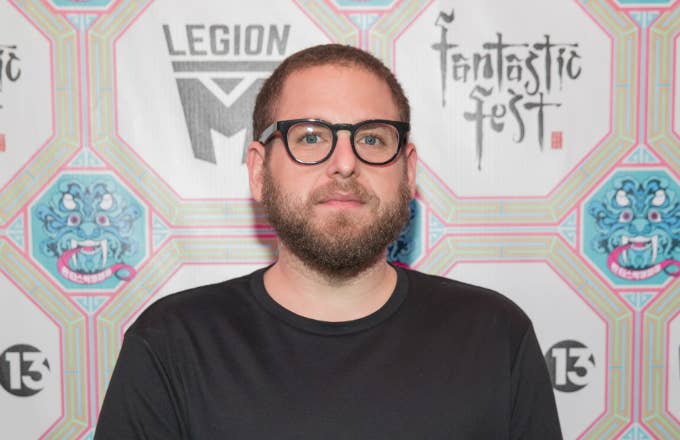 Jonah Hill, the writer/director of this month's widely praised Mid90s, appeared on Lawrence Schlossman and James Harris' Failing Upwards podcast to discuss filmmaking, Adidas, Row menswear, Shia LaBeouf, and general fashion mastery.
After hitting that motherfucking Wheatus, Hill dove right into the deep end with a great story about a meeting he had with LaBeouf six years ago. "I had one meeting with him at my house for a project and he's as amazing as you'd want him to be," Hill said around the six-minute mark. "At this point, this was maybe six years ago, and like I say, I was early on yellow gold, like, I think I was early on all-yellow-gold everything. He is the fit god, I mean, he's just, I don't have anything on him. I'm a proud No. 2."
Speaking on LaBeouf's effortless look, Hill compared the possible methodology behind it to his approach on the set of Mid90s: "Kill yourself to make it look like you did nothing." 
As for that yellow gold, Hill continued: "That's my speculation on him, but he was fit god," he said. "He kinda, like, made a little grimace like, 'Oh you're rockin' like a lot of gold' . . . I had a ring on that said 'It Was a Good Day' because that's my favorite song and I was like, 'Don't worry about it.' I was like, 'You do you, I'll do me.' But he was amazing. He's, like, as gnarly and awesome as you kinda want him to be."
Later, Hill shared the secret behind his recent eyewear aesthetic and spoke a bit on what drives his style decisions. "The most fun of all this now . . . It's fun for me that I do it myself," he said. "For the magazine covers, I style myself, like, you know, that stuff. I think that's part of why they're putting me in this stuff and I think that's awesome. I think I spent much of my life and career, like all of my 20s, kind of doing what other people wanted me to do or trying to fit into some space that they wanted me to. It's so sick to get to be yourself. It's amazing and fashion is a huge part of that, like, I don't give a fuck." Afuckingmen.
Listen to the full episode right here. Mid90s is out Oct. 19.