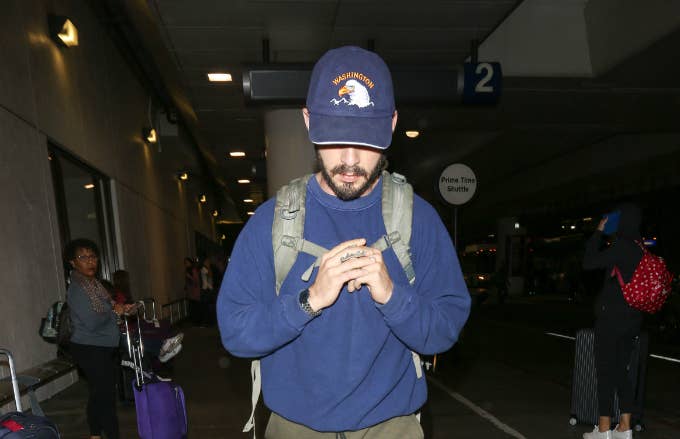 We already told you this, but just as a reminder: there's a pretty remarkable Shia LaBeouf interview out today. During the Esquire cover story chat, conducted ahead of the release of next month's Borg McEnroe, LaBeouf discusses everything from family to his 2017 arrest in Savannah with true candor.
Following the revelation earlier this month that the idea for LaBeouf's HEWILLNOTDIVIDE.US project with Nastja Säde Rönkkö and Luke Turner​ was conceived after a meeting with Kanye West, the topic of LaBeouf and West's creative connection is again broached in the piece. Among other things, LaBeouf confirmed that he let West raid his closet and even gifted him with his Indiana Jones and the Kingdom of the Crystal Skull hat.
For anyone who enjoys paying attention to the aesthetics of proven polymaths, this wardrobe overlap shouldn't come as a surprise. West previously praised LaBeouf's threads in an alternate version of the Life of Pablo cut "No More Parties in L.A.," crediting Kid Cudi—who collaborated extensively with LaBeouf during the Man on the Moon II era—for inspiring him to ditch the all-black-everything vibes. "I wish I dressed as fresh as Shia LaBeouf," West raps in the next line. "Why? Yeah, because Shia LaBeouf is fresh as fuck."
The two were also spotted wearing the exact same hat.
LaBeouf's unique hybrid of grunge and normcore has also been widely praised by West fans for quite some time, and for good reason. Below, we've compiled a few examples of the overarching LaBeouf influence on West's aesthetic in recent years. If you're looking to borrow a few flourishes from this look yourself, it's worth noting that the aforementioned Esquire chat reveals LaBeouf has a preference for pieces with "personal history," something we could all probably use a bit more of in our wardrobes.
Military-inspired boots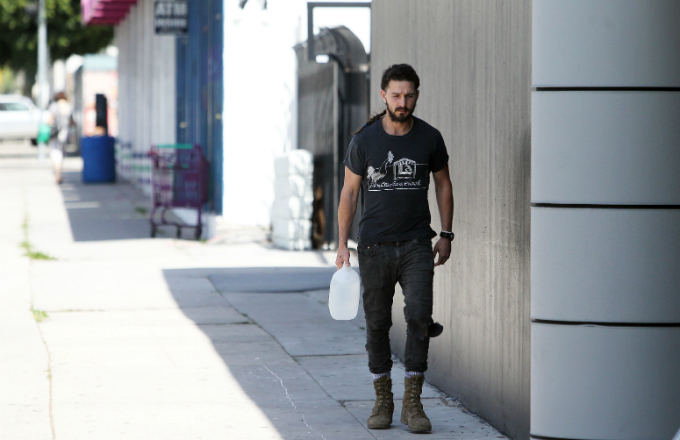 This is, for my money, a timeless look. The rattail was in place for American Honey, so don't expect any photos of West with his own version of that to start popping up. The silhouette created with the skinny jeans being swallowed by the height of the Nike Special Field-esque boots is similar to the one created when you rock Yeezy boots.
Sock prominence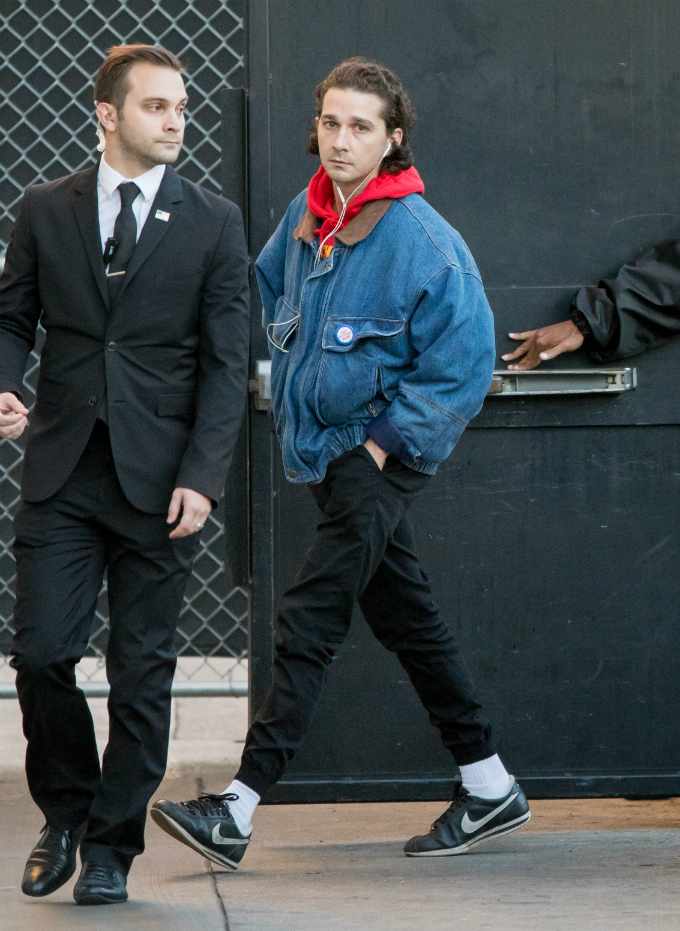 Where do your eyes go here? Likely, straight to the socks. Instead of rocking cowardly ankle socks, LaBeouf and West are seen here making the socks the star of the show. The comparable denim-over-hoodie choices are also key.
Extremely daddish hats
The only thing I've ever fathered is a crippling sense of existential despair that follows me everywhere I go, but I still marvel at anyone who can make daddish headwear look both normcore as fuck and punk as hell.
Sweats, in general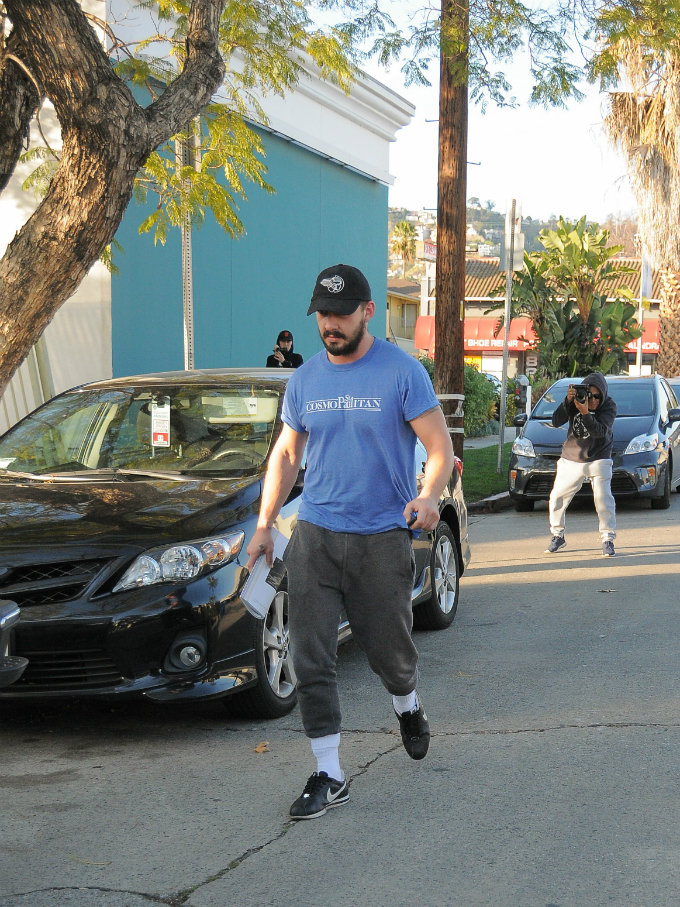 Forget what Jerry told George about the message sweats can potentially send out into the world. Jerry was way off, as evidenced by these sweats-driven outfits that you know damn well Jerry should try out immediately.
Unexpected shorts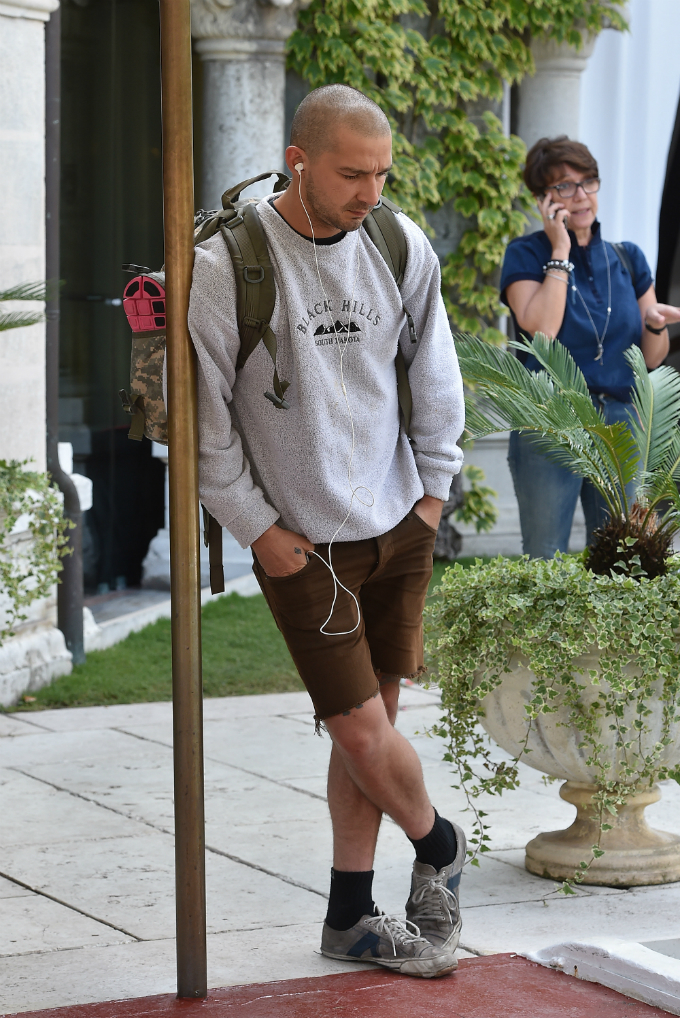 The art of shorts is a difficult one to master. To balance an outfit buoyed by lengthy sleeves and long socks, LaBeouf and West eschew pants for a pair of understated—and unexpected—shorts.