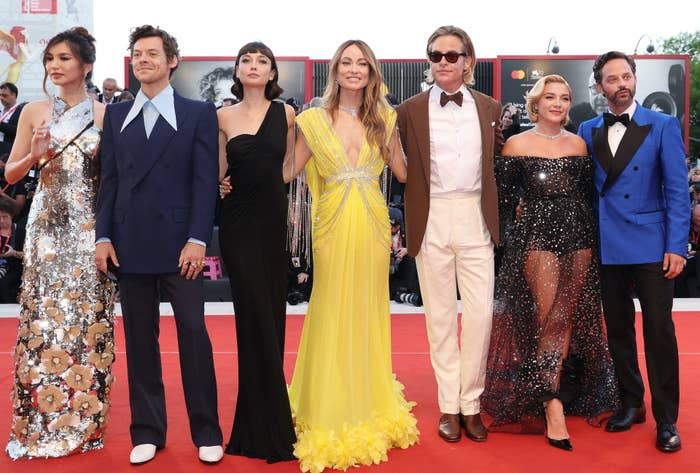 It's been a while since a film has caused as much of a media frenzy as Don't Worry Darling has before its release.
This is Olivia Wilde's sophomore film as a director, and the psychological thriller aims to go inside the mind of a woman named Alice Chambers (Florence Pugh) who begins to discover secrets about her seemingly perfect husband and life. Although critics are praising Pugh for her performance, it's the behind-the-scenes controversies, which entail everything from rumored feuds, on-set romances, potential spitting between co-stars, and casting issues, that have gotten ahold of people's attention. 
Wilde found herself in an awkward situation when she claimed in an interview with Variety to have fired Shia LaBeouf, whom she cast as the lead actor in the film before hiring Harry Styles. LaBeouf refuted her statement, saying he left the film on his own accord and provided a long list of receipts to back his story—and the issues surrounding the film haven't slowed down since. 
But let's be honest. Even having a pop phenomenon as the lead and Wilde's extensive promotional tour, the film would not be getting this much attention if it weren't for all this drama. Like any good publicist knows, any press is good press when promoting a project. And it's working. People have been talking, tweeting, making TikToks, and writing about it nonstop since the LaBeouf drama, and it all just might inspire more people than expected to turn up at the theaters when the film debuts on Friday, Sept. 23. (Complex attended a Don't Worry Darling press screening earlier this week and it was packed, which usually only happens for Marvel or franchise films.) There is also some irony in the director catching so much flack over the film when the story centers around a woman standing up against an oppressive system.
Below, we've done our best to unpack all that has transpired since production began for Don't Worry Darling in late 2020 and all the drama that has surfaced since.
Harry Styles was allegedly Olivia's first choice for the part of Jack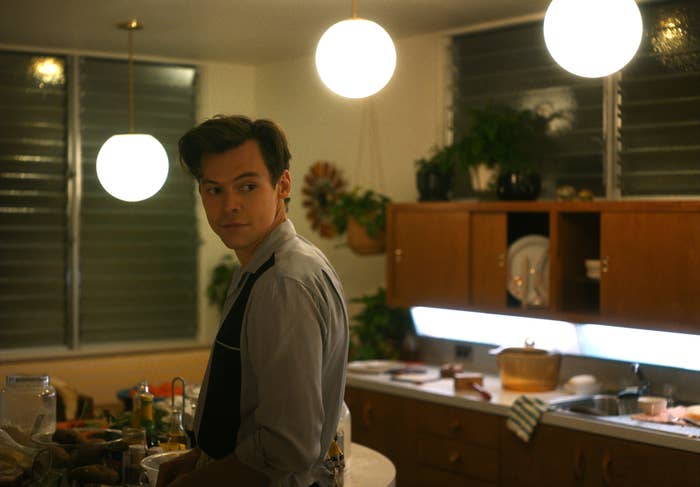 Shia LaBeouf joins the cast, later exits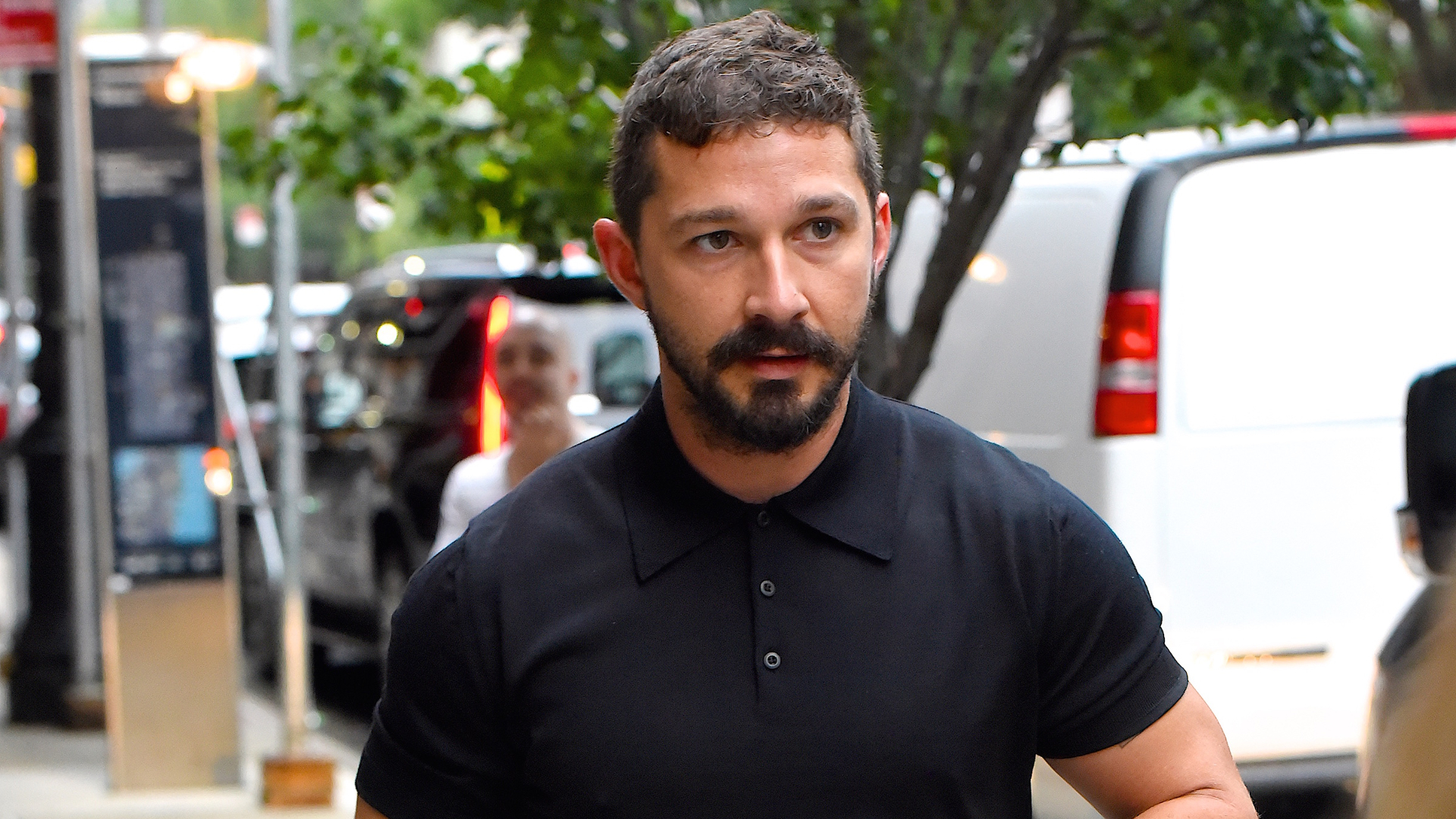 Harry joins the cast after tour is called off due to pandemic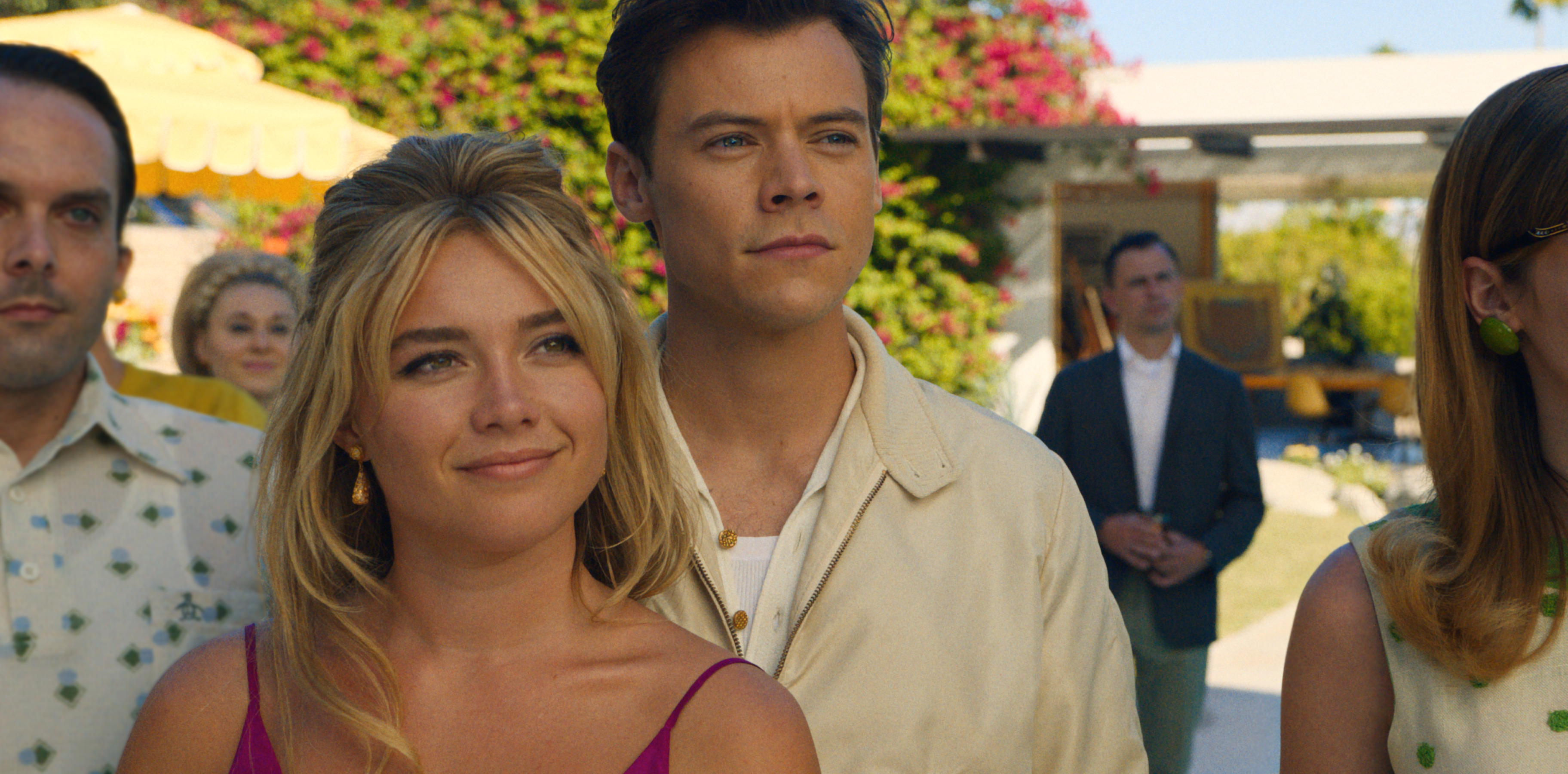 Olivia Wilde and Jason Sudeikis split up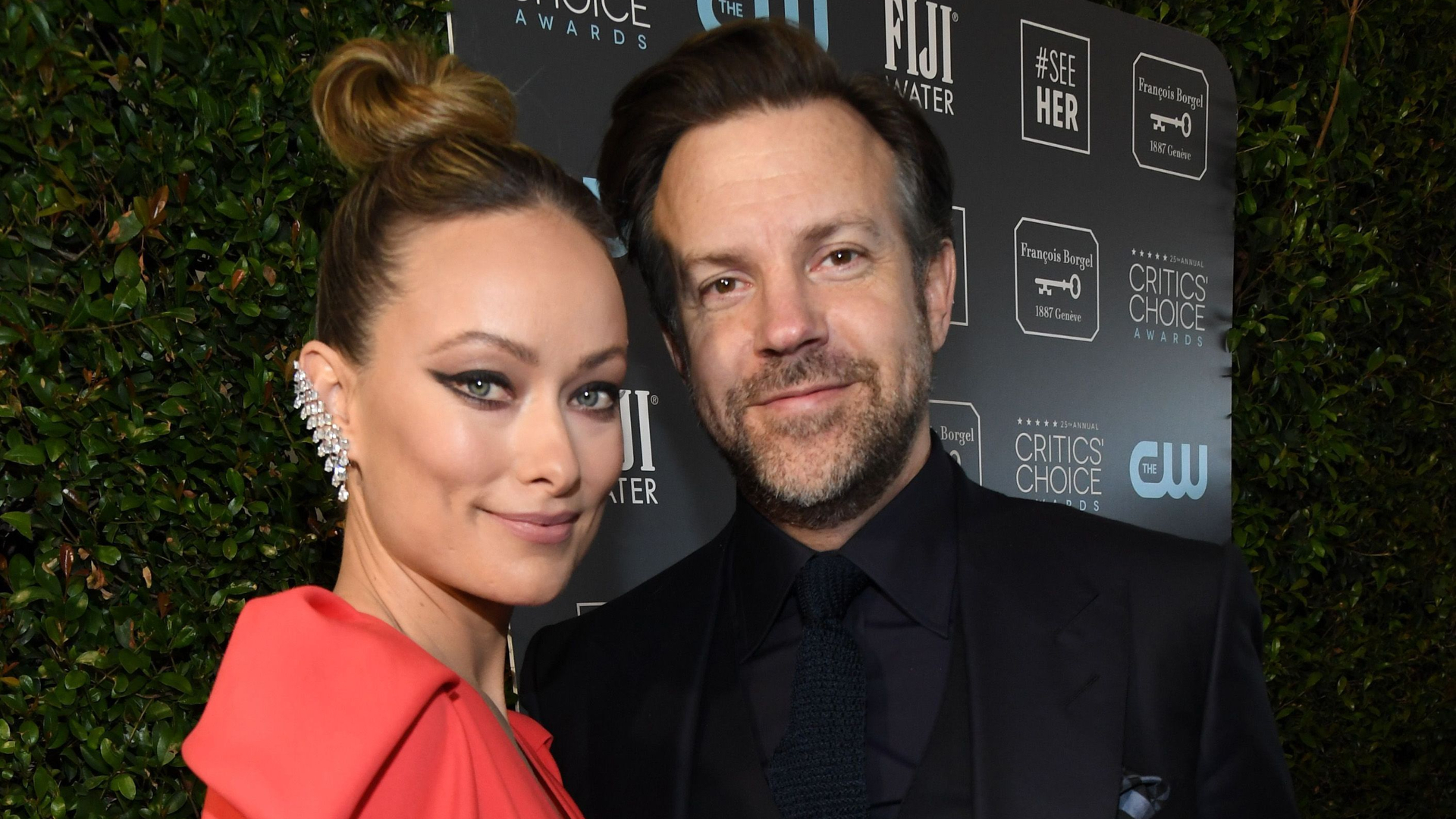 Olivia and Harry become an item
Date: January 2021 
At the top of 2021, as anyone with even a merely cursory knowledge of the social media landscape already knows, photos of Olivia and Harry holding hands at a wedding practically lit the planet ablaze.
The wedding in question, per a pics-filled rundown at the time from the reliably sleuth-minded folks over at Page Six, was that of Harry's agent, and took place at the San Ysidro Ranch.
While the photos did the bulk of the talking on their own, a source quoted in an Entertainment Tonight piece at the time alleged that the Twitter-shattering partnering had come about in a "very organic" fashion stemming from the two's time together on the DWD set.
Custody docs served at CinemaCon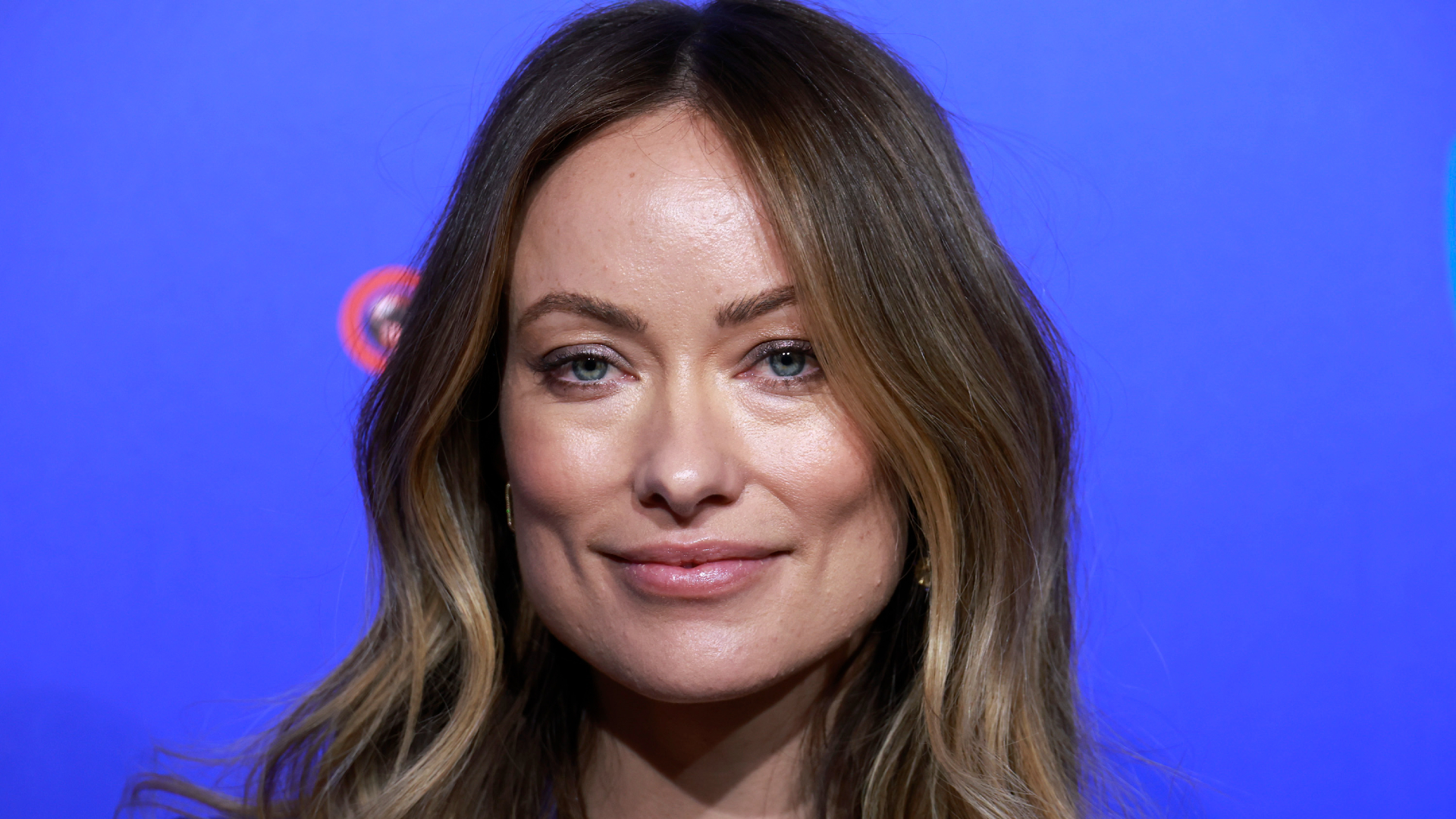 Date: April 2022
A briefly maintained mystery was launched earlier this year when Olivia was presented with an envelope during a DWD presentation at CinemaCon.
Speculation was quick, with some wondering if someone had presented her with an unsolicited script or perhaps some sort of legal document. The latter option turned out to be the case, with Deadline later reporting that the envelope (which had been labeled as "personal and confidential") did indeed contain custody docs from Sudeikis in connection with their two children.
A THR insider, meanwhile, later claimed that Sudeikis was not aware of when or where the documents would be served, adding that he "would never condone" this particular method. Wilde later called the serving a "vicious" act and questioned how the server was able to get into the event at all, notably highlighting the fact that this would have been handled much differently if it were a more traditional workplace environment.
As for the larger custody issue itself, Page Six reported in August that a petition on the matter against Wilde had been dismissed.
Rumors of feud between Olivia and Florence start brewing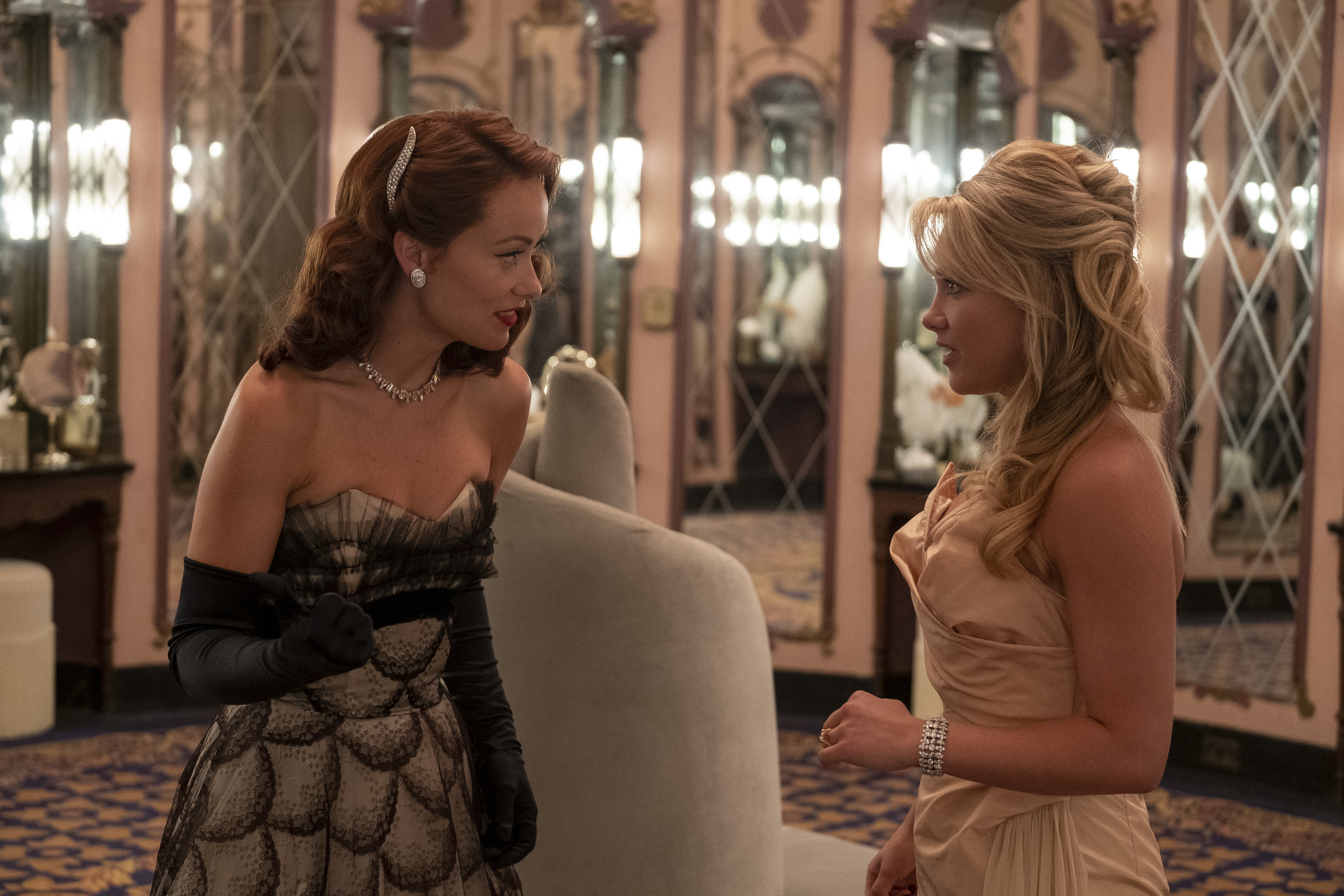 Date: April 2022
A fairly more recent development in the sustained hoopla surrounding DWD is the assumption by some that Olivia and Florence are not only at odds, but have been for some time now.
A key element in this part of the discourse has been the social media activity of each. Some had pointed to the manner in which Pugh had promoted the film on her Instagram, including the brevity with which she shared a DWD clip to the main timeline in August of this year, and lack of promotion when the trailer debuted in April.
An earlier post commemorating production wrap on the film saw Pugh giving the crew a moment to shine, without a mention of Wilde. Pugh also appeared to not acknowledge a July 2022 post from Wilde praising her performance.
Basing such speculation entirely on IG activity is arguably ludicrous, although additional elements of speculation were later brought into the fold. As for such talk in connection with Pugh not attending a Venice Film Festival press conference, Variety reported that her limited time at the event was due to shooting commitments for other projects, a Dune sequel among them. As well as the LaBeouf drama. More on that ahead.
Olivia says she fired Shia due to his acting "process"
Date: August 2022
The drama surrounding DWD further escalated when Wilde appeared on the cover of Variety in late August to talk about the film and explained her decision to not have LaBeouf as a part of the cast. She went on to say that she fired LaBeouf from the production because "his process was not conducive to the ethos that I demand in my productions," which went against the initial reports that he left the film due to a scheduling conflict. 

"He has a process that, in some ways, seems to require a combative energy, and I don't personally believe that is conducive to the best performances," she added in the profile. "I believe that creating a safe, trusting environment is the best way to get people to do their best work. Ultimately, my responsibility is to the production and to the cast to protect them. That was my job."
Shia denies Olivia's statements, and provides proof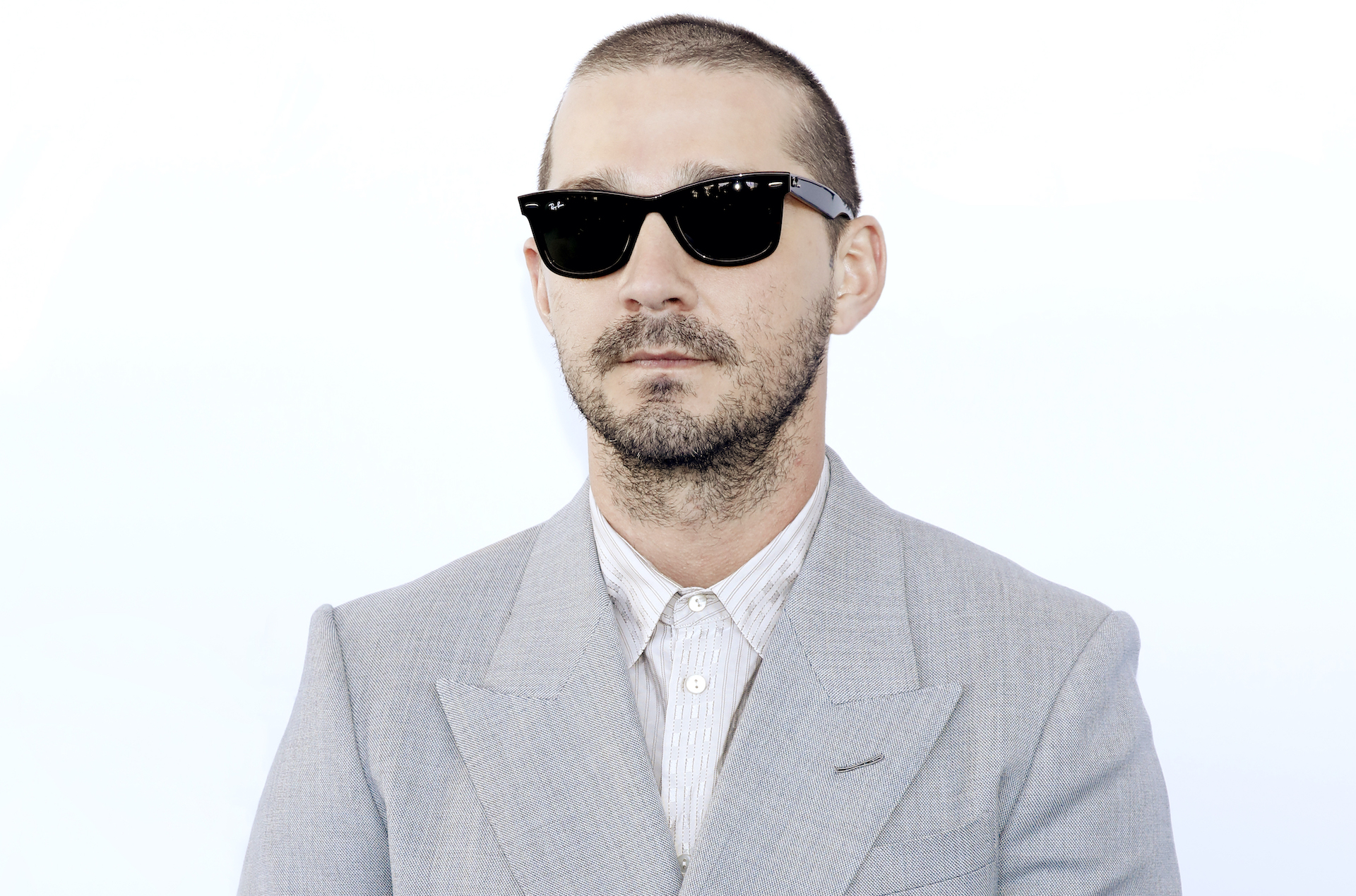 Date: August 2022
Soon after the cover story was published, LaBeouf, who had until then declined to speak to Variety, reached out to the publication to deny that he was fired from Don't Worry Darling and said that he chose to exit. LaBeouf refuted Wilde's claims in an email saying that he "quit the film due to lack of rehearsal time." The actor also shared an email with Variety addressed to the director, which said: "You and I both know the reasons for my exit. I quit your film because your actors and I couldn't find time to rehearse."
"What inspired this email today is your latest Variety story," LaBeouf wrote. "I am greatly honored by your words on my work; thank you, that felt good to read. I am a little confused about the narrative that I was fired, however. You and I both know the reasons for my exit. I quit your film because your actors & I couldn't find time to rehearse. I have included as a reminder the screenshots of our text exchange on that day, and my text to Tobey."
The publication also obtained the text messages LaBeouf mentioned in the email, which included a video Wilde sent the actor days after he left the film in August 2020. "I feel like I'm not ready to give up on this yet, and I too am heartbroken and I want to figure this out," Wilde says in the clip, which then made the rounds on social media. "You know, I think this might be a bit of a wake-up call for Miss Flo, and I want to know if you're open to giving this a shot with me, with us. If she really commits, if she really puts her mind and heart into it at this point and if you guys can make peace — and I respect your point of view, I respect hers — but if you guys can do it, what do you think? Is there hope? Will you let me know?"
The video and texts contradicted Wilde's earlier comments about trying to keep her cast and team safe, and some fans took offense to her referring to the clash as a "wake-up call to Miss Flo," furthering their theories that there was tension brewing between the two actresses.
The actor had also been busy promoting his upcoming film Padre Pio, which is his comeback after dealing with his own personal issues after FKA Twigs filed the lawsuit against him in 2020.
Alleged text messages between Shia and Florence leak online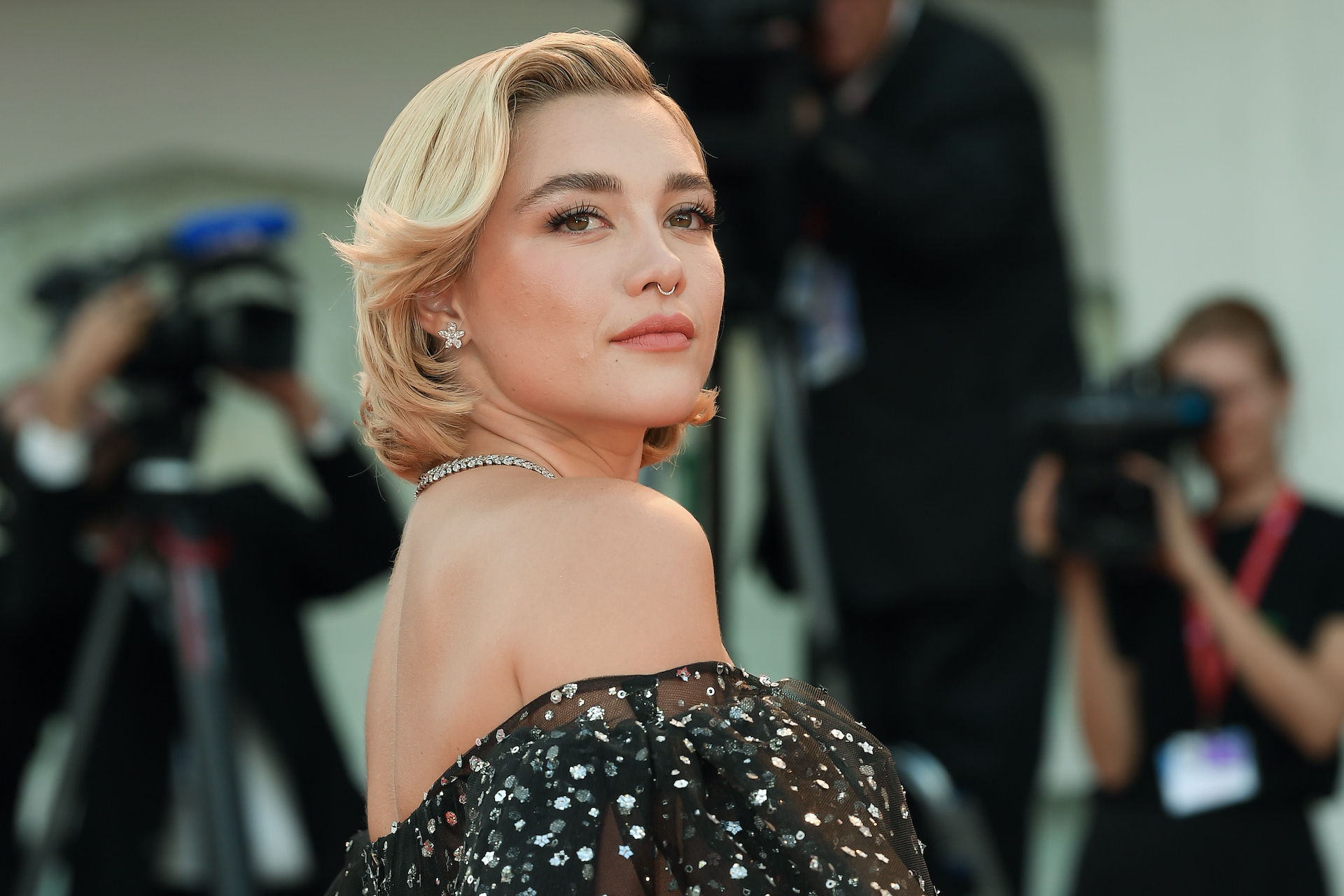 Olivia and Florence both speak out about the film's sex scenes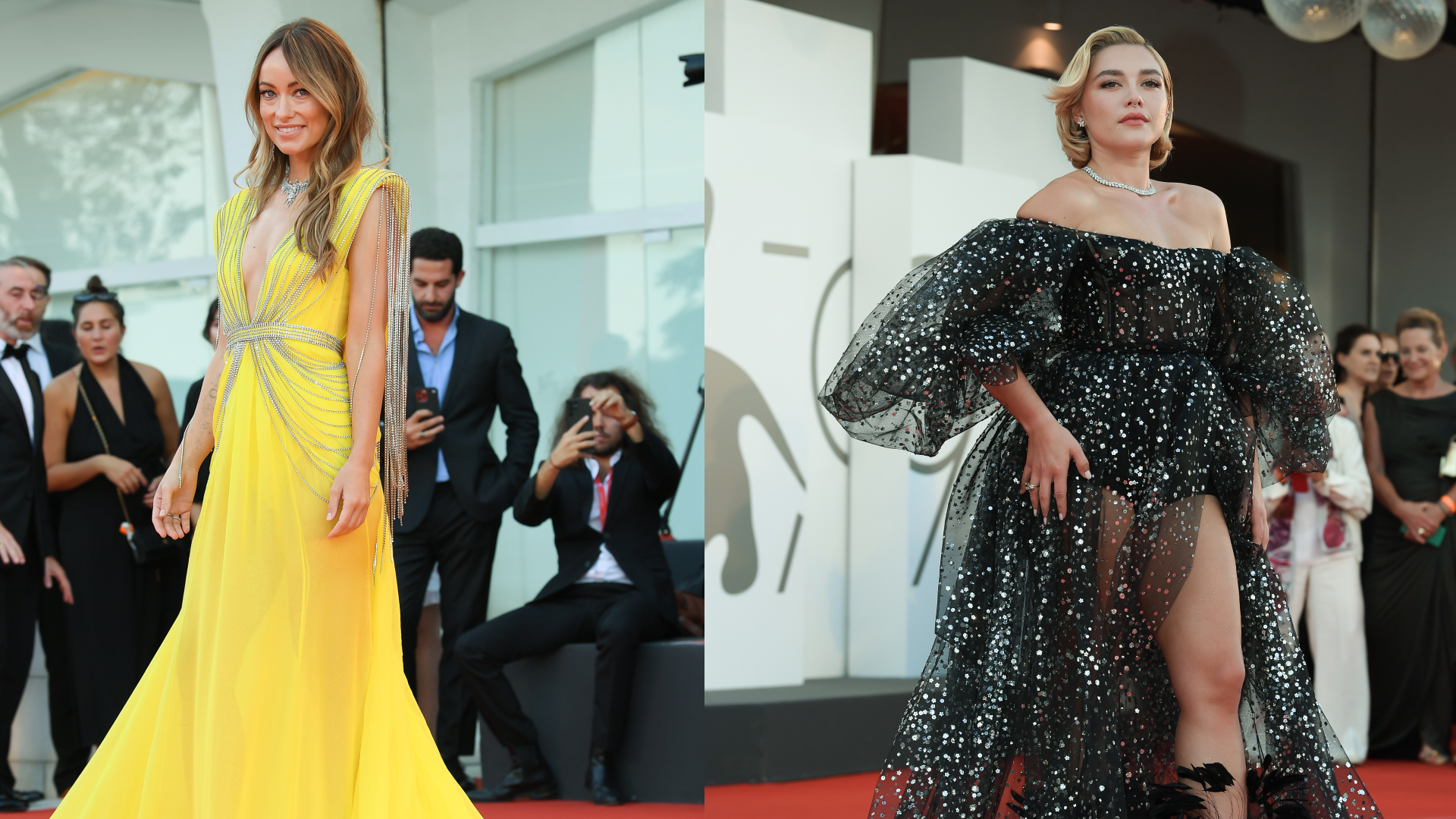 Fans speculate about tension at the film's Venice Film Festival premiere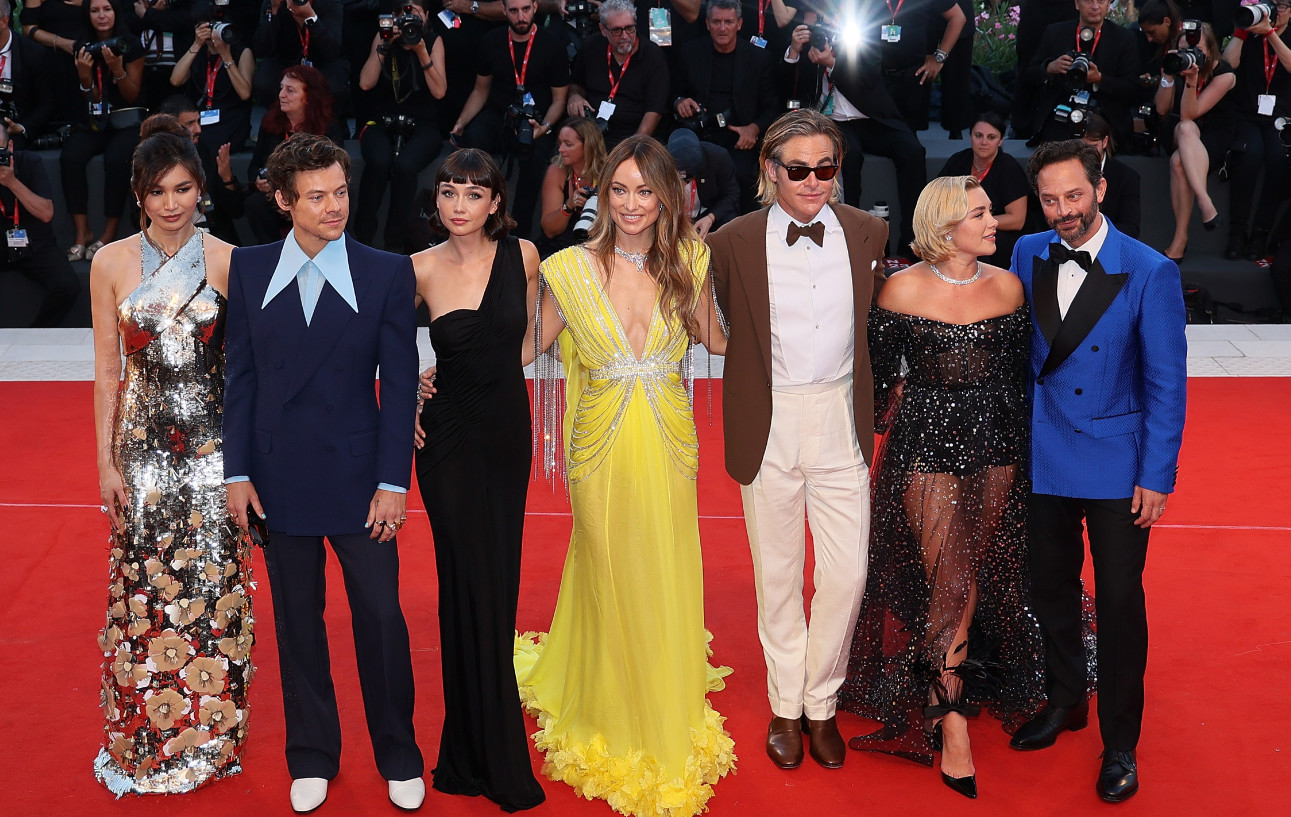 Fans debate if Harry Styles spit on Chris Pine during the premiere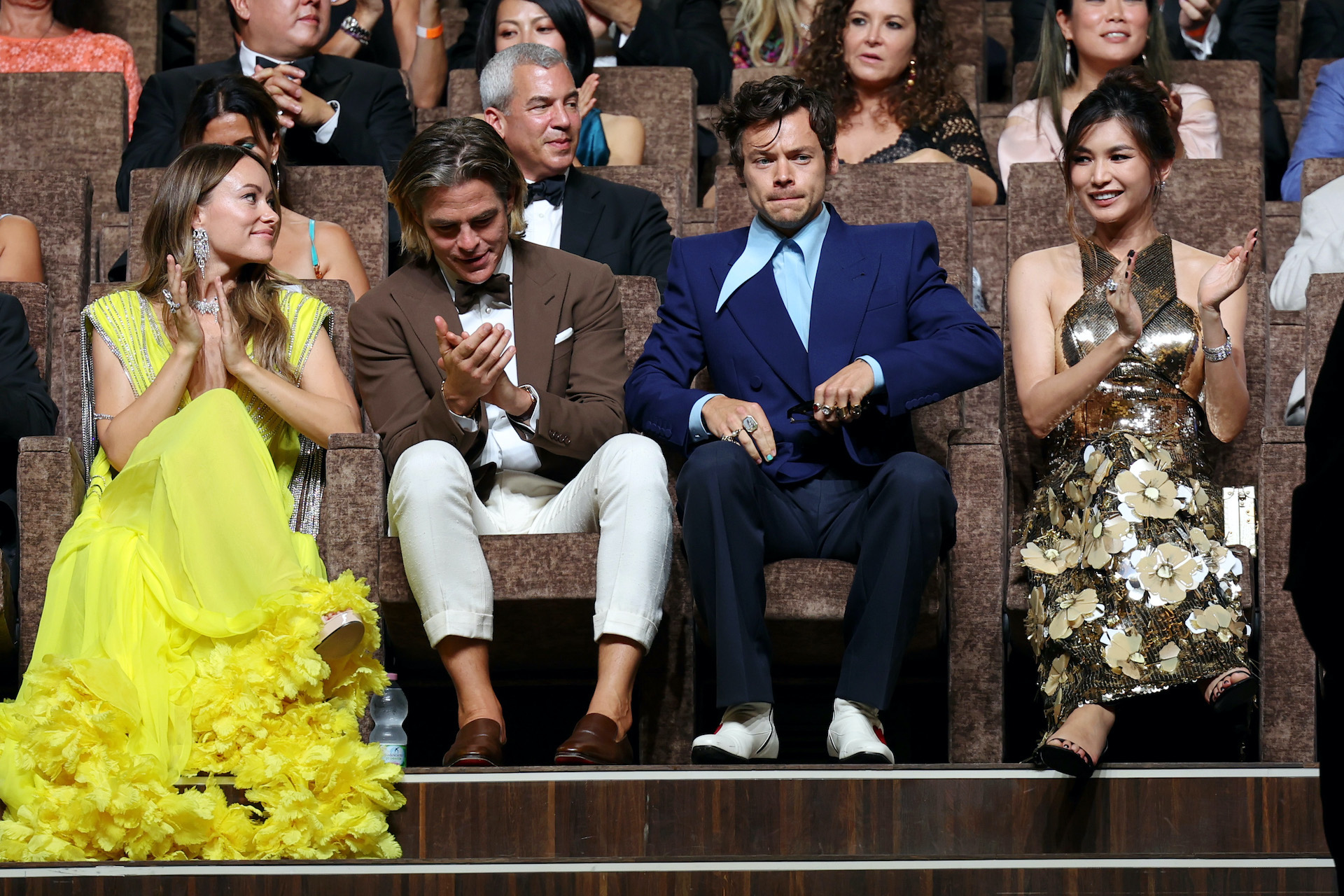 Date: Sept. 5
That was only made worse by a viral video that surfaced online from inside the premiere that showed Styles taking his seat next to his co-star Chris Pine. Some believed that Styles spit on Pine's lap as he sat down, which made Pine look down at his chair and then smile, and a debate about whether the singer had spit on Pine's lap or not began. Styles' fans quickly came to his defense, with some people providing slowed-down versions of the clip to gain some clarity.  The moment set Twitter on fire, and it became the main point of discussion even for people who weren't familiar with the film and the ongoing drama. 
Pine's rep denied that Styles spat on the actor, telling People: "This is a ridiculous story—a complete fabrication and the result of an odd online illusion that is clearly deceiving and allows for foolish speculation." Adding: "Just to be clear, Harry Styles did not spit on Chris Pines. There is nothing but respect between these two men and any suggestion otherwise is a blatant attempt to create drama that simply does not exist."
The singer jokingly addressed the situation during a concert in New York on Wednesday, Sept. 7. "This is our 10th show at Madison Square Garden, it is wonderful, wonderful, wonderful to be back here. I just popped very quickly to Venice to spit on Chris Pine," Styles says while smiling in a video fans shared online. "But fret not, we're back!" 
Olivia tells 'Vanity Fair' Shia made Florence 'uncomfortable'
Date: Sept. 8, 2022
In a profile published by Vanity Fair in September tied to the film's release, Wilde doubled down and said she personally called and fired Shia after Pugh told her that she felt "uncomfortable with LaBeouf's behavior" during preproduction. "My responsibility was towards her. I'm like a mother wolf. Making the call was tricky, but in a way he understood. I don't think it would've been a process he enjoyed. He comes at his work with an intensity that can be combative. It wasn't the ethos that I demand in my productions," she said. "I want him to get well and to evolve because I think it's a great loss to the film industry when someone that talented is unable to work."

She was also asked about the women who came forward about abuse at the hands of LaBeouf and she said, "It's easy to fire someone compared to coming out and talking about abuse. That's difficult. That takes courage."
Vanity Fair also asked the director about the alleged texts between Pugh and LaBeouf, and Wilde said: "This issue is so much more nuanced than can be explained in private texts released out of context. All I'll say is he was replaced, and there was no going forward with him. I wish him the best in his recovery."
When asked about the VF interview, LaBeouf told The Hollywood Reporter: "It is what it is — every blessing to her and her film."
Olivia and Jason's former nanny goes to the tabloids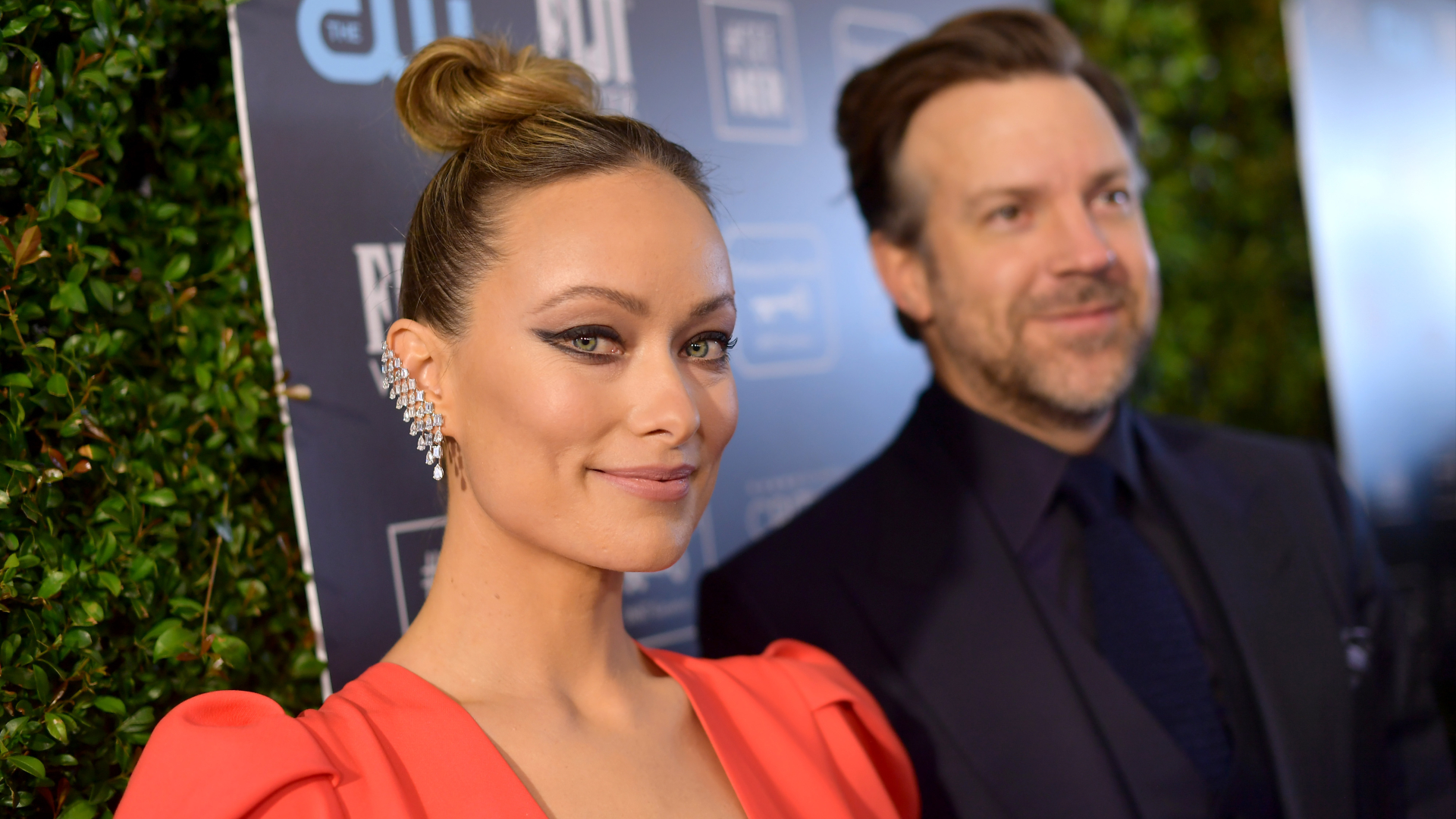 Olivia calls out 'burning hellfire' of misogyny