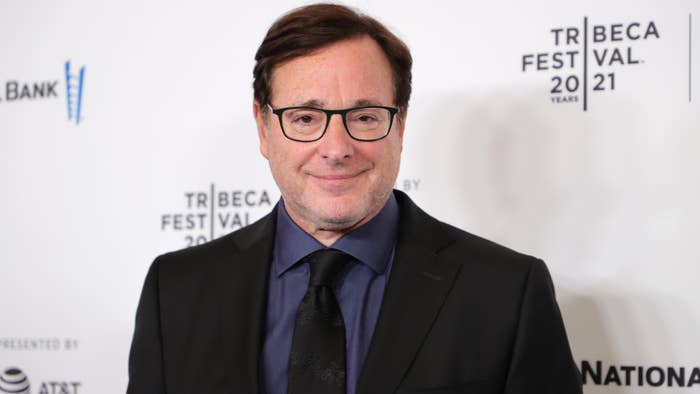 A Bob Saget memorial that took place in January at the Comedy Store in West Hollywood is being turned into a new Netflix special, according to Saget's friend and fellow comic Mike Binder.
As spotted by TMZ this week, Binder—whose directorial catalog includes a 2020 docuseries on the stand-up venue—revealed during a recent appearance on the Dystopia Tonight! with John Poveromopodcast that he filmed the events of the "magical night" and later showed it to an immediately impressed friend at Netflix.
"I called Jim Carrey and Chris Rock, I called a bunch of people, and a lot of them didn't show," Binder said. "A lot of 'em did, but I said, 'The right people are gonna show and it's gonna be perfect.' His family was there and Jackson Browne and John Mayer were our house band. [John] Stamos and [Jeff] Ross hosted it."
Going deeper on Carrey's involvement, Binder noted that the recent Weeknd collaborator typically doesn't take the stage at these types of gatherings, opting instead to enjoy from a distance while catching up with other performers. For the Saget memorial, however, he "came out onstage with Jeff at the beginning and basically never left the whole night."
In a preview-via-phone-screen clip, Chris Rock roasts the actor, pointing out, "I think it's sad that the motherfucker had to die to get Jim Carrey back onstage. … If this is the only way we gon' see you perform, I'm gon' kill Eddie Murphy next week."
Per Binder, Netflix was initially shown about 16 minutes of footage from the night in question. The streamer is said to have since bought it "as a special" that Binder says will debut on the platform in the first week of June, preceded by a premiere event slated for the final night of the upcoming Netflix Is a Joke festival.
Complex has reached out to Netflix for comment and will update this post accordingly.
Bob Saget, a beloved actor and comedian celebrated for his work on Full House and beyond, died in January at the age of 65. At the time of his death, Saget was at a hotel in Florida while on the road for a stand-up tour.