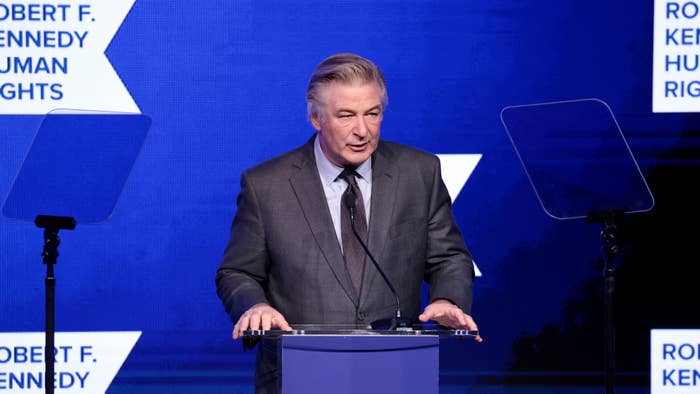 In a new interview, Alec Baldwin revealed he's had fears about his personal safety due to comments from former president Donald Trump in connection with the fatal Rust shooting.
Speaking with CNN, the actor said that Trump had at one point suggested that Baldwin "shot [cinematographer Halyna Hutchins] on purpose." Given the fatal Capitol riot, Baldwin explained, Trump's comments have caused him to worry about the possibility of violent supporters targeting him.
"The former president of the United States said, 'He probably shot her on purpose .' … To me that was really the only time that I needed, that I was worried about what was gonna happen. Because here was Trump, who instructed people to commit acts of violence, and he was pointing the finger at me and saying I was responsible for the death."

Elsewhere, Baldwin spoke on his decision to hire a private investigator in response to the fatal shooting incident and said he was "1000 percent" nervous about violence being taken against him by Trump-inspired individuals.
"1000 percent, I'm nervous that a bunch of people who were instructed by the former president to go to the Capitol and they killed a law enforcement officer, they killed somebody … And you don't think I think to myself, are some of those people gonna come and kill me?" Baldwin said, as seen in the TMZ-shared video above.
Baldwin has maintained that the fault for the incident rests on others involved in the production, including armorer Hannah Gutierrez Reed, although they too have argued otherwise. 
This week, New Mexico's Office of the Medical Investigator announced its determination that the shooting, which took place on the Rust set last October, was an accident.