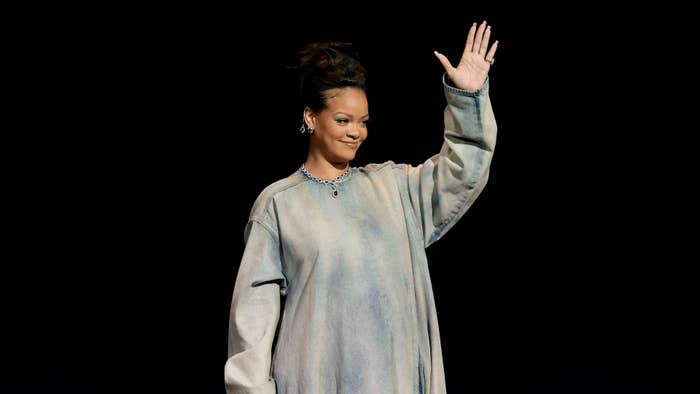 Rihanna will voice the character of Smurfette in Paramount Animation's upcoming The Smurfs Movie, Varietyreports.
The singer appeared at CinemaCon to make the announcement on Thursday. "I tried to get the Papa Smurf role but It didn't work out," she quipped on stage. In addition to starring in the film, RiRi will serve as a producer, and is set to write and record original music for the film.
"Getting to do animation is a fun journey for me," Rihanna also said. "I'm usually front and center with everything with my likeness…but this was fun, I got to imagine, I got to show up in my pajamas in my third trimester, and be a blue badass."
She continued, "I hope this gives me a little bit of cool points with my kids one day."
Rihanna was joined by President of Paramount Animation Ramsey Naito, who shared that the film will delve into themes of identity and ask the question, "What is a Smurf?" The reboot is slated for a release on Feb. 14, 2025, with Chris Miller set to helm the film.
Rihanna has previously voiced other animated characters before, like in DreamWorks' Home. She's also appeared in Battleship, This is the End, Valerian and the City of a Thousand Planets, Ocean's 8, and Guava Island.
Paramount Animation has a number of films coming out, including Seth Rogen's Teenage Mutant Ninja Turtles, a new SpongeBob Squarepants, and a new Paw Patrol.