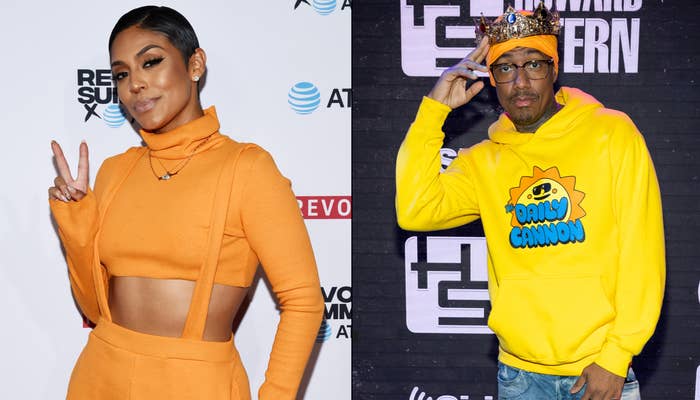 Abby De La Rosa revealed a surprising kink on Nick Cannon's new morning show The Daily Cannon. 
De La Rosa candidly spoke about her feelings when seeing Cannon with his other children's mothers. Abby and Nick share 21-month-old twins Zion Mixolydian and Zillion Heir, and four-month-old daughter Beautiful Zeppelin. 
The 42-year-old father has nine children with five other women, in addition to his three with De La Rosa, totaling 12 children. 
"I got love for all the women," De La Rosa said about the mothers of Cannon's kids.
She was then asked if she feels a "little jealousy" when she sees Cannon with his baby mothers. "For me, I think at times because I am so calm and chill, what it'll do for me is just kinda turn me on a little bit," Abby answered in the clip below.
"Like, I'm a little jealous, but at the same time, it's just kind of like, you know, this is my baby daddy," she admitted. 
Cannon recently spoke to People about fatherhood and how he prioritizes his large family. 
"I believe that's what we're put on this planet here to do: guide and usher in your offspring. So fatherhood is my number one and first priority when I open my eyes when I get up every morning," Cannon said. "Career and work and all of that, take second."
He acknowledged that "a lot of narratives out there about me and my life that I'm not even a part of," but emphasized that he is confident in his ability to be a great father. 
He continued, "I understand that my lifestyle isn't typical to society and can be viewed as unorthodox in some ways. But my goal in life is just to love my kids and be there for my kids and provide for them. Like I always say, I just love with abundance." 
The Drumline actor concluded, "Some people just won't subscribe or understand because they're not supposed to. It's the life that I've been given, and I choose to live this way and love my family, love my kids."