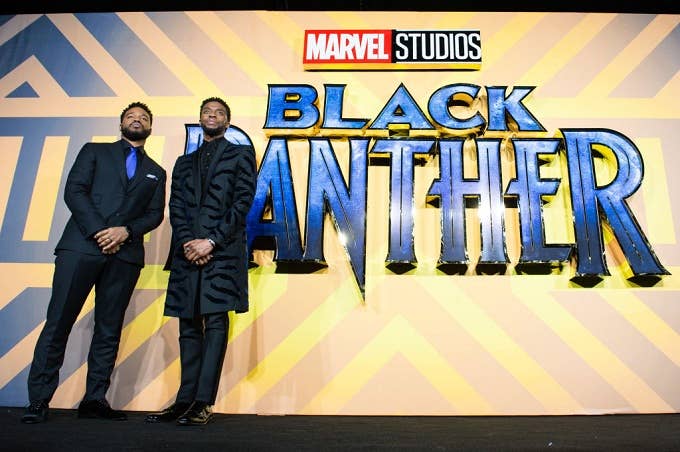 Tracking services have recently revised the projected opening numbers for Black Panther's upcoming Friday release, and they are blowing most superhero movies out of the water. Opening this Friday, the Disney and Marvel production is now set to achieve an estimated $165 million during its four-day President's Day weekend release. These numbers would make Black Panther the most successful February launch of all time, The Hollywood Reporter says.
At this point that would land Panther at No. 5 on the Marvel Cinematic Universe's all-time opening weekends list, under 2013's Iron Man 3 ($174 million) and above 2017's Guardians of the Galaxy Vol. 2 ($146.5 million). If it passes Iron Man 3 it could easily breeze beyond Captain America: Civil War ($179 mill in 2016) and Avengers: Age of Ultron ($191.3 mill in '15) to challenge The Avengers, the MCU's biggest opener, at $207.4 million, for almost six years running. (If Black Panther passes $166 million, it'll conquer DC's biggest opener, 2016's Batman v Superman.)
Tracking services seem to be adjusting estimated opening numbers for Black Panther constantly, as just two weeks ago, they predicted an opening of $125 million. It soon climbed to $150 million, and now sits at $165 million. This number could continue to rise between now and the weekend, as the movie continues to be hyped and praised by those fortunate enough to have experienced early screenings. The movie's impressive 97 percent score on Rotten Tomatoes further supports these claims—aside from the two salty outliers. Overall, Black Panther is headed toward being one of the most well-received superhero movies of all time, which always keeps the box office money pouring in at a steady pace for weeks and weeks.
Director Ryan Coogler could be making history with Black Panther, and we are totally here for it. Chadwick Boseman, along with Lupita Nyongo, Michael B. Jordan, Angela Bassett and Forest Whitaker all star in the film, and mark the studio's first primarily black cast with a black superhero lead.