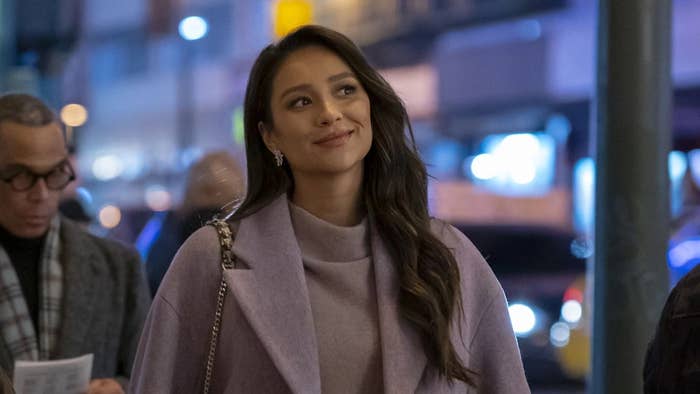 Canadian actress Shay Mitchell is here to sleigh with the new holiday rom-com, Something From Tiffany's, now streaming on Amazon Prime Video. The actress and mom of two filmed the movie in New York city last December.
The film follows Ethan (Kendrick Sampson) and Gary (Ray Nicholson), who accidentally swap blue bags from Tiffany's. Gary ends up giving his girlfriend Rachel (Zoey Deutch) an engagement ring instead of a pair of earrings, while Ethan wanted to propose to girlfriend Vanessa (Mitchell). Rachel is unexpectedly engaged, while Ethan runs into her to get his ring back and falls for her instead.
Mitchell loves rom-coms, New York City and Toronto, but she has a different sense of humour when it comes to holiday movies. We caught up with the actress to talk about her new film and whether she thinks Toronto has what it takes to be the perfect setting for a rom-com.
I love how your resume goes from Pretty Little Liars, You, Dollface and now this. How do you select your projects?
I first and foremost go with the character if I feel something for them. Then it's followed by the script and just if it's something that I would watch myself, so it kind of goes in that pattern and this was exactly that. I love the character. I thought the script was really sweet and cute. And I love the fact that it was a feel-good movie.
Are you a fan of rom-coms?
I am a fan of rom-coms and holiday movies… but not maybe your typical holiday movies. I'd say my favourite Christmas movies are Bad Santa 1 and 2. So that should tell you a little bit about my sense of humor when it comes to holiday films.
I read in an interview that you're prioritizing focusing on things that fulfill you and moving away from the things that don't. How did this film fulfill you?
It just helped me in a way that it was the perfect timing. I loved the cast. I'm a huge fan of Zoey and Kendrick prior to shooting this and then even more so after we'd worked together. It was going to be shooting in New York around the holidays, which I absolutely love. And I was pregnant. And so the timing of this worked out where I was just pregnant enough where I could hide it, especially because it was being shot in the winter. So I was like, okay, I can wear a lot of sweaters and jackets to sort of hide it. And that's exactly what we did. So it was a combination of everything just sort of working out for the perfect time.
It's funny, your on-screen character says she doesn't like New York City. I'm guessing you do?
I love New York City. The only thing I don't like are maybe the rodents. I'm not a rat person at all. Not to say that I'm sure a lot of people are but like, I really can't do it. So aside from that, and the cold because I'm originally from Toronto, and I feel like I'm done with the cold now. I do love New York.
What did you love about filming a holiday movie in New York City?
It was great. I think the energy that New York has, especially when you are filming something, is great because people are always watching and you can't completely stop people from watching your scene. So when you do have that experience, it's a little exciting to be able to know that you're live performing for some people that are watching the film, which is what happened. But I love it. I think especially around the holidays, New York is really magical. So it really ends up playing and being its own character in the movie.
When it comes to the roles you've played, are there any you feel really captured an aspect of yourself that you rarely get to show?
You know, I think there's a little bit in every character I can see myself in. I think for this one in particular, I loved the drive that Vanessa had and the fact that she wasn't altered to say yes just because there was a ring in front of her and you know, to see it through. I loved that she was determined to live in a place that she wanted to be in and not let anything deter her from that. So I actually really admired her for that.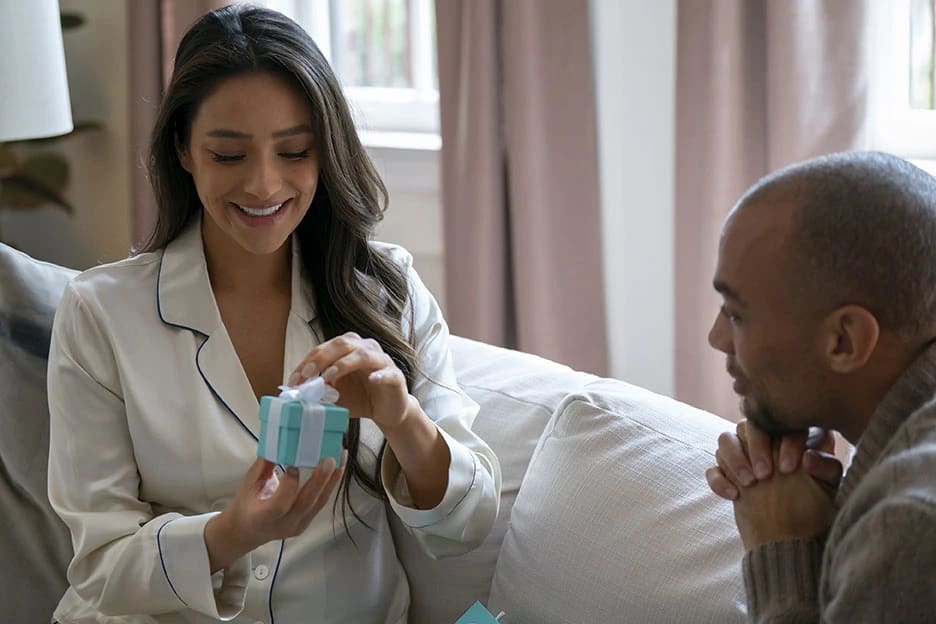 As a fellow Torontonian, I have to ask: Do you miss Toronto?
I miss the food. I miss the people. I miss the seasons. But I'm fortunate enough to be able to go back fairly often. So you know, I do get my fair share of Toronto throughout the year. And you know, especially now with my girls, I'll definitely want to show them Toronto, a place that's very special to my heart. So next year, we'll go back even more.
What are your favorite spots in Toronto? I think Toronto could also be a perfect setting for a rom-com.
Definitely. My favorite restaurant was Island Foods, and I don't know where they are right now. So if those sisters are watching, I need you to hit me up. Because it was the best West Indian food ever. I haven't found another roti like that. But Toronto definitely has my heart in terms of food.
What would you say are the most romantic spots in Toronto for a date?
Oh, man. It's been so long since I've been there but there's some pretty romantic Italian spots. I don't know if I'm the right person to ask… maybe hit up Drake for those recommendations.
What are the kinds of roles you are looking for now in this stage of your career?
I would say anything that inspires me or is something that I would genuinely be interested in watching. That's really what I have to ask myself. So if it's not a character, then it's a script, or if it's something I would want to enjoy myself.
What's the secret to balancing it all—acting, motherhood, and entrepreneurship? 
Having a great support system, a team at work and at home. I think that is key to allowing me or anybody to see through what it is that they want to do. And yeah, there's a lot of things on my plate. But like I said, I wouldn't be able to do it without a great team.
What's next for you?
I recently just shot an unscripted show that I'm excited to share. So I'll be announcing that  top of the new year. But I just got back from a month of shooting and I'm excited for this new show. Yeah, producing more, hosting more and  maybe some more holiday films.
Something From Tiffany's is now streaming on Amazon Prime Video.