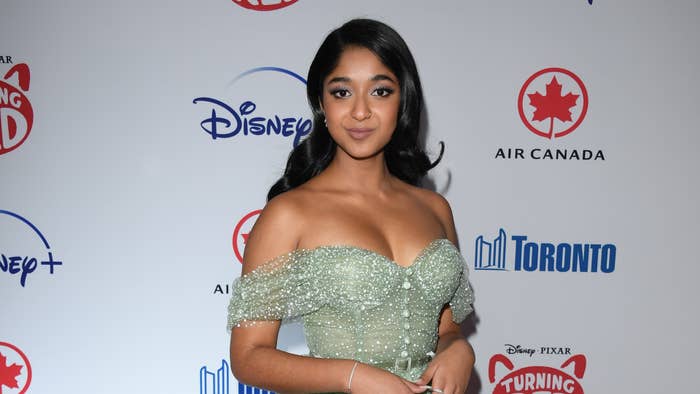 Toronto is bustling with excitement as the city gears for the release of the Pixar film Turning Red on Disney+ this Friday. The film will be biggest Toronto-set release since Scott Pilgrim vs. the World, which premiered over a decade ago. 
Turning Redsees the streets and corners of the city brought to life in a lush palette of pastel colours. The animated film is set in Toronto—more specifically, the city's Chinatown—in 2002, so from street furniture to cell phones, candy bars to stickers, everything gets the nostalgic treatment. 
The movie marks Toronto's own Domee Shi's feature directorial debut. Shi won a well-deserved Oscar for best animated short for Bao in 2018 and returns to tell another heartwarming and utterly relatable coming-of-age mother-daughter story. Meilin Lee (voiced by newcomer Rosalie Chiang) is a dorky, confident 13-year-old who excels in school, tries to be the perfect daughter at home, and has a close-knit group of friends. However, one day Mei finds out that when her emotions get the better of her, she turns into a giant red panda.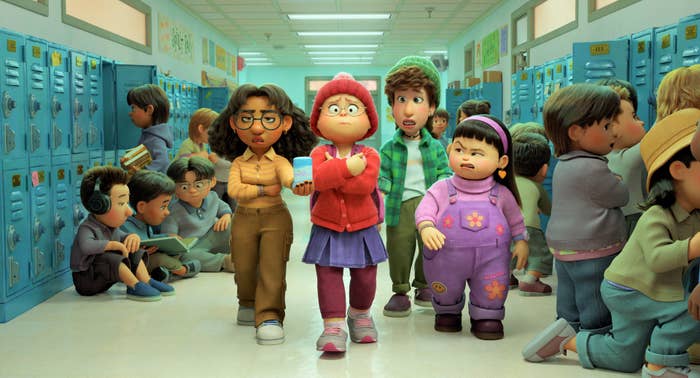 The cast also includes two familiar Canadian talents: Sandra Oh as Mei's helicopter mom, Ming Lee and Never Have I Ever's Maitreyi Ramakrishnan as one of Mei's friends, Priya. Turning Red also sees Pixar's first-ever fictional boy band, 4*Town, the songs of which were composed by Billie Eilish and her brother Finneas O'Connell.
Ahead of the film's release this Friday, we caught up with Mississauga-born Maitreyi—who joined her co-stars in Toronto for the red carpet premiere on Tuesday night—to discuss all things Turning Red and her hometown of Toronto. 
Congratulations on Turning Red, and on the release of a Toronto-based Pixar film! How does it feel?
It's amazing! Honestly, just seeing the movie in terms of just the background, the characters that we see, that diversity. It's so refreshing because it's normal. That's my normal. That's how I grew up in Mississauga and Toronto. That's what the world looks like, and being able to just see the streets of where Mei goes running through it. But it's so refreshing, because that's my home. I know this. I know where the streets are.
When I saw Priya on screen with her eyes like that and that attitude, I was like, this is hands-down Maitreyi vibes. Did they create Priya after meeting you?
OK, so I have no idea. Like, I genuinely have no idea. I feel like that, you'd have to ask the director or something. But I remember the first time I saw Priya and I was like, 'OK, did we do something here?' Because it's just like the nose ring, the gold-rimmed glasses. It's the bushy hair, like not right now—right now, this is the work of like three people [points to her glamorously styled hair]. But when I'm not glammed up, yeah, Priya is definitely me.
"I'm definitely perfectionist vibes over here. I still think that is definitely me now. I like to be as perfect as possible, which is not necessarily a good trait. It's good and bad, double-edged sword."
Priya is pretty low-key with that solid deadpan humour—was that very much like a Maitreyi quality or a bit different from you?
I think I have like a very expressive voice that goes really high and then really low, and I go all over, so that's definitely not Priya vibes. But I do have like a natural rasp, I guess, to my voice. I don't know. My brother thinks my voice is pretty annoying. So I don't really know. But yeah, I do like Priya's deadpan voice; it was really fun to do that and just take on that difference, from my normal speak.
You always have incredible comic timing. Since this was your first voice acting role, and you can't rely on physical comedy or body language as a tool. What did you have to struggle with when you got in the recording booth?
Yeah, it's hard. Because you know, this was the first voice acting gig I've ever done. I mean, geez, starting off with big leagues with Pixar. No running start here. Just going right in. Yeah, you don't have that physicality at all. But you do have the endless possibilities that animation can give you. You can jump so high as a cartoon character. I definitely don't have a good vertical as Maitreyi Ramakrishnan. So yeah, those ways you can really have fun and just extend your voice; your imagination is your only limit really. And with Priya's voice being deadpan, it makes it a little hard to necessarily do like comedic things with the voice and that way of like getting it really high and getting it really low. So it's all about that timing. I guess that's what really worked for me. That's what I try to do. I also just say words, let's be real. It carries itself. I just say words. I show up. That's what I do.
So then, which character did you relate to the most?
I feel like there's a little bit of all the girls in me, and that's what I love about them. They're all very unique and distinct, but there's an element of all of them that you can really feel yourself in. For me personally, I totally have like Priya's I'm-too-cool-for-school-look-at-me vibes. But I also have a little bit of like Abby's intensity. When I get very passionate about something I'm very, very intense. But then also like the loyal best friend vibes of Miriam being like, "Hey, come on Mei, let's go, we got this." But I think if I had to pick any of them, it's Mei. Mei is so relatable. She's such an awkward little bean and I was like that when I was in middle school. I don't think that part of you leaves.
This is very much about how Asian and South Asian kids, and immigrant kids have to keep up with the heavy-handed expectations of their parents. How did these themes speak to you as a South Asian Canadian?
So for me, my parents never really were like, "Go do your homework. Go, go, go, go." Not because they're just chill and like, didn't care if I did my homework, but I would always do it myself. I very much was my own alarm clock being like, 'You gotta go, you gotta get that 100!' All of that. So my mom never had to worry and be on my case. I was already on my own case. But I'm definitely perfectionist vibes over here. I still think that is definitely me now. I like to be as perfect as possible, which is not necessarily a good trait. It's good and bad, double-edged sword. I don't know? Will self-reflect on that later.
"I was like, 'That's Kensington!' There's no way—like those tight little alleyways, come on! That was really cute to see. Also, seeing the SkyDome a.k.a. Rogers Centre. Yeah, I thought that was really nice with a subtle blue jay coming in. I'm like, 'OK, Pixar, I see you. You're smart. I got it.'
Love that the film is a love letter to the city of Toronto. What are some of your favourite places in Toronto where you have the best memories?
I really love Kensington Market. All the good food there whether it's empanadas or churros that's just a good food place. There used to be this really awesome restaurant called Sushi Sky and it was amazing. My family and I would always go there… it was our go-to sushi place. They had the best tempura like bento box. Also, I would say Nathan Phillips Square is great because that is where I saw my first concert, Marianas Trench and yeah, that was definitely my 4*Town experience.
That was my like big concert actually that I went to at that age because like you're in middle school, like how many concerts can you really go to? Like nowadays, there's age restrictions, right? We live in a pandemic world now, I don't know what concerts are like anymore.
What parts of Toronto did you love seeing in the film?
Spadina… seeing like all the lights and just all the TTC, just street cars going by was really nice. I think there's this shot where Mei as the panda is going through a little alleyway. And I swear it looks like Kensington to me. I was like, 'That's Kensington!' There's no way like those tight little alleyways, come on! That was really cute to see. Also, seeing the SkyDome a.k.a. Rogers Centre. Yeah, I thought that was really nice with a subtle blue jay coming in. I'm like, 'OK, Pixar, I see you. You're smart. I got it.'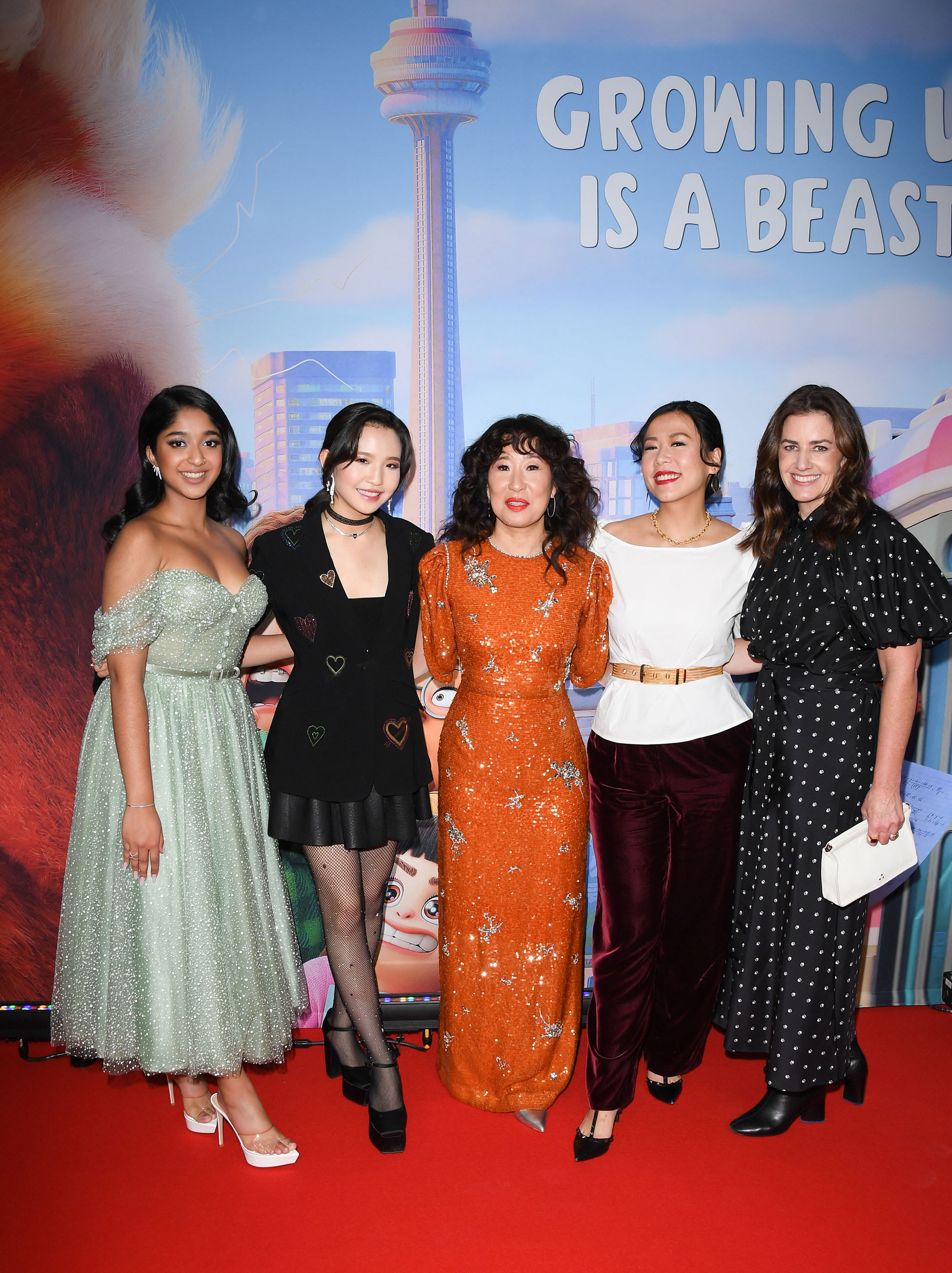 That was cool! I also liked seeing Canadian elements like bags of milk at Daisy Mart.
Right?! That's our Daisy Mart, bro. That's our Daisy Mart, let's go!
The film tells us that we've all got an inner beast—a loud, messy, weird part of ourselves hidden away and we got to let it out. What does letting your inner beast out look like?
I think it looks like how I looked like every day. Sometimes people think like, 'Oh, this is a different side to you.' Like, it's a different person. Like, this is one person, this is another, but really, it's not. It's all the same human being under all of that, right? It's all the same brain, the same heart that feels all these emotions. So to me, that other side is just same as this side. You know, it's coming out from the same mouth, the same heart, the same brain. Yeah, that inner beast really should just be embraced as who you are, you know?
In the film, kittens are a surefire way of letting Mei's extreme emotions turn her into a red panda. What gets you super excited panda-level?   
I mean, food. That's sort of obvious. Like yeah, like lasagna. I think that's right now my craving. I feel like I would change my answer in a week from now. But right now, it's lasagna. But also it's puppies for me. It wouldn't be kittens as much as the puppies, nice little lab puppies. 
So Mei needs to think of her squad to bring her back to human form because they ground her. Who is that person for you to tame your wild inner panda?
Who is that person? Oh my gosh. Do I have a person? We're on Hinge! Just kidding. [Laughs.] OK, it depends on circumstances. I'm trying to give you an honest answer. So it depends on circumstances. There's times where my mom is that person for sure. Then there are times when my mom is definitely not the person and it's like not an option, and it's actually my best friend instead. You know, my best friend is that person and there's times when it's not my best friend, you know, and it just keeps going and sometimes it's just like your emotional support animated character. You know, maybe that's the person, you know, to find comfort in. Maybe it's the dog. Yeah, you don't have to have one person and that's okay. There's different times and places.