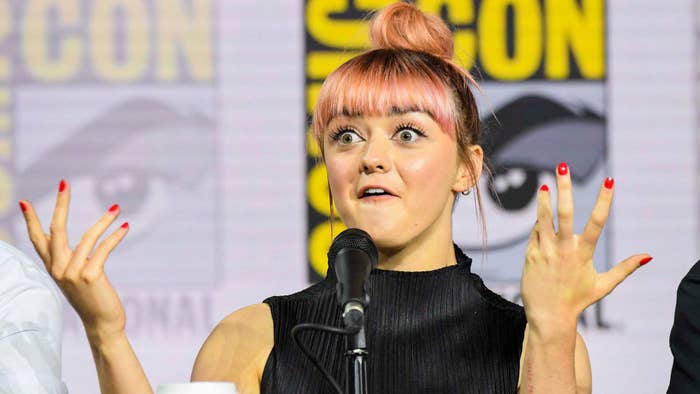 Maisie Williams, who played Arya Stark in Game Of Thrones, admitted on a recent livestream that she agrees with the fan consensus surrounding the HBO series' final season.
According to the UK native, who recently rewatched the show in its entirety, Game of Thrones "definitely fell off at the end."
While sharing her thoughts on the blockbuster series' divisive 8th and final season, Maisie said on a recent livestream per Variety, that the HBO series "started really strong."
"It kinda popped off," Maisie said. "For the longest time…I could never see it from the outside. So I could never say that and actually understand it. For the first time, it feels good to be proud of it. It was 10 years of my life."
She added, "I was heartbroken when Ned died, yet I knew it was coming." 
In a previous interview with the Hollywood Reporter, Williams reflected on the decade she spent working on the show, and said that she and Kit Harington were originally told Game Of Thrones was planning to end quite differently than it actually did.
"[Kit Harington] expected it to go [Jon Snow's] way, too, and he even said, 'It was going to go that way. Someone told me in Season 3 that I was going to kill the Night King,'" Williams said of the show's main antagonist, who was cut down by Arya Stark in the episode "The Long Night." "And then, he read the script, and it was Arya the whole time. [Laughs] Yeah, I think it would've been too obvious. I'm glad that it was Arya, honestly. I think I had the best storyline of the final season." 
Prior to the livestream, Williams had never been so direct about her thoughts on GoT season 8, but she did say in a separate interview with British GQ that she was glad the show ended when it did.
"Can I say none of it? … I don't think it's healthy [to miss it], because I loved it," she said. "I look at it so fondly, and I look at it with such pride. But why would I want to make myself feel sad about the greatest thing that ever happened to me? I don't want to associate that with feelings of pain."
However, her former co-star Peter Dinklage didn't mince words when he was asked to share his thoughts on people's reaction to the series finale.
"I think the reason there was some backlash about the ending is because they were angry at us for breaking up with them," he said in part to The New York Times. "We were going off the air and they didn't know what to do with their Sunday nights anymore. They wanted more, so they backlashed about that."