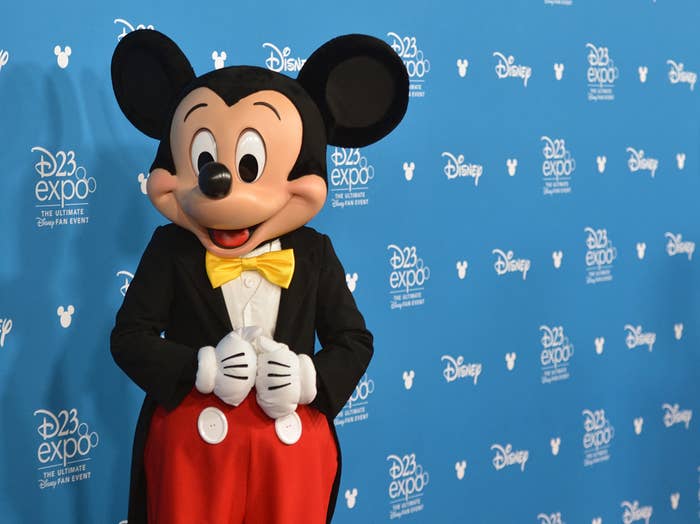 Disney is the final boss you must defeat after beating out all other media companies. Most major things we consume today, from Marvel to Sportscenter, have been rooted in the powerhouse that Disney has become. While we can appreciate the fact that our favorite movies and shows are being kept alive, and most importantly fully funded, Disney's overbearing power has taken much control over what we watch and how we watch it, leaving a lingering question of how other companies can compete.
Over the past 50 years, Disney has cut deals that not only extended its opportunity to continue making and streaming original content, but has also allowed them to oversee full production companies like Pixar, cable channels like ABC, and streaming services like Hulu. Their new streaming service Disney+ has officially launched, featuring an abundant catalog of Disney-created (and Disney-bought) classics for people to watch. In direct competition with streaming services Netflix and Apple TV+, Disney+ falls on the cheaper side with a singular price of $6.99 per month and a bundle of Disney+, ESPN+, and an ad-supported version of Hulu for $12.99 per month. 
When Disney started announcing its featured content, the price was the last thing people were talking about. Rather, the discussion surrounded the idea that Disney's screen blackout is fully in motion. Here's how it happened.
April 18, 1983: The Disney Channel launches
Disney has always been ahead of the curve. As cable TV increasingly grew in usage back in the 1980s, Disney rightfully launched its own network that was marketed to families and children. In just a couple of years, Disney Channel reached nearly two million subscribers, adding a competitive television component to its already successfully laid movie foundation. In the late 1990s, Disney Channel began marketing toward teens by emphasizing its music programming that included music videos, and creating more relatable Disney Channel original movies. As the content continued to prosper, the groundwork was laid for teen stars like Hilary Duff to become the faces of the network, and franchises like The Cheetah Girls and High School Musical to be some of most-known and most profitable Disney Channel series to ever premiere. Due to the inevitable success, movies like High School Musical 3 have even made it to the big screen. And that's all simply because at that point, the big screen was the only one left to conquer.
June 30, 1993: Miramax acquisition
Miramax was created to be a home for independent films that were deemed as "commercially unfeasible," which they were until things started to change at the top of the 1990s. Shortly after the $60 million acquisition which also gave Disney access to Miramax's film library before 1993, Miramax launched two of its most successful films to date: Pulp Fiction and Chicago. Even after selling the rights to Lord of the Rings in 1997, Miramax still found its niche. Throughout the mid-2000s, Miramax operated under the name Dimension Films, and was said to specialize in teen and horror films; that's how we got gems like Scream and the Scary Movie series, so oddly, the job was well done.
Due to the circumstances of alleged improper accounting between Miramax founders Harvey and Bob Weinstein and Disney, it was announced in 2005 that their contract would be ending. The Weinsteins started their own company, but the name Miramax remained with Disney for the next few years. After cutting the staff by 70 percet and only agreeing to release three films per year, Miramax eventually fell and Disney pulled their support in 2010. Miramax's Disney era still gave us some classics, though.
July 31, 1995: Capital Cities/ABC/ESPN acquisition
Apparently, no one saw this coming. In 1995, the Walt Disney Company announced its merger with Capital Cities/ABC Inc. for a whopping $19 billion. Along with the already-powerful network that was ABC, Capital Cities also had 225 stations they were affiliated with, eight TV stations, and 80 percent ownership of ESPN. Extending their reach even further, the merger meant that Disney now had ownership in the A+E and Lifetime cable channels as well, propelling its reign on cable TV and radio networks across the world. Most importantly, this merger allowed Disney to soak its hands into the world of sports, and what better way could they have done that other than buying the company who covers it all and your families go-to TV station.
October 24, 2001: Fox Family Channel acquisition
Despite classics like Hawaii Five-O, the airing of Major League Baseball, and holiday-themed marathons, the viewership for Fox began to decline in 2000 as a result of competitors like Nickelodeon, Cartoon Network, and Disney Channel. The word is that when Fox changed its name to The Family Channel, it lost a core of its viewership. Just a year after nearly folding, Fox Family Worldwide announced that it had been sold to The Walt Disney Company for $2.9 billion, resulting in the name change to ABC Family Worldwide, Inc. It took some years after the acquisition for things to fall in place as the network struggled to find original content. But changing the name to ABC Family, the network finally found its lane, promoting content that catered to both teens and young adults as opposed to just kids on Jetix. With the debuts of series like Lincoln Heights, Kyle XY, and The Secret Life of the American Teenager, ABC Family started a run that would later produce shows like Pretty Little Liars, Make It Or Break It, and The Fosters. In 2014, the network was officially relaunched as Freeform, which interestingly kept its signature campaign of the "13 Nights of Halloween" and "25 Days of Christmas" holiday specials. This was just the start of the extensive relationship between Disney and Fox.
April 2004 (undisclosed date): Muppets acquisition
In 2004 Disney scooped in yet another classic, buying the rights to the Muppets. Although the price tag of the deal was never disclosed, considering The Muppet Show, multiple movies, and Bear in the Big Blue House, we're sure Disney threw them a major bag to acquire this franchise. At the time, the deal was said to have been discussed 14 years prior in 1990 but fell through once Muppets creator Jim Henson died. Even though Disney couldn't scoop Sesame Street characters Big Bird and Elmo, which were sold separately, the deal was finally done a decade later. Whether it's spawning Kermit memes or box office films starring Tina Fey, The Muppets haven't been written out of media history just yet, still living as one of the longest-running major franchises.
May 5, 2006: Pixar acquisition
In a deal that was worth $7.4 billion in stock, Disney acquired Pixar Animation Studios, which was already setting the tone with films like Toy Story and A Bug's Life. Pixar executives like Steve Jobs took a share and leadership with the Disney brand and they started pumping out hits immediately. We could sit here and name all of the films that came after to cement the new run Pixar and Disney went on, but it still hasn't ended. Their next highly anticipated film Soul is set to release in 2020, and after a list of hits that include Monsters Inc., Finding Nemo, and The Incredibles, we don't see them dropping the ball anytime soon. We will continue to see them drop that lamp on those letters.
April 30, 2009: Disney becomes part-owner of Hulu
The way in which we're consuming TV is changing right in front of our eyes, and the new version of cable is now subscription-based streaming services. In 2006, Hulu partnered with AOL, NBC Universal, Comcast, Facebook, MSN, Myspace, and Yahoo! to distribute its content, amassing a reach so big that Hulu could actually compete with Netflix. Well after becoming a multi-million dollar company, Disney, of course, wanted parts and joined Hulu as a stakeholder in 2009, giving the service rights to content from both ABC and Disney Channel. Hulu's stake was split between a number of companies, but not for long. 
December 31, 2009: Marvel Entertainment acquisition
Consider the competition deceased. In 2009, Disney made a move that would dominate box offices for the duration of the next decade. For $4 billion, Disney purchased Marvel Entertainment, which probably houses all of your favorite superheroes and their franchises—that is unless you're a DC fan. Since its origins in the 1990s, Marvel has become a superhero conglomerate that's home to The Avengers, X-Men, and the Fantastic Four. Over the past two years alone Marvel has been all over the box offices with Black Panther,—which was the highest-grossing movie of all 2018—Avengers: Infinity War, Ant-Man and the Wasp, Captain Marvel, and Avengers: Endgame. This Marvel move made it extremely hard for other companies to compete, making it seem as if with every major release, there was a Marvel movie that was out at the same time. Figures in Hollywood have been vocal about Marvel's takeover, including vets like Martin Scorsesee. And while those sentiments seem personal, they are true in the instance that Disney has arguably gained so too much control over the industry. Since the Marvel acquisition, the Marvel Cinematic Universe has opened tremendously and with that, so have our wallets.
October 30, 2012: Lucasfilm acquisition
Right when it couldn't get any bigger than the acquisition of Marvel, Disney copped another lucrative series; Star Wars. For over a year, Disney had been plotting on the idea of calling Luke Skywalker and Han Solo characters of their own, and in 2012 they pulled it off. As Disney CEO Robert Iger claimed, Lucasfilm is one of the greatest entertainment properties of all time, making it also one of the most valuable. In fact, this is Disney's fourth biggest deal to date behind the acquisitions of Capital Cities/ABC, Pixar, and Fox Family. Disney didn't plan on taking the acquisition lightly, rolling out a trilogy of films as well as two prequel stories in theaters. Since the late 1970s, Star Wars has continued to grow across film, magazines, animated shows, and television series. But even after 50 years, the Lucasfilm acquisition by Disney means that we're just getting started.
August 9, 2016: Disney purchases stock in BAMTech
Like we said earlier, when it comes to streaming, Disney has been ahead of the game. Just a few years ago, Disney announced the acquisition of its $1 million, 33 percent stake in BAMTech. As a part of the acquisition, BAMTech was separated from the MLB, which housed it previously. But behind such a reputable technology company comes the additional help with Disney's products that now also include ABC and ESPN. BAMTech already works with a huge roster including HBO Now, the National Hockey League, Major League Baseball, the PGA Tour, and the WWE Network. With this deal, Disney aimed to broaden its reach, specifically with sports, across more platforms than it previously had access to.
April 12, 2018: ESPN+ launches
When Disney acquired BAMTech, the idea to provide a more in-depth streaming service for ESPN became a reality. ESPN was already being used to back WatchESPN, proving that live sporting events had a home on these streaming applications. Even though ESPN doesn't have sports rights to the NFL or NBA, they do have rights within the MLB, NHL, and MLS. In 2018, ESPN+ officially launched with a subscribed fee of $4.99 per month.
March 20, 2019: 21st Century Fox acquisition is complete
Earlier this spring, Disney leveled up once again, acquiring 20th Century Fox. The deal was first teased in 2017, with Disney seeking the rights to 21st Century Fox, the company that houses shows like The Simpsons, cable channels like FX that houses hits like Atlanta and Archer, and National Geographic. The deal would've also given Disney the rights to Fox Television Stations, Fox Sports, Fox News, and official rights to the Fantastic Four and X-Men. That alone sounds crazy, right? But a bidding war persisted between Disney and Comcast. A few years later, Disney won and ended up cutting that deal for over $71 billion and more than a few shares in the company. Disney also received an additional 30 percent share in Hulu, matching the percentage they already owned. While many praised the deal, it also received backlash. Many thought that Disney was doing too much. It is a little scary if we're being honest. Who would've thought that Disney would have their hands in shows like Family Guy? But at least this way there's hope that Deadpool, the X-Men, the Fantastic Four, and the Avengers will all be fighting in some type of superhero armageddon sometime soon. Other than that, it's a lot to grasp.
November 12, 2019: Disney+ launches
This is the moment we've all been waiting for. With everything that Disney has acquired over the past few decades, the announcement of such a content-rich application didn't seem like it would match the expectations. When Disney+ began announcing its list of original and acquired shows and movies, people instantly subscribed early off of combined feelings of nostalgia and excitement. In its efforts to provide a home for children, families, teens, adults, sports-lovers, and comic book fanatics, Disney+ will be one of the few destinations that have all of the above.
These past deals and acquisitions have led to this moment. With everything available on the app today, you can scroll through and see all of the content Disney has had its hands in. How could you not be glued to your screens? Disney's screen blackout was persistent and successful. As a brand, they're not only looking to take the crown from Netflix, they're looking to wipe cable TV clean.