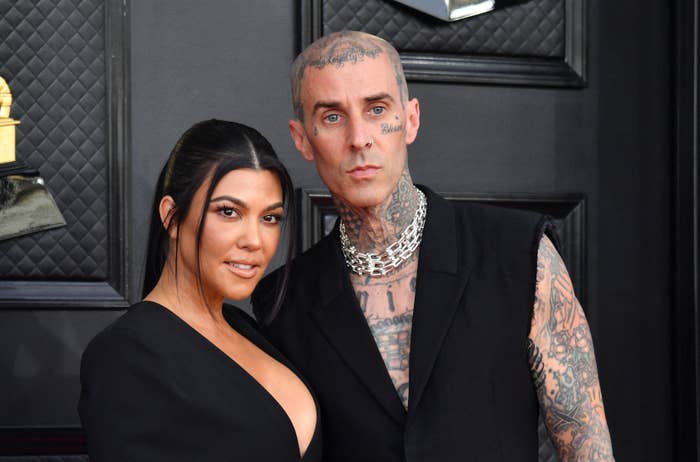 Kourtney Kardashian has found the one in Travis Barker. The pair announced their engagement in 2021, and after documenting the ups and downs of her relationship with ex Scott Disick for more than a decade on Keeping Up With the Kardashians, the reality star seems to have found her perfect match in the former Blink 182 drummer. The pair have reportedly been longtime friends, and their families have known each other for years. They were both in public relationships in the past but they seemed so in love this past year, that it makes all their former partners feel irrelevant. Kardashian, unlike her famous sisters, is usually pretty private about her love life. This time around, she has been spending so much time with the drummer publicly, showing off major PDA during their countless vacations, and shamelessly posting some adorable moments from their relationship on social media. The couple even had a quickie Las Vegas wedding, which wasn't official but still happened.
The celebrity couple reportedly went from friends to a couple earlier this year, and have already been integrating their families. Kardashian has three children—Mason, Penelope, and Reign—whom she shares with her ex-boyfriend Scott. Barker has two kids—son Landon and daughter Alabama—from his previous marriage to former Miss USA winner Shanna Moakler. Fans have watched their love blossom on social media since January and the reality star and the musician are now headed for marriage after less than a year of dating. Their engagement might seem sudden to some but this romance has been brewing for quite some time. Check out the timeline of how Kourtney and Travis—Kravis, as some fans are calling them—have quickly become one of the most popular celebrity couples in Hollywood.
Kourtney and Travis have known each other for years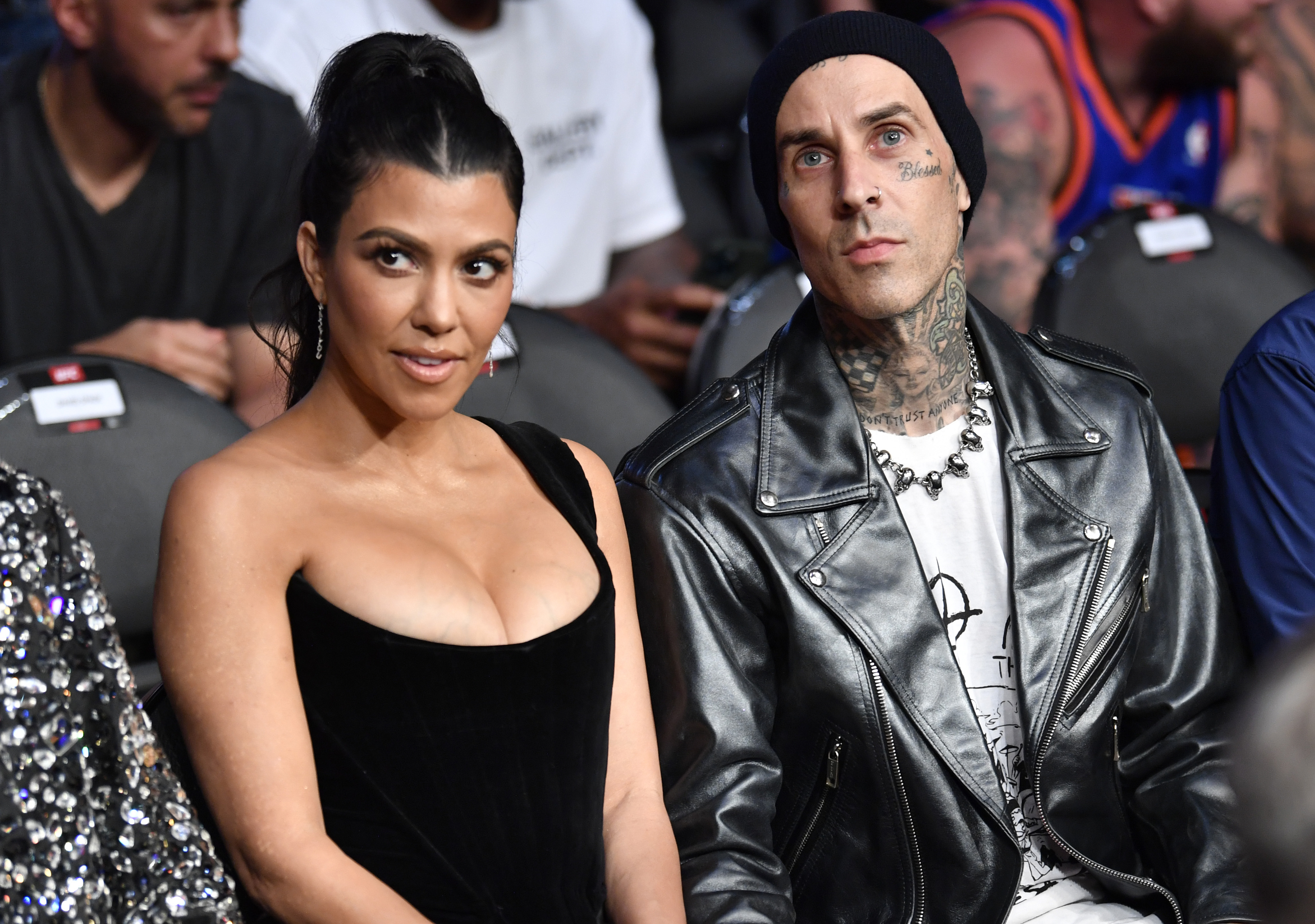 Date: Jan. 21, 2021
The couple had been spending time together amid the quarantine but rumors that they were dating didn't surface until January 2021. If you pay close enough attention, social media interactions are often a dead giveaway when it comes to revealing which celebrities are dating each other. Rumors that they were more than friends intensified after Internet sleuths noticed that Travis dropped some flirty comments on one of Kourtney's Instagram posts. The drummer reportedly left a rose emoji on a sultry mirror pic she shared on Jan. 21.
Their relationship was confirmed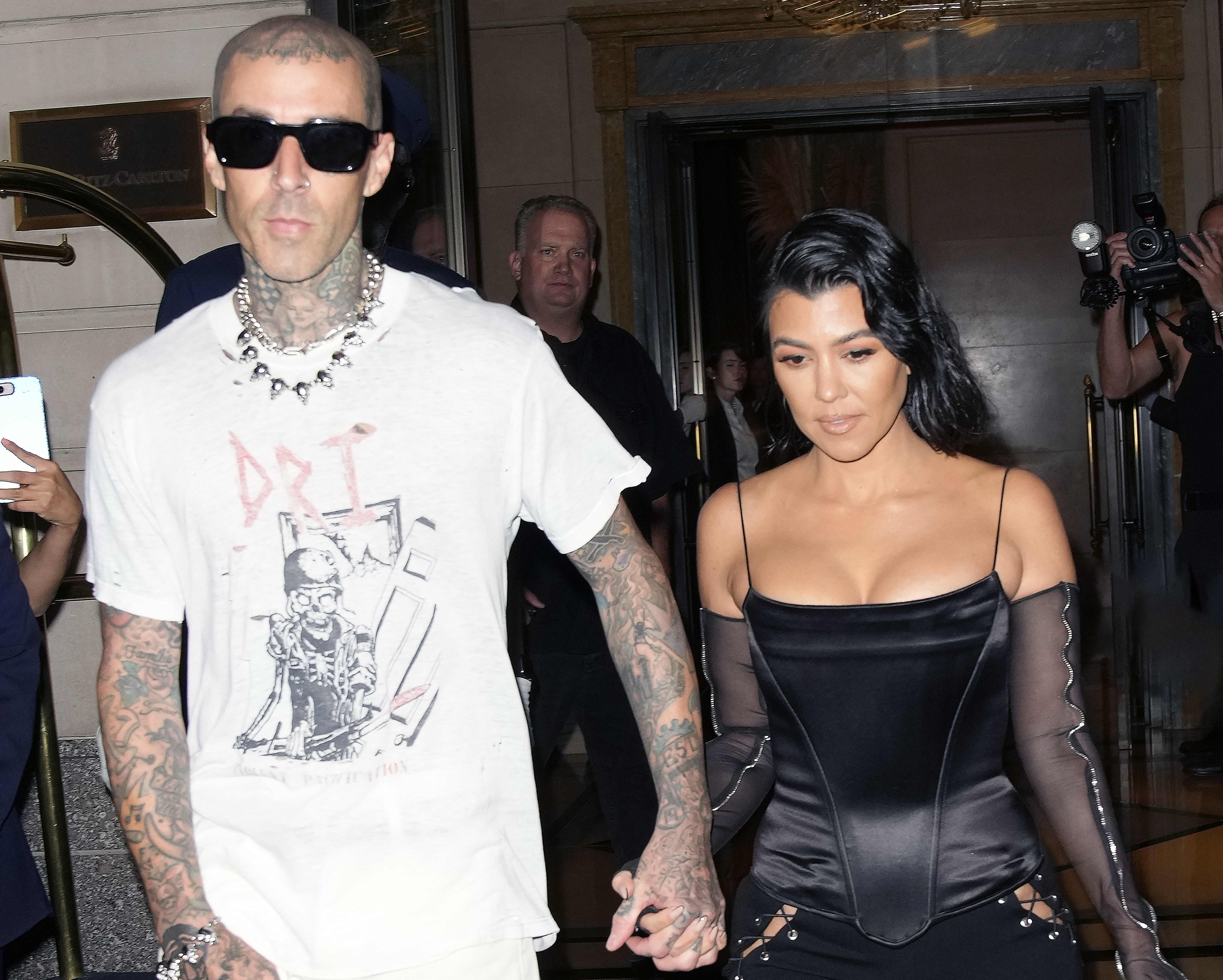 Date: Feb. 16, 2021
Amid reports that they were dating and after celebrating Valentine's Day together, Kourtney shared their first couple pic on Instagram on Feb. 16. The reality star did what social media users call the "soft launch" of a new relationship. Instead of posting a photo of her and her man, she shared a pic showing off her nails while holding the drummer's tattooed-covered hand, confirming that they were, in fact, an item, without having to fully reveal who he was.
They had their first public outing as a couple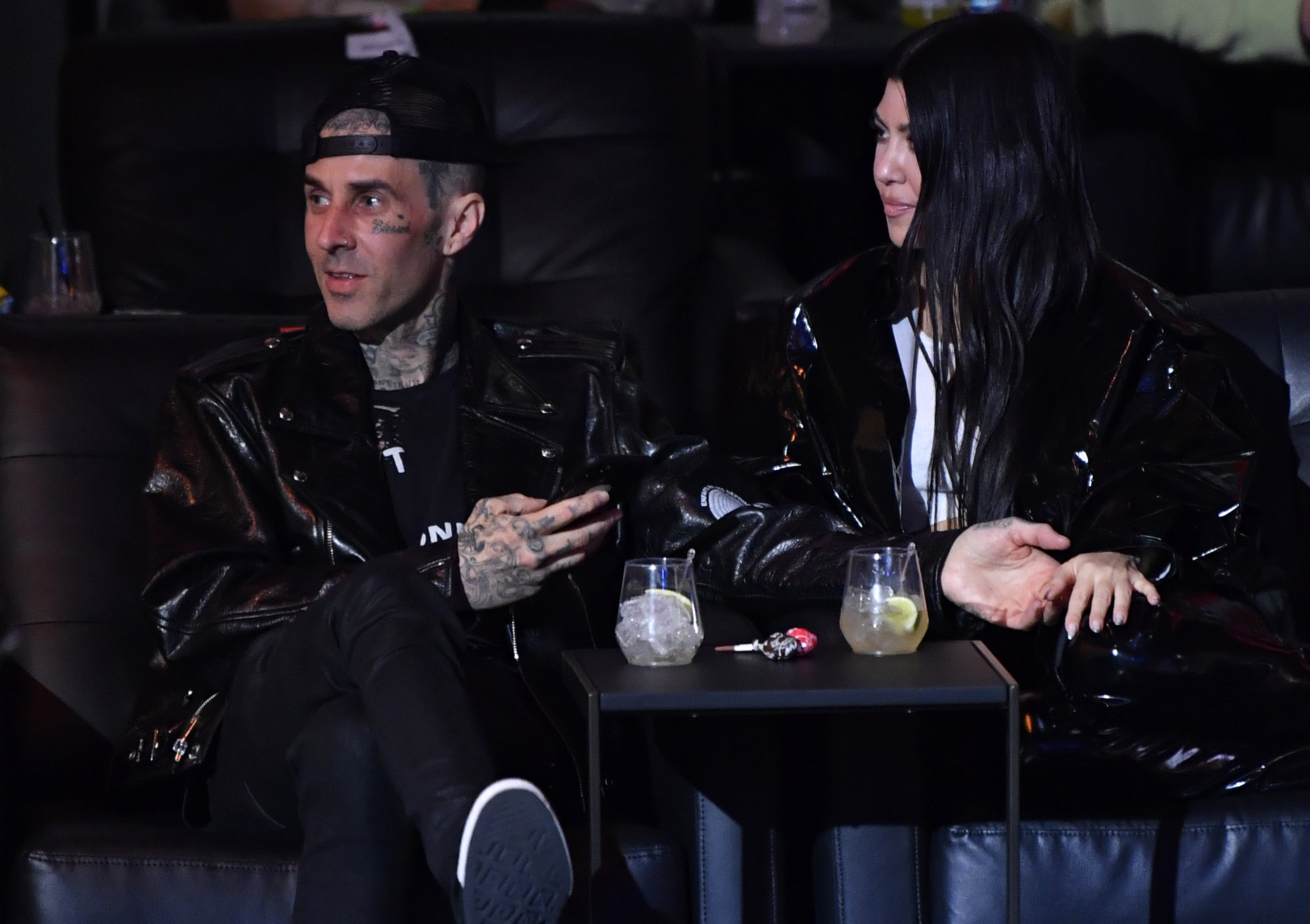 Date: April 9, 2021
Nothing says forever more than permanent ink, right? The tattoo fanatic added another one to his long list of tattoos, but this time it was to honor his love for Kourtney. The drummer had her name tattooed on him in script on his chest and she showed it off on Instagram. The pair went back for seconds in May, but this time, he let her tattoo him. The Poosh founder added another skill to her resumé by tattooing the words "I love you" on his forearm. 
Date: April 19, 2021
If anyone keeps up with the Kardashians, they know that they always do it big for their birthdays and Travis did not disappoint for his girl's 42nd in April. He decorated her home with the most gorgeous flower arrangement and they celebrated with a group of her friends in her home. She shared a photo of the flowers on Instagram, writing, "Tulips and gardenias are my favorite flowers. My entire house smells yummy." He shared a photo set of his girl on Instagram and captioned it: "I FUCKING LOVE YOU! 🖤 YOU'RE A BLESSING TO THIS WORLD. HAPPY BIRTHDAY." She shared her own photo set from the celebration, which included a pic of herself and Travis holding hands, while she wore Mickey Mouse ears, and a video of a plane flying with a banner wishing her a happy birthday.
Shanna Moakler says Travis had an affair with Kim Kardashian
The couple started vacationing together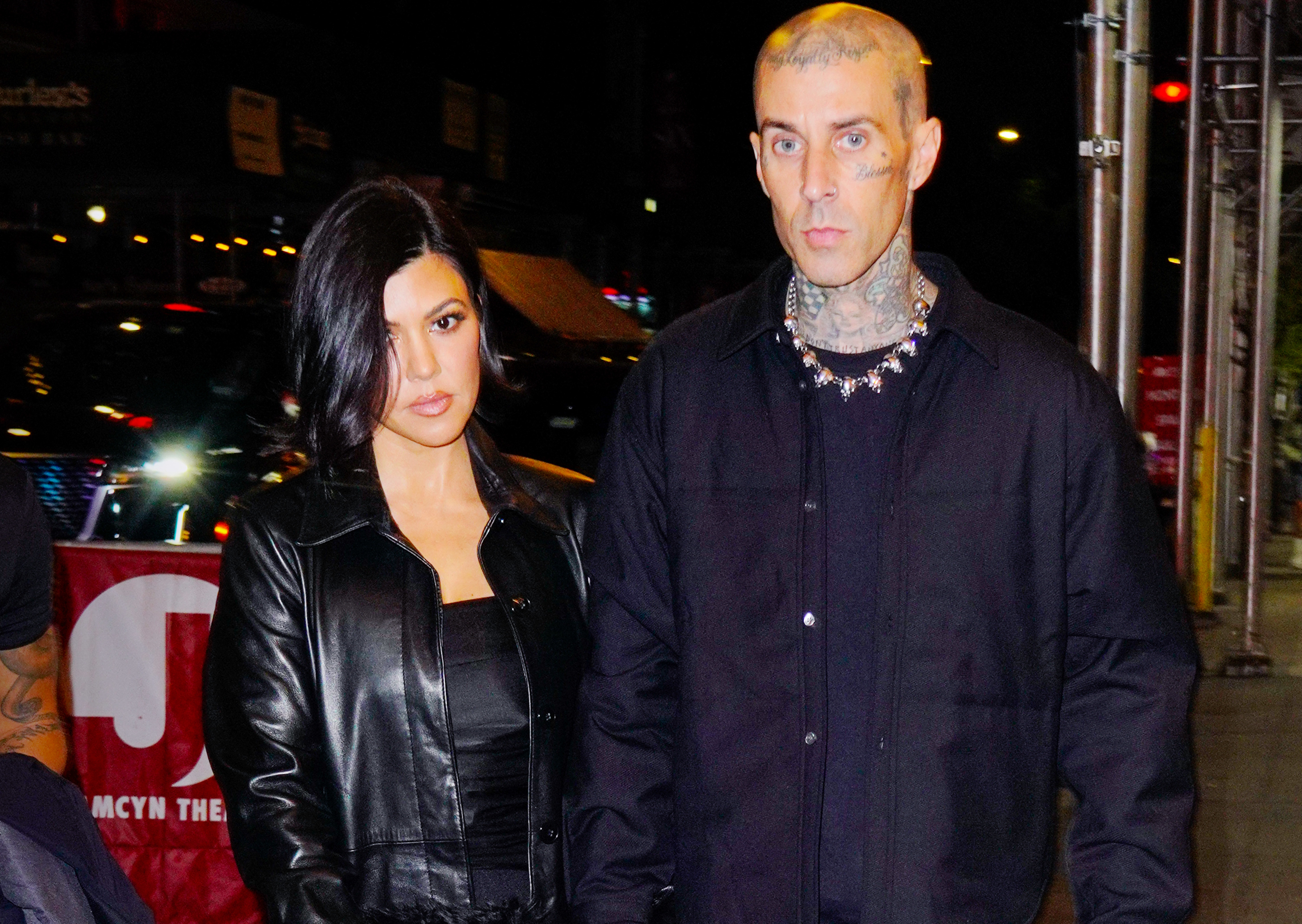 Date: Aug. 17, 2021

After going on some local trips to Utah and other places together, it was time to go abroad. Barker took his first flight since his 2008 plane crash to go on vacation to Mexico with Kourtney. The Blink 182 star was in a plane crash in South Carolina 13 years ago, which killed four people, and left him severely injured. He shared a photo of the pair hugging in front of the private jet, praising his girl for giving him the courage to fight through his fear. "With you anything is possible," he captioned the snap. She wrote, "Anything and everything with you." The couple has since visited several other countries, and spent the summer traveling to Europe together.
Barker opened up in an interview about flying again because of Kourtney. "I made a deal with her that she had just said to me, 'I would love to do so much traveling with you. I want to go to Italy with you. I want to go to Cabo with you. I want to go to Paris with you. I want to go to Bora Bora with you,'" he told Nylon Magazine in September. "And I said, 'Well, when the day comes you want to fly, I'm telling you I'll do it with you. I would do anything with you. And just give me 24 hours' notice.' And that's what she did." He added, "It's still something very new to me, but having something that gives me the strength and hope to be able to overcome things that were so traumatic in my life, it just says a ton. She's definitely that for me. I'm invincible when I'm with her. It's just like I never dreamed, I never even considered flying again."
They also dealt with some Scott Disick drama
Date: Aug. 31, 2021

Kourtney and Travis' Italy trip seemed to be absolute "baecation goals," if you're into that sort of thing. The couple was spotted having the time of their lives while on a boat in Venice and couldn't keep their hands off of each other, but it seemed to rub her ex Scott the wrong way. So much so that he allegedly sent a direct message to Kourtney's other ex, model Younes Bendjima, and was put on blast. To everyone's surprise, the model leaked the alleged DM, which showed him reacting to Kourtney and Travis' international PDA.
"Yo is this chick ok!???? Broooo like what is this. In the middle of Italy," Scott reportedly wrote. "Doesn't matter to me as long as she's happy. PS I'm not your bro," Younes responded. The model shared their interaction on his Instagram Story and followed it up with another post that read: "Couldn't miss this one. He been playing around for too long, tired [sic] to stay quiet and be the nice guy." Travis seemingly reacted to the interaction on his Instagram Story by sharing the famous shot of Ray Liotta laughing in a scene from GoodFellas.
They made their red carpet debut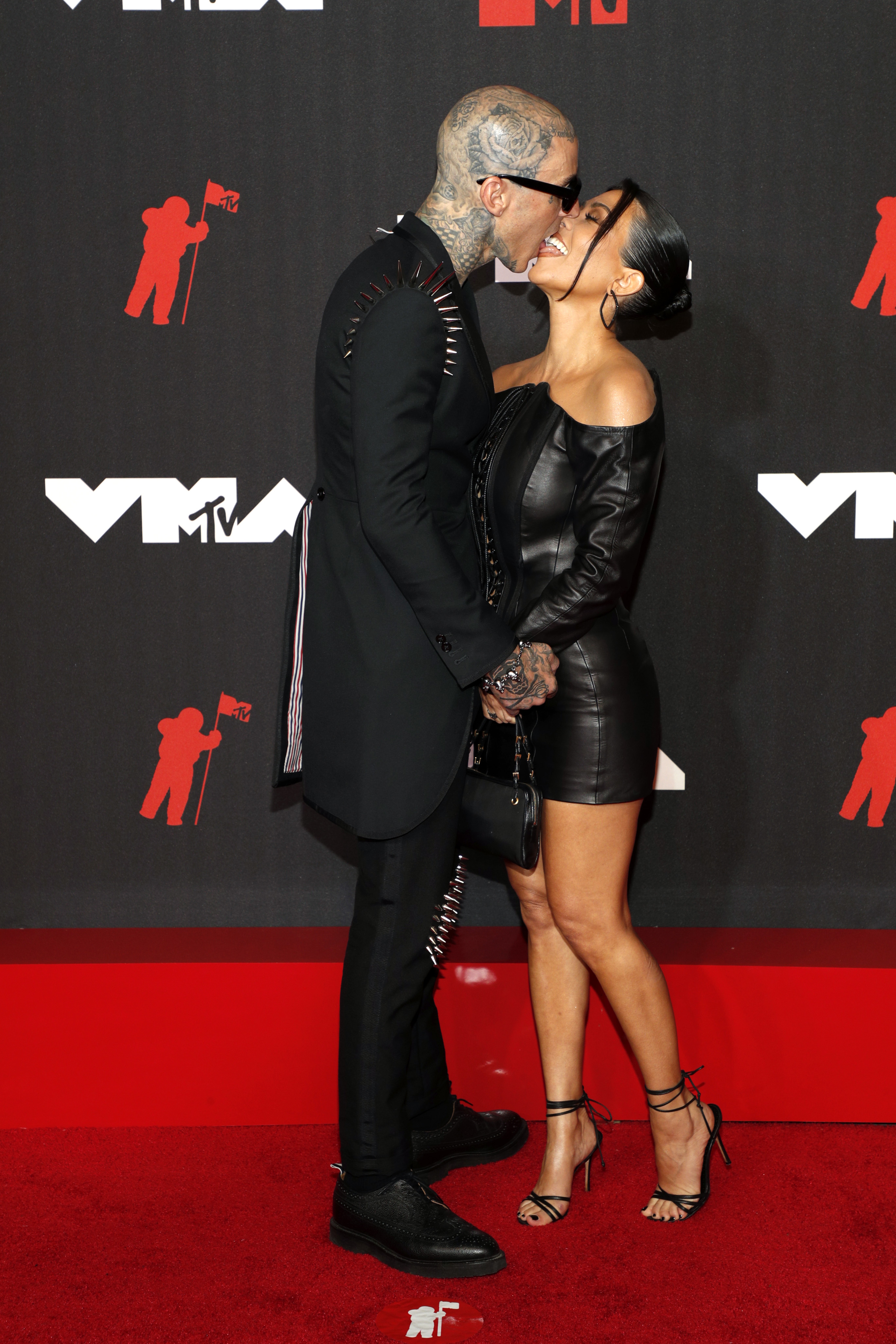 Date: Oct. 17, 2021
The couple revealed on Sunday, Oct. 17 that the drummer arranged a rose-filled proposal for his girl at a beach in Montecito, California this weekend. The KUWTK star posted a photo of the moment Travis asked her to marry him, surrounded by candles and red roses in front of the ocean. They both simply captioned their posts, "Forever." The proposal was followed by a lavish dinner they shared with their loved ones.
Kim shared a video to her Instagram Story of the newly engaged couple kissing, while Bruno Mars' song "Marry You" played in the background, showing a glimpse of her big sister's huge diamond ring. Their famous friends and family flooded them with congratulatory messages. Kourtney's mom Kris Jenner shared a series of pics to congratulate the couple, writing: "Congratulations to the most beautiful, adorable, affectionate, fabulous, made for each other couple in the world! Love you guys!!!!!!" Barker's son, Landon, shared a video of his dad and his new fiancee and captioned it: "​​Congratulations @KourtneyKardash and @TravisBarker I'm so happy for you guys, love you guys so much!" His sister, Alabama, shared a similar message along with a photo of her dad and Kourtney to her Instagram Story, writing: "So happy for you guys. I love u both!" Khloé Kardashian kept her congratulations simple, sharing a photo from the proposal, with the caption: "LOVE conquers all things."
The Kardashian family has shared so much of their personal lives with the world and fans will also get to see all the planning that went into the romantic engagement. Although the family's longtime E! reality show Keeping Up With the Kardashians came to an end earlier this year, filming for their upcoming Hulu series started this weekend and the proposal was reportedly captured for the show. This will be Kourtney's first marriage and Travis' third. He was previously married to Moakler from 2004 to 2008, and Melissa Kennedy from 2001 to 2002. 
Date: Apr. 3
Soon after the 2022 Grammys went down on Apr. 3, reports began surfacing that the couple had done what couples do in Vegas and tied the knot in a chapel. While it was first reported that they were married, it was later revealed that while they did have a ceremony, there was no marriage license, which means they aren't legally married just yet. Kardashian responded to the rumors by clarifying that there was a ceremony but without a license, the whole thing isn't official and is, as she put it, just practice. She shared a series of photos from the moment on Apr. 6, writing: "Found these in my camera roll. Once upon a time in a land far, far away (Las Vegas) at 2am, after an epic night and a little tequila, a queen and her handsome king ventured out to the only open chapel with an Elvis and got married (with no license). Practice makes perfect."