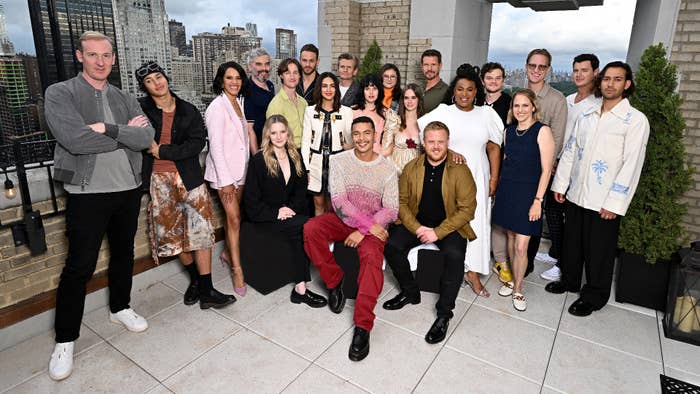 Elijah Wood, Dominic Monaghan, Sean Astin, and Billy Boyd—all veterans of the Lord of the Rings film trilogy—showed their support for the people of color starring in the new TV series The Rings of Power.
Actor Ismael Cruz Córdova, who plays Arondir, recently shared his experience dealing with racism on social media since it was announced he was joining the Amazon Prime Video series. 
In an interview with Esquire, Córdova revealed he has received "pure and vicious hate speech" in his DMs nearly every day over the past two years.
"I fought so hard for this role for this very reason," he said. "I felt that I could carry that torch. I made sure that my elf was the most Elven, the most incredible, because I knew this was coming." 
"Much love," Córdova wrote in response to Wood's tweet, which features Elijah, Boyd, and Monaghan wearing shirts with the ears of the Middle-earth creatures in various skin tones. 
A lengthy joint statement from the Rings of Power cast condemns the incessant behavior of racist trolls. "We, the cast of Rings of Power, stand together in absolute solidarity and against the relentless racism, threats, harassment, and abuse some of our castmates of color are being subjected to on a daily basis. We refuse to ignore it or tolerate it," reads the statement, which was shared with the combined 6.3 million followers of @LOTRonPrime and @PrimeVideo across Twitter and Instagram.
"JRR Tolkien created a world which, by definition, is multi-cultural," the performers continue. "A world in which free peoples from different races and cultures join together, in fellowship, to defeat the forces of evil. Rings of Power reflects that. Our world has never been all white, fantasy has never been all white, Middle-earth is not all white. BIPOC belong in Middle-earth and they are here to stay. Finally, all our love and fellowship go out to the fans supporting us, especially fans of colour who are themselves being attacked simply for existing in this fandom. We see you, your bravery, and endless creativity. Your cosplays, fancams, fan art, and insights make this community a richer place and remind us of our purpose. You are valid, you are loved, and you belong. You are an integral part of the LOTR family – thanks for having our backs."
The Prime account also drew attention to a quote given last week by head of Amazon Studios Jen Salke. "We're really proud of the cast that we have in the show," she said. "We welcome discussion and even criticism around the series; however, we will not condone racism of any kind."
The official account for Star Wars—a franchise that has seen more than its share of racism against cast members in recent years, including Moses Ingram amid 2022's Obi-Wan Kenobi—replied to the statement on Twitter, writing, "From Middle-earth to a galaxy far, far away…#YouAreAllWelcomeHere."