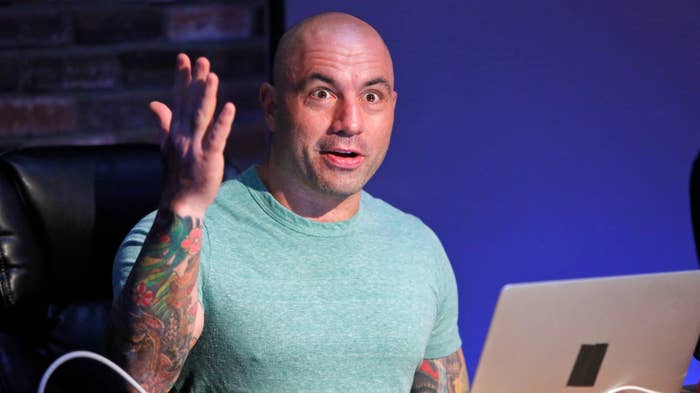 Joe Rogan has come under fire once again for a remark he made on his podcast. 
While speaking with fellow comedian Tom Segura on an episode of The Joe Rogan Experience last week, the two Austin, Texas residents started discussing the ongoing homelessness crisis in Los Angeles. Segura brought up a 2021 court ruling which prevented the city from seizing and discarding the property of people who are unhoused. "Oh, a homeless person's property is protected?" Rogan asked, perVariety. 
"Absolutely. If you were to try to move that or take that," Segura responded, to which Rogan fired back, "You'd get arrested. Hilarious."  
The host compared the city's response to the issue of homelessness with a reported rise in homicides, and jokingly offered up a solution to removing people who are homeless since "nobody does anything about violent crime in L.A. anymore," saying, "They wouldn't arrest you if you shot somebody. Maybe you should just go shoot the homeless people." 
"I like your ideas," Segura said.
Rogan's "shoot the homeless" comment is just the latest in a long-running list of controversies surrounding his podcast. He revealed in April that he gained two million subscribers despite the public outcry over his countless contentious remarks and providing a platform for controversial public figures who have spread misinformation. 
In March, Rogan threatened to walk away from his deal with Spotify if he ever felt like he had to walk on eggshells.