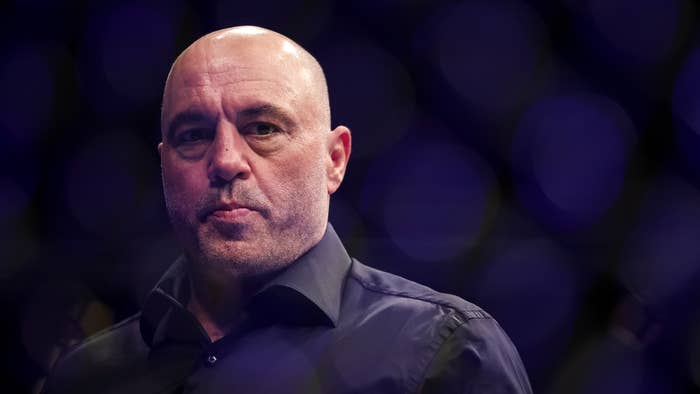 Joe Rogan has faced multiple controversies over the past few months alone, but the podcaster says his popularity has only grown despite calls to remove him from Spotify.
As the Hollywood Reporter noted, the host made comments on Friday's Joe Rogan Experience about how some of the worst controversies he's faced have benefitted him. Speaking with British author and political commentator Douglas Murray—who has been accused of islamophobia in the past—Rogan said he gained a significant amount of subscribers while facing widespread backlash.
"It's interesting, my subscriptions went up massively—that's what's crazy," Rogan said. "During the height of it all, I gained 2 million subscribers … Yeah, [the media] went for it. It's also fortunate that the people who went for it were CNN. They're so untrustworthy and people know how biased they are, and socially weird their anchors are." 
He continued to specifically target CNN, critiquing the media company for claiming he took "horse dewormer" when he took the version of Ivermectin intended for human consumption. He famously announced he had used Ivermectin when he contracted COVID-19 last year, despite the FDA advising against it. The drug is typically used to treat parasites, head lice, and skin conditions such as rosacea.
"They spent $300 million dollars, they got 10,000 subscribers," he said of CNN, which recently shuttered its short-lived streaming service CNN+. "Imagine the hubris of thinking that something that people don't want for free…that you're going to charge money for it." 
At the start of the year, there was serious pushback against Rogan and Spotify for him routinely platforming COVID-19 skeptics and anti-vaccine individuals. He also helped spread pandemic-related misinformation himself. Around the same time, a clip that featured him repeatedly using the N-word surfaced, and he issued an apology. 
"There's a video that's out, that's a compilation of me saying the N-word," said Rogan, in a clip posted to his Instagram. "It's a video that's made of clips taken out of context of me of 12 years of conversations on my podcast, and it's all smushed together, and it looks fuckin' horrible, even to me." He later suggested that the circulation of the clip, which he acknowledged was real, was part of a "political hit job" against him. 
Rogan was reportedly paid $200 million in a licensing deal with Spotify. Last month, he said he'll quit his podcast if he has to "walk on eggshells."