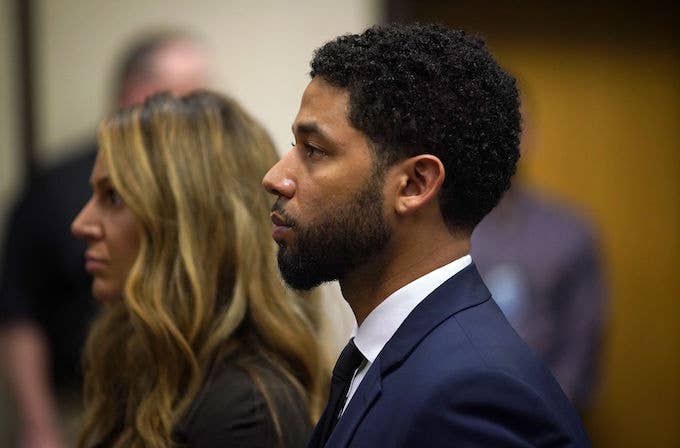 The Illinois state attorney's office has dropped the charges against Empire actor Jussie Smollett, who was indicted on 16 felony counts for allegedly staging a hate crime against himself in January. 
The Empire actor was seen arriving at the Cook County courthouse on Tuesday morning for an emergency hearing, after which his lawyers released a statement announcing that the charges had been dropped. 
"Today, all criminal charges against Jussie Smollett were dropped and his record has been wiped clean of the filing of this tragic complaint against him," a statement from lawyers Tina Glandian and Patricia Brown Holmes read, according to NBC. "Jussie was attacked by two people he was unable to identify on January 29."
Smollett released a statement following his lawyer's announcement, reiterating that he has been honest about what took place on Jan. 29. "This has been an incredibly difficult time. Honestly one of the worst of my entire life," Smollett's statement read, according to Variety. "But I am a man of faith and I am a man that has knowledge of my history and I would not bring my family, our lives or the movement through a fire like this. I just wouldn't."

Smollett was arrested in February after Chicago police suspected that he orchestrated a hate crime in an effort to advance his career and secure more compensation for his role on Empire. The actor was then charged for allegedly falsifying a police report regarding his claim that he was brutally attacked by two masked Trump supporters who targeted him for being a black, openly gay man. 
In a statement to The Hollywood Reporter, the Cook County State's Attorney's office stated that the dropped charges signify an appropriate outcome for the case. "After reviewing all of the facts and circumstances of the case, including Mr. Smollett's volunteer service in the community and agreement to forfeit his bond to the City of Chicago, we believe this outcome is a just disposition and appropriate resolution to this case."
However, Chicago Mayor Rahm Emanuel and Police Superintendent Eddie Johnson indicated that corruption within the state attorney's office may have played a role in the outcome of Smollett's case. While speaking to the press on Tuesday, Emanuel called the decision a "whitewash of justice," and asserted that "if you're in a position of influence and power, you'll get treated one way, other people will be treated another way."
"Do I think justice is served? No," Johnson then added. "Where do I think justice is? I think this city's still owed an apology."
However, the writers for Empire chimed in to applaud the court's decision, taking to Twitter to share a screen shot of the news alongside text that read "See y'all Wednesday."
The Smollett family similarly weighed in, reiterating Jussie's innocence in a statement to the Hollywood Reporter. "Jussie is a son, a brother, a partner, a champion for human rights, and a genuine soul who would never be capable of what he was falsely accused of. He was the victim of an assault and then falsely blamed for his own attack."