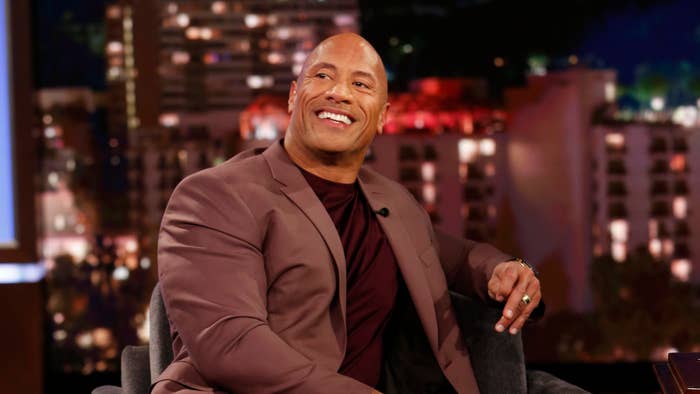 From the squared-circle to the silver screen, Dwayne Johnson has showcased he can be successful in almost any realm. Now, The Rock is proving his dominance in the world of spirits. 
Forbes reported this week that Johnson's Teremana Tequila is on pace to move more than 300,000 nine-liter cases in its first year. This is ground-breaking and record numbers for the liquor business. Though that is an amazing feat, Johnson isn't satisfied.

"Our entire Teremana team and myself are quite pleased and humbled that the brand is experiencing this incredible, off-the-charts success," he told Forbes. "But we also recognize there's so much more work to be done. We're building a mana fueled legacy brand and I'm in it for the long term."
The Rock proves this by being more than just a celebrity ambassador. He helped craft everything about the liquor from its taste to its name which is a combination of the Latin word for earth and the Polynesian word "mana" (a powerful guiding spirit). He's also keeping the brand close to his roots by not allowing it to become an overly-expensive luxury item. Instead, he wants to distribute quality taste at an affordable price. 
"My goal with the Teremana brand was to create a tequila expression that was ultra premium quality, absolutely delicious to the taste and most importantly - affordable for everyone," he continued. "When we first launched our Teremana brand, many said that I was crazy to deliver such a high quality tequila at such an affordable price, but to me the most important 'P word' in my business isn't profit—it's people. And that's why Teremana, will always be the tequila of the people."
The line currently consists of a Blanco that retails for $30 and a barrel-rested Reposado that costs just $33. This price and the brand's popularity has created an increase in demand. Now, Johnson and his team's next move is to stay ahead of the curve. They feel confident about tackling the challenge because they were able to launch a Mexico-rooted operation despite a global pandemic. 
"With all the challenges we've had to navigate this year, our team in Mexico still managed to build new brick ovens and copper pot stills to increase production," co-founder Jenna Fagnan said before explaining that having a shortage of supply is a good problem to have.