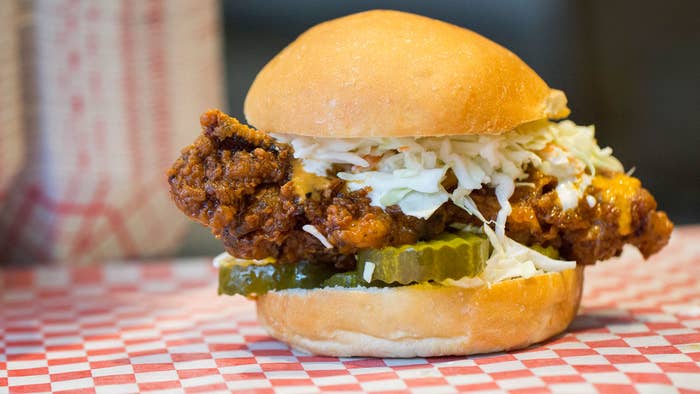 The world sucks, so eat a fried chicken sammy about it.
When your political leader does something stupid or racist, or when a deadly new virus threatens to claim thousands of lives and cancel your autumn concert plans, or when you're just too bored in the house, it's normal to want to assuage feelings of despair with food. And really, there's nothing more comforting than a perfectly seasoned, crispy-on-the-outside-tender-on-the-inside piece of fried chicken. 
Toronto residents are clearly onboard with using meat submerged in hot oil as a coping mechanism. Earlier this year, in The Before Times, one of the city's favourite fried chicken shops, PG Clucks, sold out of its main menu item—you know, chicken—forcing them to close both locations earlier than usual that day. 
"Sold out of chicken after having an unforeseen crazy busy weekend," the paper sign that was posted to the shop window read. The brand also took to social media to share the news, adding that they'd be "back at [the] fryers" the next day, for business as usual.
Great, now we're all craving fried chicken. Read on for the best spots to get it in Canada that are serving up hot and tasty takeaway during the COVID-19 lockdown.