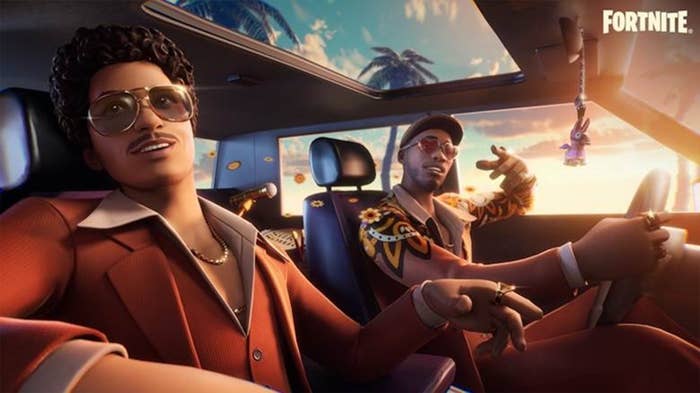 Silk Sonic has partnered with Fortnite to bring their signature style to the game.
The Icon Series boasts outfits for players, a new radio station, and a player tournament, all in-game. Icon Radio goes live on Thursday, where players can change stations inside their vehicles and listen to the duo's debut album An Evening with Silk Sonic, with Bootsy Collins as host. Additional Bruno Mars and Anderson .Paak songs can be heard on the station.
"When Fortnite asked me if I wanted to create an outfit for the game, I asked, 'Are CGI muscles off the table?' They said 'no.' I said 'deal.' I'll see you on the Island," Mars said in a statement.
.Paak added to that, saying, "When Fortnite agreed to give Bruno CGI muscles, I said, I'm in. He could use the help, so I support it. And it makes me cool. Win, win."
On Feb. 10 at 7 p.m. ET, Silk Sonic outfits will be available to players, giving them the opportunity to use Mars or .Paak as their character style. Gamers will get early access to the outfits if they compete in the Silk Sonic Cup tournament, beginning on Feb. 7.