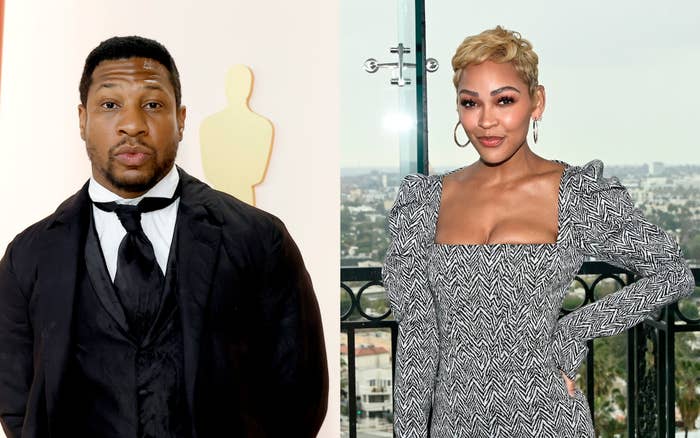 Jonathan Majors and Meagan Good are an item.
According to TMZ, sources close to the pair have confirmed the two actors are dating. Majors and Good have been cozying up for several weeks, with the couple spotted last weekend seeing a movie at Alamo Drafthouse in Los Angeles. That being said, the insiders told TMZ that the couple's relationship is "fairly new." 
The news arrives several weeks after Majors was arrested in New York City over an alleged domestic violence incident. Majors could face up to a year in prison for the charges.
Earlier this week, Majors' attorney Priya Chaudhry issued a new statement regarding the actor's assault case.
"We have provided the District Attorney with irrefutable evidence that the woman is lying, including video proof showing nothing happened, especially not where she claimed," Chaudhry said in a statement provided to Complex. "We did this with the explicit promise from the DA that they would not 'fix' their case and change it as we proved the woman is lying."
Chaudhry went on to blast the allegations as a "false case," alleging that "the woman's claimed location shifts, and her story morphs." Chaudhry also claimed the situation is merely a "witch hunt" against Majors.
"Instead of dismissing the allegations in the face of the woman's clear lies, the DA has adjusted the charges to match the woman's new lies," Chaudhry stated.
In addition, Chaudhry accused the responding officer of racial prejudice.
"When Mr. Majors showed a white police officer the injuries the woman caused him, the white officer got in Mr. Majors' face and taunted him, saying that if the officer were to slap Mr. Majors, the officer wouldn't break his finger. None of the white officers present investigated the assault of Mr. Majors," Chaudry said. "Worse, the District Attorney has not indicated any intention to pursue charges against the woman, or even investigate the truth."